---
What can Schaumburg Specialties offer me and my business? The answer to this question is simple! Whether you're thinking about a commercial or industrial custom build project, a bulk order of racks and carts, or you want to look into large scale private label manufacturing, we can offer you all the production equipment your business needs to be efficient, productive and profitable!
Based in Schaumburg, Illinois – yes that's right, we're the famous Schaumburgs from Schaumburg Illinois! –  we have experience of large scale metal fabrication and custom builds spanning decades. Our name has become synonymous with our iconic brands; SHOPCraft (for the commercial bakery and food production industries) INTELLICraft (for the aerospace, automobile, marine and manufacturing sectors),  AGRICraft (for the agricultural and indoor farming industries) and MEDICraft (for the medical, dental, veterinarian, chemical and pharmaceutical industries). Our brands are available both in stock (from our website) or custom made to order.
Our expertise, coupled with our continued investment in cutting edge technology, means that we can offer our clients commercial/industrial custom and private label projects, as well as large scale metal punching, metal fabrication and industrial painting services that are unrivalled in performance and durability and will transform the productivity at the heart of your business.
Major brands such as Krispy Kreme, Bimbo, Rothbury Farms, Factor 75 and Tyson Foods among many others have trusted us on large custom build projects – and the glowing testimonials we regularly receive prove that we have delivered time and time again for our valued clients.
So, whether you're in the commercial baking and food production industry, agriculture, chemical, medical, dental, veterinarian or aerospace sectors, we have the expertise and equipment you need, and you can rely on us to deliver products that are designed to perform and built to endure.
Read on to find out about the array of commercial and industrial services we offer, the wide range of industries we cater for and the reasons why you should choose Schaumburg Specialties for whatever equipment you need or large scale project you're considering.
 Custom Build Equipment

From concept to creation, design, manufacture and beyond, we have every stage of your custom build project covered.
When we say our range of custom racks and carts are built to last a lifetime, we meant it! With welded construction that makes them sturdy, durable and low maintenance, our products are designed to perform under heavy usage and built to endure. In addition, our Lifetime Guarantee (on our SHOPCraft range) means you can rest assured that you are investing in superior equipment that will transform the efficiency and productivity at the heart of your business.
We'll take the time to understand your unique spatial and operational requirements and we'll even use your own drawings or sketches to manufacture robust equipment using our cutting edge metal fabrication and forming equipment.
So whether you want customized form pans for your commercial bakery business, pathology carts for a mortuary, drying racks for your farming business or even a fully customized conveyor system (read more about these in our blog), we can make it happen! Contact us today to see what we can do for you!
Read on for more detail about our large scale custom build services for the specific industries we are proud to cater for.
SHOPCraft: Custom Build Equipment for the Commercial Bakery and Food Production Industries

Our SHOPCraft brand is iconic and we manufacture commercial kitchen racks, cooling racks and other racks and carts that are unrivalled in quality, built to last a lifetime and will help transform the efficiency and productivity at the heart of your business.
SHOPCraft racks and carts are low maintenance (our 100% welded construction keeps food debris at bay) and highly resistant to corrosion, meaning it's extremely unlikely you'll have to spend money on expensive repairs and replacements because your oven racks are warped and rusting.
Many commercial bakeries produce 'off the shelf' and customized products, and we're ready to provide expert design and metal fabrication services to make your ideas a reality. Contact us today to get started.
Read more about our brilliant SHOPCraft range and why you should choose Schaumburg Specialties for your custom build racks and carts in our previous blog.
AGRICraft: Custom Build Equipment for The Agriculture and Indoor Farming Industries

At Schaumburg Specialties we make your harvest productivity and quality a top priority when manufacturing our AGRICraft farming equipment.
To support your agricultural business, we offer an extensive range of precision-engineered products, from processing tables to germination shelves and drying racks, that are resistant to fertilizers and chemicals and built to weather extreme environmental conditions across hydroponic, aquaponic and aeroponic farming processes.
To read more about our AGRICraft range and to learn about why it's well worth investing in, see our previous blog.
INTELLICraft: Custom Build Equipment for the Aerospace, Manufacturing, Seafood and Marine Industries
A cart custom designed by Schaumburg Specialties used to transport an aircraft wing
If you work in manufacturing or the aerospace, automobile, engineering or marine/boating sectors, the INTELLICraft range offers custom-designed products to suit your specific business needs. Created with your unique specifications in mind and using advanced technology, we can guarantee a level of precision and durability that is unrivalled in the industry.
Whether it's a transport or storage cart, an assembly table, a storage unit or a work ladder you require, or you need to transport large components such as an aircraft wing, Schaumburg Specialties has it covered with our highly mobile, durable and lightweight INTELLICraft products.
If you work in the seafood industry for example, investing in a 100% welded food processing table, cart, rack or trolley from Schaumburg Specialties, means your marine or boating company can proceed in confidence that all storage, racking and transportation systems are stable, secure and engineered to the highest metal fabrication standards.
Whatever you need and whichever industry you work in, get in touch today to see how we can get your custom project up and running.
MEDICraft: Custom Build Equipment for the Medical, Dental, Veterinarian, Chemical and Pharmaceutical Industries

At Schaumburg Specialties, we understand that equipment safety and hygiene is crucial in the medical, dental, veterinarian and chemical and pharmaceutical sectors. Our MEDICraft range of custom made medical carts, trolleys, racks, tables, cabinets and storage units meets and exceeds industry health and safety specifications and standards and is easy to clean and sanitise, while our welding construction process keeps germs and bacteria at bay.
MEDICraft products allow for the safe and efficient mobility of chemicals, drugs and devices in laboratories, processing areas and chemical plants. They are secure, stable, easily adjustable and movable as well as easy to store, which is crucial in often cramped working spaces.
For more on reasons to choose Schaumburg Specialties for your custom clinical equipment, read our previous blog.
Now you know all about the custom build projects we can offer you and your business, read on to learn about our metal fabrication, metal punching and industrial painting services.
Custom Metal Fabrication Services

As America's leading metal fabrication experts for businesses, with nearly four decades of experience, we can safely say that metal fabrication is in our DNA!
Our expertise – seen in services such as advanced welding techniques and stainless steel laser cutting – combined with cutting edge technology, ensures products that are strong, sturdy and built to last a lifetime – guaranteed!
We use a range of metal forming processes to produce products in our state-of-the-art facility that have versatile applications across a wide variety of sectors including food production, medical, dental, and veterinary, agriculture, aerospace component assembly and more.
Our machinery is cutting edge and features the very latest advances in metal fabrication. Our CNC press brakes, for example, are the only product of their kind to feature dynamic crowning, while our six axis back gauge system forms complex parts with the highest levels of precision.
We will happily work with you to produce the highest quality aluminium, steel and stainless steel metal fabrication projects. Our entire team is with you every step of the way, from concept and design to fabrication, manufacture, delivery – and beyond.
Steel Metal Fabrication
Whether you need to create a new product from the ground up, or you want to tweak one of our existing products to your liking, our carbon, structural and regular steel sheet metal fabrication experts can make it happen. Each ironworker and certified welder on our team is passionate about producing structural steel shapes, racks, carts and other equipment that will help your business perform at its peak.
Our full range of steel fabrication services includes: design, fabrication, welding, bending, cutting, finishing, structural detailing, project engineering, soft story solutions and structural steel fabrication and erection.
Aluminum Metal Fabrication
Aluminum metal fabrication can be used in a variety of ways to benefit your business. From laser cutting, graining and printing to anodizing and forming parts to spec, we can use this lightweight, corrosion resistant metal to deliver a custom build project tailored to your specific business needs.
Stainless Steel Metal Fabrication
Both aluminum and stainless steel are ideal materials for many custom fabrication projects, but stainless steel is typically used in cases that require a stronger material. It is three times the weight of aluminum and offers such benefits as inexpensive durability, high strength, high and low temperature resistance and high resistance to corrosion.
It also has no fabrication limitations, with laser cutting, metal stamping and forming, MIG and TIG welding, automated hardware insertion and prototype design all possible using stainless steel. Examples of our stainless steel fabrication services include crossovers, platforms, custom metal chutes and part storage bins.
To learn more about the differences between aluminum and stainless steel for your metal fabrication project, read our previous blog.
Metal Punching

We use TRUMPF machinery to provide high-speed CNC metal punching without compromising part accuracy.
Our cutting edge equipment employs a wide variety of punching techniques that can be applied to specific metal designs and forming capacities (including small forms, embossing, louver and thread forming) and materials, including carbon, stainless steel and aluminium.
From custom steel utility carts to lifetime guaranteed bakery racks, our metal forming expertise will bring your custom metal punching project to life. Try us, you won't regret it! Get in touch to speak to one of our experts today!
Private Label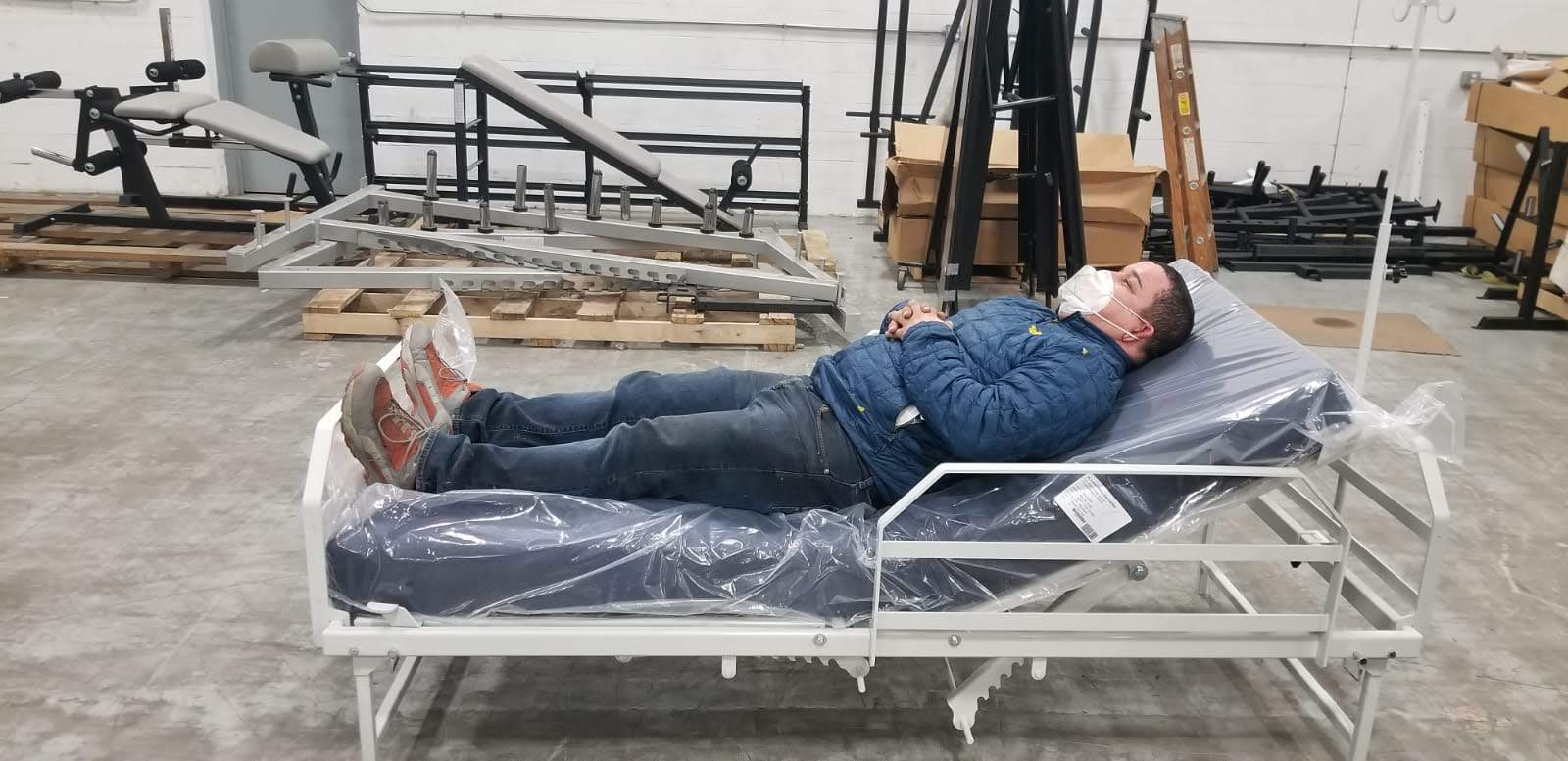 Are you a business owner, procurement professional or production floor  manager? Are you interested in selling your own branded line of ancillary equipment such as racks, carts, trolleys, tables and more? If the answer's 'YES' then our Private Label Equipment Manufacturing Service could be just what you're looking for!
We have the metal fabrication expertise, equipment and experience to create virtually any project that your company specifies! We use our know-how and cutting edge technology to bring your ideas to life – we make it your way!
Businesses across nearly all sectors of industry, including resellers, can enjoy major benefits from selling their own line of private label metal equipment. Contact us today to see how we can help you create your own product line.
Industrial Painting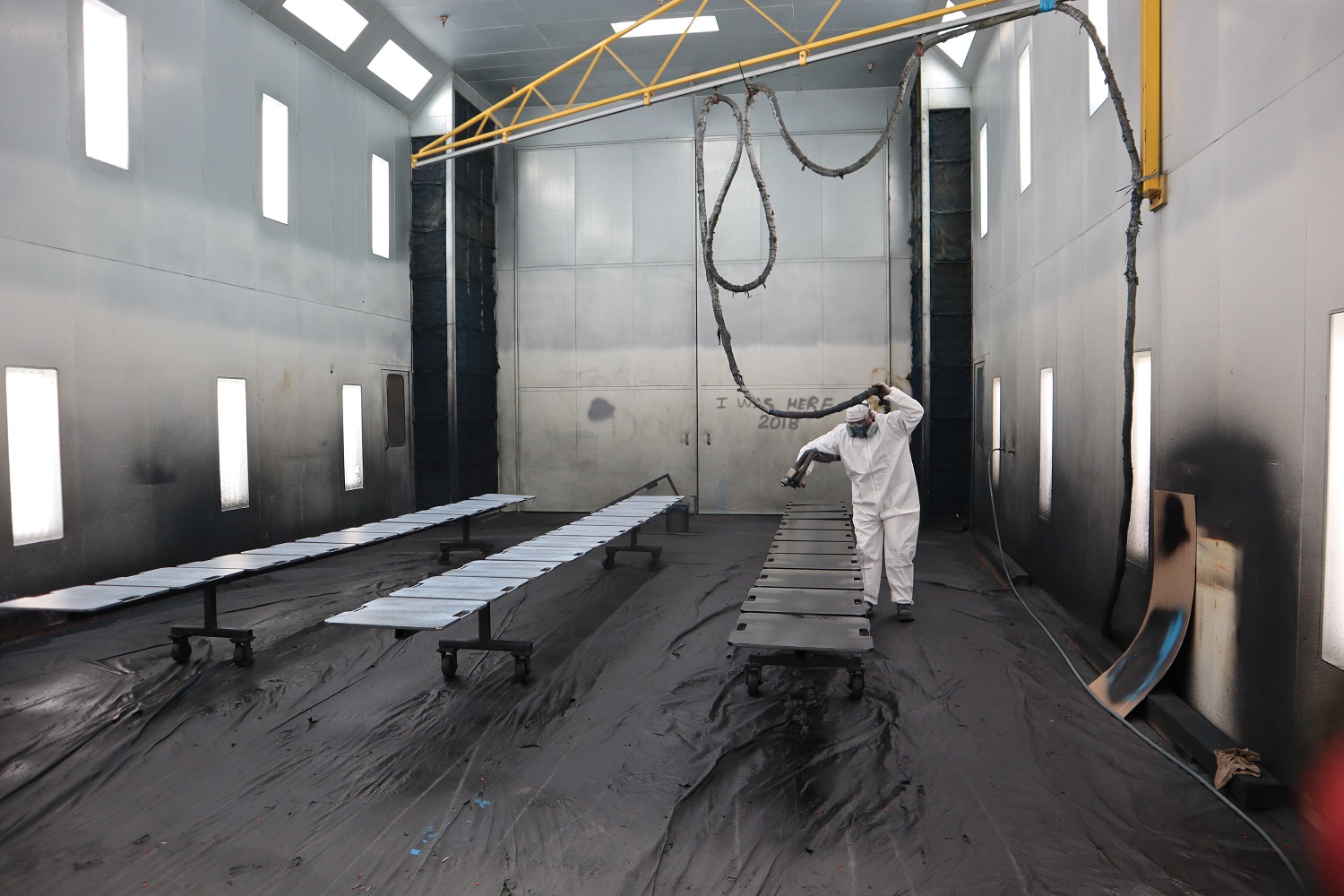 Regardless of the size and scale of your project, the staff at Schaumburg Specialties are experts in industrial painting and can help you choose the ideal coating for your individual application.
From enamels to epoxies and polyurethane finishes, our 65-foot long industrial paint booth has all industrial painting solutions covered. We are also an authorized applicator of GatorHyde, a spray-on elastomer coating with excellent protection for steel, fiberglass, concrete and wood surfaces.
Why Choose Schaumburg Specialties?
Now you know all about the services we offer and the industries we cater for, let's conclude with the reasons why Schaumburg Specialties is a trusted partner that you can rely on to manufacture the exact product you need to ensure your business' peak performance.
Hands-on service – our highly qualified and committed staff are with you every step of the way, from project concept to creation, manufacture and beyond.
Our Lifetime Guarantee – we care about our customers, that's why we offer our Lifetime Guarantee on our SHOPCraft products. When we say we build racks and carts to last a lifetime, we mean it, so if any premature or unexpected wear and tear occurs, we'll repair or replace the product free of charge.
We care about your business – our products are low maintenance, so you won't be spending time and money on repairing and replacing them. Also, our products are also designed and built to perform and last, ensuring your bottom line is boosted at all times! And because our products comply with the highest standards of safety and cleanliness, we can ensure that your business's great reputation remains intact.
We care about your employees – sub-standard equipment puts your employees' safety, morale and job satisfaction at risk. Choosing Schaumburg Specialties means you're giving your staff the highest quality and safety and security-compliant tools they need to produce the very best results for your business.
Quick turnaround times – we know you don't have time to waste when you're running a busy production line. So we deliver our superior quality products in some of the shortest lead times out there.
When you choose Schaumburg Specialties, you're choosing top quality, unparalleled performance and enhanced productivity that will last a lifetime. So whichever industry you're in or whatever project or service you have in mind, we can make it happen. Contact us today to make your equipment dreams a reality.
Custom Build Your Project With Schaumburg Specialties
Here at Schaumburg Specialties, your productivity is our passion. Regardless of your spatial, budgetary or operational requirements, our team of experts can design and manufacture the rack, cart, trolley, dolly or table – or indeed anything – you need to transform the productivity at the heart of your business. To find out more about how we can help, contact us for a free quote.