---
Having racks that are highly mobile and easy to manoeuvre is crucial for an efficient and productive commercial bakery/food production business – and this means that choosing the right casters for them to run on is vital!
Casters play a humble yet extremely important role in the mobility and movement of your racks and other food production equipment. In fact, they can ultimately determine whether your kitchen is a free-flowing, productive and profitable one, or one that is labored, inefficient, frustrating and unsuccessful.
Casters may be small, but they're certainly mighty!
Read on to find out exactly what casters are and the five top things to bear in mind when deciding which ones will make your commercial kitchen equipment efficient and productive.
What Are Casters Exactly?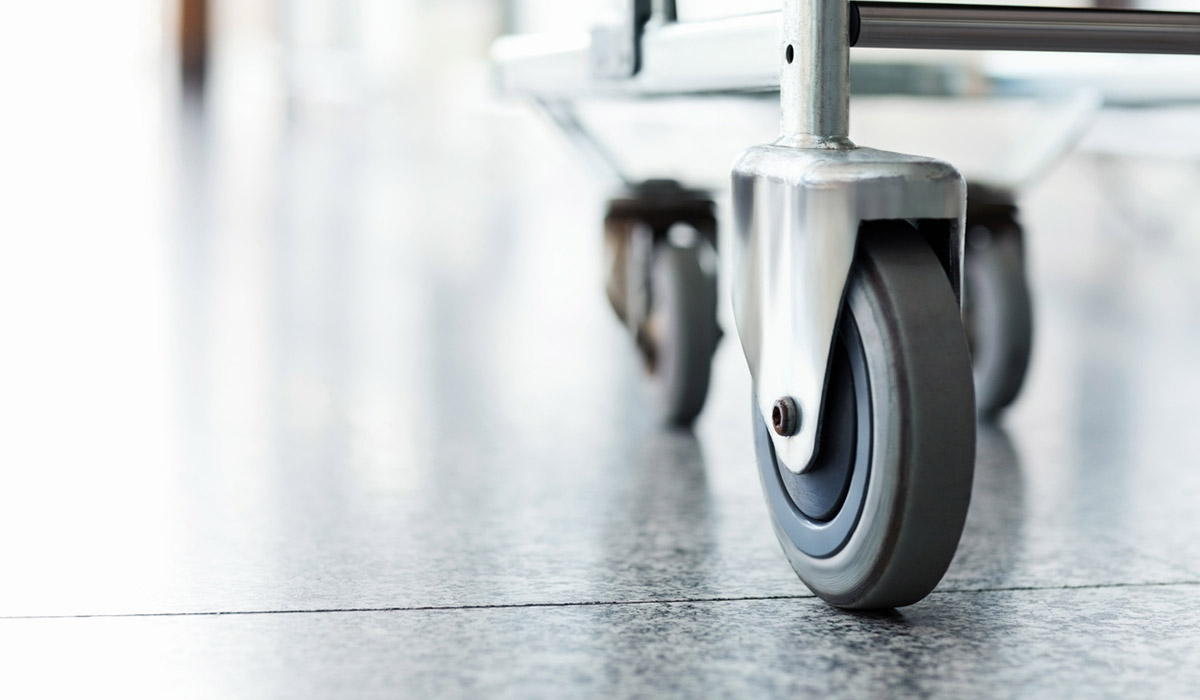 Before we delve into the details of casters, it's important to ascertain exactly what they are!
In a commercial bakery or kitchen, casters can be most commonly found on the bottom of racks, trolleys, dollies, carts and tables, supporting the load being carried and allowing the object and its load to become mobile. They are made up of two components:
A bracket – the bracket part of the caster is what allows it to be fixed onto a piece of equipment. It is typically either stem mounted or plate mounted and comes in different styles such as rigid (where the wheel only moves in a straight line) and swivel (where the wheel swivels to go in the desired direction of travel).
A wheel – the wheel part of a caster rotates around an axle, supporting the load while rolling in the direction of travel.
Now we've determined exactly what a caster is, read on for the top five things to consider when choosing the right casters for your kitchen/bakery and food production equipment.
Five Things To Consider When Choosing Casters
The kind of casters you'll need will largely depend on what you need to move, how much you need to move and where you need to move it to.
But there are some key things that you should bear in mind when choosing your casters. Read on to find out more…
1. Load Capacity
When you're choosing the right casters for your racks and other food production equipment, it's essential that you calculate your equipment's load capacity correctly.
Why? Because the load capacity of your rack will dictate the weight bearing capacity of each caster that carries it. Once you know the load capacity of your rack, you can divide it by the number of casters to be used to work out the maximum weight each caster can manage.
If you need any help or advice in making these calculations for your casters, just get in touch with one of our design experts today.
2. The mounting device
This is where you choose how your caster will be fixed to your equipment. Generally, you'll have a choice of two styles: plate mounted or stem mounted.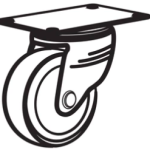 A plate mounted caster comes with a flat bracket with mounting holes. With this option, you can fasten another flat surface right up against it.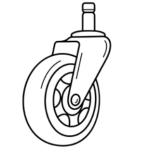 A stem mounted caster attaches via a post or rod (stem) that fits up or alongside the structure. Stems have various methods of fixation to the equipment, from nut and bolt, to grip ring and threaded.
Unsure which type of caster is best for you? When you choose casters from our SHOPCraft range, our expert designers will help you determine whether plate or stem mounted style is best for your business needs. Contact us to see how we can help.
3. The Wheels
Something that needs a lot of consideration when you're choosing casters is the type of wheel that's going to be most effective. Generally, there are three main things to bear in mind; the diameter of each caster wheel, the material they're made from and the bearings.
Where diameter is concerned, the bigger the better, because bigger wheels typically last longer, roll better and are able to carry more weight. With the bearings, you can choose from plain, roller or ball bearing, to name but a few. Ball bearing is usually recommended because these have the best rollability for your wheels, allowing you to maneuver your equipment much more freely and efficiently.
The material your caster wheels are made from is also crucial. If you need a caster wheel that can withstand extremely high oven temperatures, for example, we'd recommend a non metallic, glass filled nylon wheel because these are the best at withstanding the harsh conditions of an oven. If you need a caster wheel that works well in acidic conditions, we'd recommend high temperature epoxy resin wheels because these are unaffected by most chemicals.
Of course, the material your caster wheel is made of will most likely be determined by the variables of your working environment. Read on to learn more about how your working environment can impact your caster choice.
4. Your Working Environment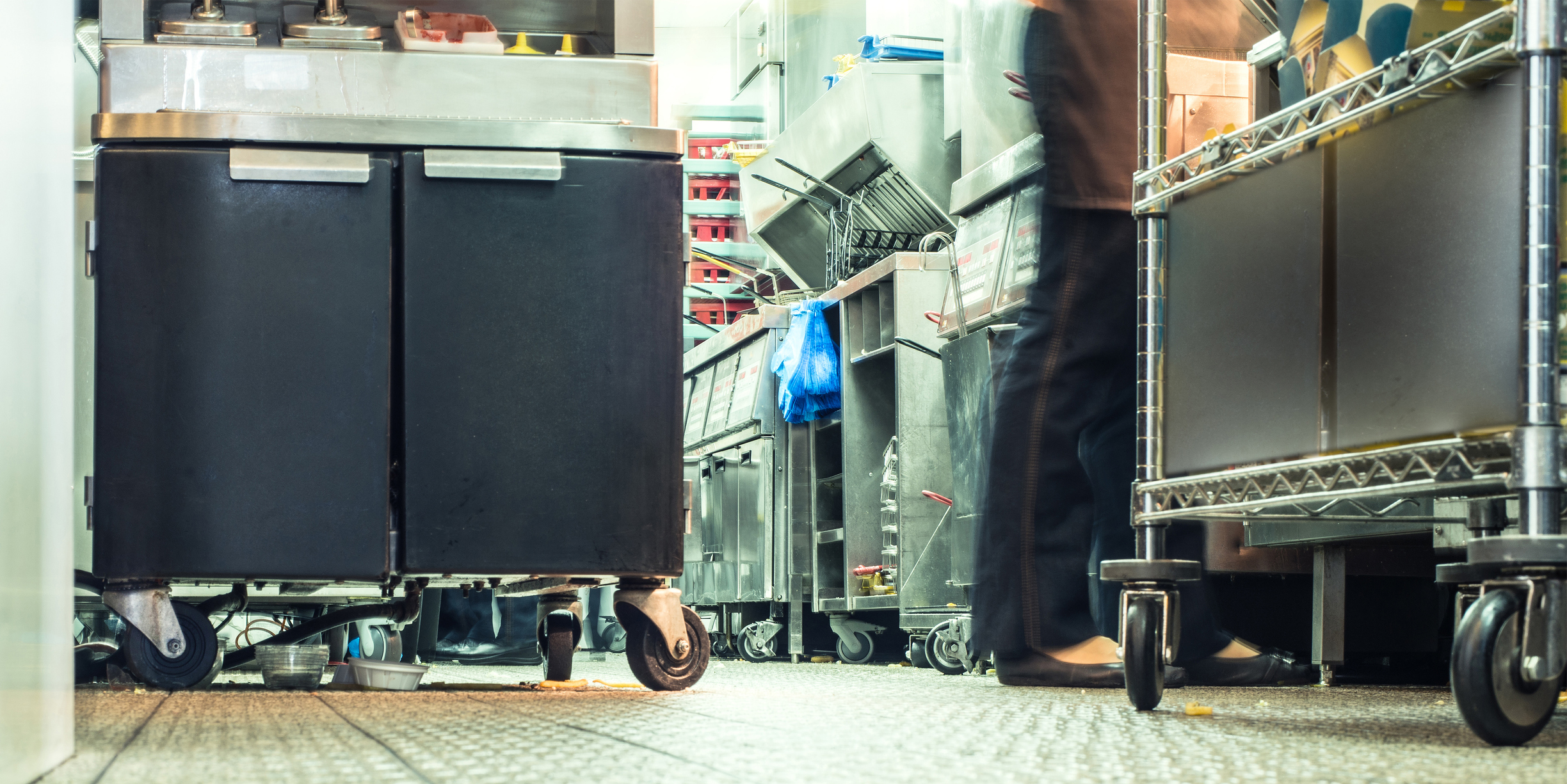 The sort of environment you work in plays a key role in determining the kind of casters you will choose for your food production equipment. Ask yourself – where are my casters expected to perform? In the heat or the cold? On a soft, hard or bumpy surface?
Also ask yourself – how much space do I have to work in? Do I operate in a small space with tight corners and little room for manoeuvre, or a large space that requires me to wheel my racks and other equipment in a straight line over long distances?
Knowing the answers to these questions will determine whether you need to opt for heavy duty casters that can perform consistently in high temperatures and harsh oven conditions, or a standard duty caster that can more easily manoeuvre over softer surfaces.
Your working environment will also determine whether you opt for swivel or rigid casters. For example, if you operate in a small space with tight corners, it's likely you'll need a swivel caster. With this type of caster, the wheel revolves around the center of the swivel and can rotate 360 degrees as it moves, making it ideal for carrying heavier loads. It also offers ultimate manoeuvrability, allowing you to turn tight corners with ease.
Rigid casters, on the other hand, don't swivel and can only move backwards and forwards in a straight line, with no ability to turn corners. The biggest advantage of rigid casters is that they can allow you to easily steer your equipment in a desired direction, whereas swivel casters can be difficult to propel in a straight line.
If you need to go longer distances with more control of the path travelled, however, a combination of rigid and swivel casters could be a better choice. Combining caster types on one rack will enable you to quickly and easily adapt your equipment's direction of travel to different workspace circumstances.
For more information on custom building racks, carts and other food production equipment with caster options tailored to suit your specific requirements, please contact us today.
5. Price
The final thing to consider when choosing your casters is the amount of money you wish to spend on them, both in terms of paying for them upfront and keeping them properly maintained.
Are you willing to invest time and resources into maintaining your new casters for the long haul, or would you rather pay less upfront and run the risk of needing to pay for repairs and replacements?
Zinc-plated steel caster brackets, for example, are much more cost effective than the stainless steel alternative – however, they're unlikely to last as long with heavy usage and exposure to high temperatures or chemicals.
When you invest in SHOPCraft products and the casters that come with them, you're investing in a sturdy, durable product that will last a lifetime – guaranteed. While you may pay more upfront for our SHOPCraft casters, it's extremely unlikely that you'll have to pay out for costly caster repairs and replacements in the long run.
Contact us today to discuss bulk orders or a custom build and get a quote.
Caster Maintenance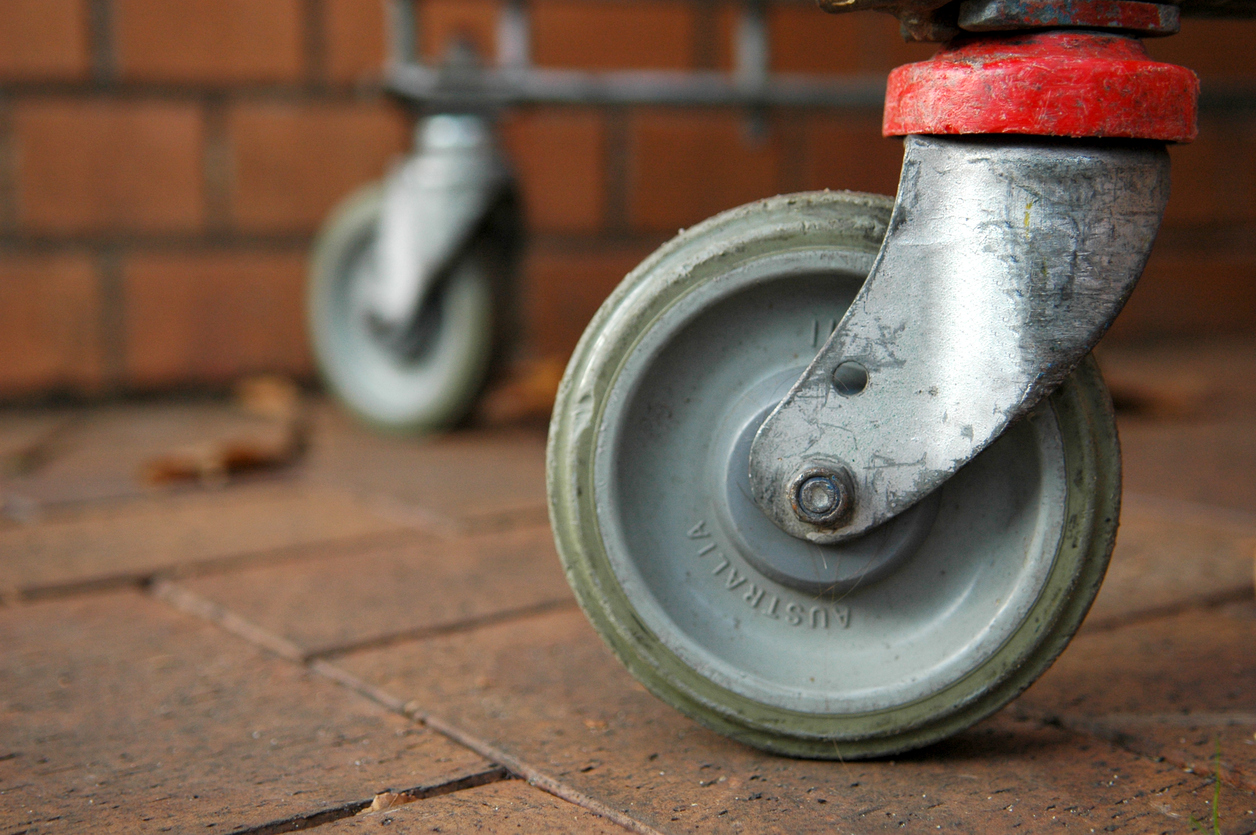 Usually casters are the first things to go with heavy equipment usage – but happily, they are easy to maintain and replace. All the parts you need to maintain and repair your casters yourself are readily available on our website – you just need some simple hand tools or a battery operated impact driver if you want the job done more quickly!
Replacement casters are also in stock and ready to purchase on our website. For a simple step by step demo on how to remove and replace caster wheels on SHOPCraft racks, take a look at our video how to remove and replace caster wheels in racks. However, if you don't think replacing your casters is a job you want to take on, just get in touch – we'd be happy to replace them for you!
If you've bought casters from our SHOPCraft range and find that you have a problem with your SHOPCraft casters that is down to premature or unexpected wear and requires a more detailed investigation, we'd be happy to take a look and help you identify a solution. Please contact us today with any questions.
Are you an equipment manufacturer? We supply the best casters in the business – head on over to our website right now and take a look for yourself!
Which Casters Are Best For My Production Equipment? How Schaumburg Specialities Can Help
Often, casters are designed for specific racks – in other words, the caster you get simply comes with the rack you're purchasing.
But at Schaumburg Specialties we know that there's no such thing as 'one size fits all'. That's why we give our customers options and custom build our racks, carts, tables etc with casters that are tailored to their specific business requirements.
When you custom build your racks with Schaumburg Specialties, you can optimise each rack with a specific caster or set of casters, ensuring you're getting the optimal performance from your food production equipment.
Whatever your working environment, production schedule or budgetary requirements, our experienced design and manufacturing teams can work with you to get your project up and running! Contact us today!
Custom Build Your Project With Schaumburg Specialties
Here at Schaumburg Specialties, your productivity is our passion. Regardless of your spatial, budgetary or operational requirements, our team of SHOPCraft experts can design and manufacture the casters you need to transform the productivity at the heart of your business. To find out more about how we can help, contact us for a free quote.