---
If you run a commercial bakery or food production business, the oven racks you use can have a huge bearing on the efficiency and productivity of your business.
Many people will ask themselves how many racks they need to meet product demand and what material their racks should be made from – but a question that tends to get overlooked is how they want their racks to be configured.
Do they want their pans to be supported from the edges or the bottom? Do they want their racks to hold their pans on the short sides or the long sides?'.
Rack configuration essentially dictates the way your pan is loaded onto the rack, how many pans are on each level and how the pan is supported by the rack – and it can determine whether or not your business is a productive and profitable one.
Most of the containers used in the food production industry are rectangular in shape (square and round shapes are less commonly used) and supported by the rack from the edges and on the long sides – but there are all sorts of different circumstances and business/production needs that will dictate which rack configuration is best for you.
Read on to find out about the various types of rack configuration and the things you will need to consider when deciding which one is best for your business' efficiency and productivity.
Types Of Rack Configuration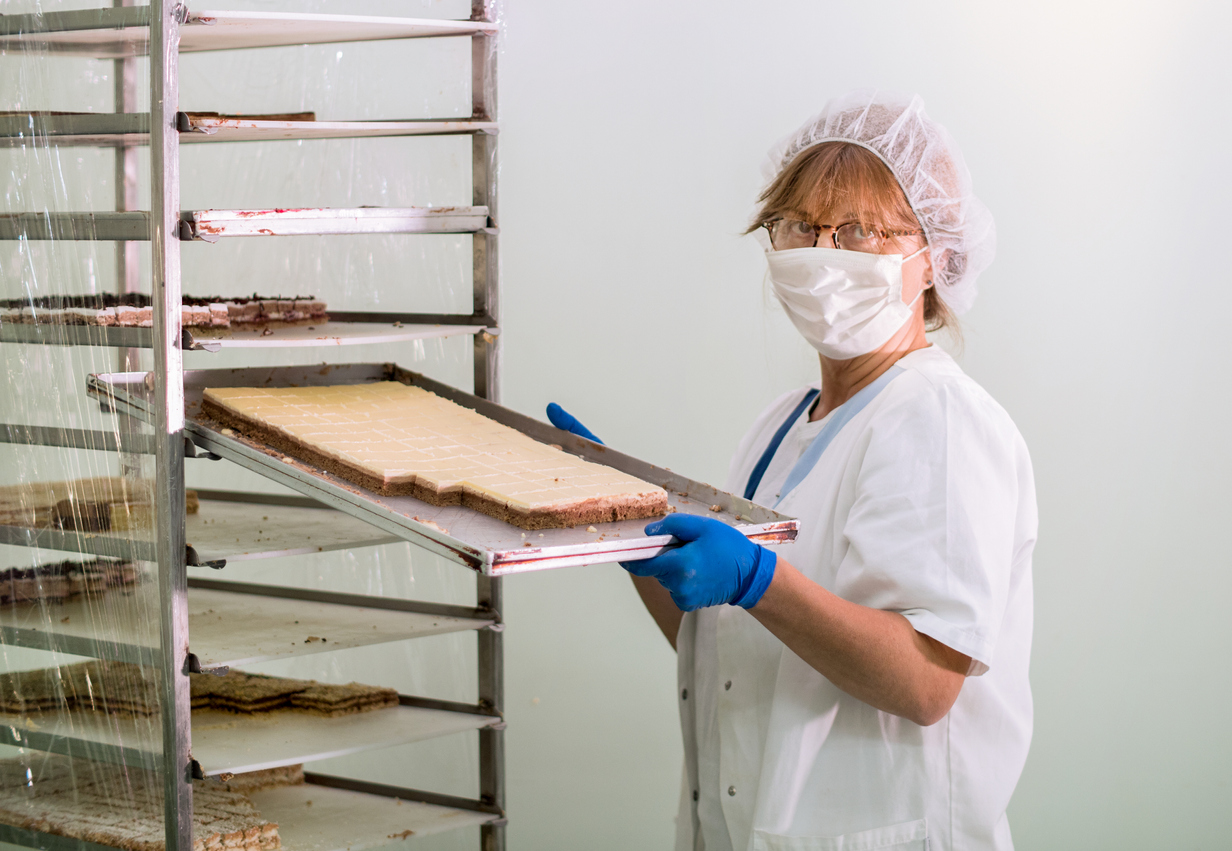 There are various different types of rack configuration available. Here, we outline the most common ones.
Single rack – this type of rack supports one pan sheet per level. These are the most common types of racks used in commercial baking and food production businesses and are readily available from our SHOPCraft range.
Double rack – here, one rack supports two pans sheets per level, so if you have a 15-level double rack you have a 30-pan capacity. Double racks are also available from our SHOPCraft range.
Side load – in this configuration, the pan is inserted into the rack from the side and is supported by the rack on its short sides.
End load – here, the pan is inserted into the rack from the end and is held in position by its long sides.
Double bay racks – here, two single end load racks are put side by side and married in the middle by a common panel that supports them both. These aren't very common and are typically more expensive than other rack configurations, but Schaumburg Specialties has made many double, triple and quadruple bay racks in the past – just get in touch if you'd like to discuss a custom build.
Holding the pan from the lip rather than the bottom – sometimes, a single rack, most often a high capacity, 40-pan single rack will hold pans in this way. In such a high capacity rack, the spacing between the pans is too close (1.5″ apart) to be held conventionally from the bottom, so a channel style slide design is used to hold two pans (from the lip) per one channel.
There are lots of different types of rack configurations to consider, but there's lots of scope for creativity too. Contact us today to discuss the rack configuration possibilities that would work best for your business.
Things to consider when choosing a rack configuration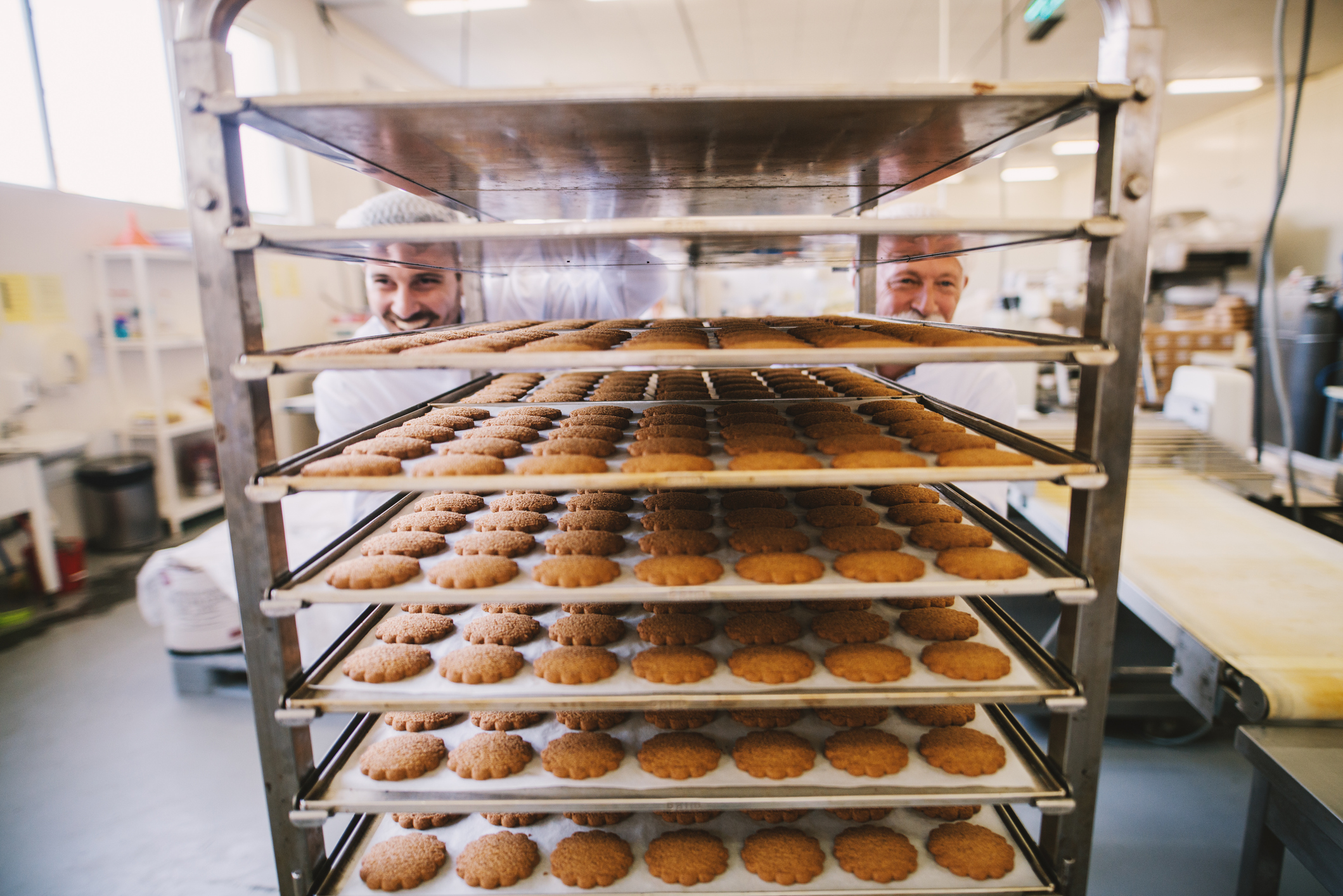 Now you know the main types of rack configuration out there, it's time to work out which one best fits your business needs.
There's no easy answer to this because everyone's circumstances, budget and requirements are different, but considering the points below should help you come to a decision more easily.
Read on for some tips on what to consider when choosing which type of rack configuration is best for you.
What's My Oven Capacity?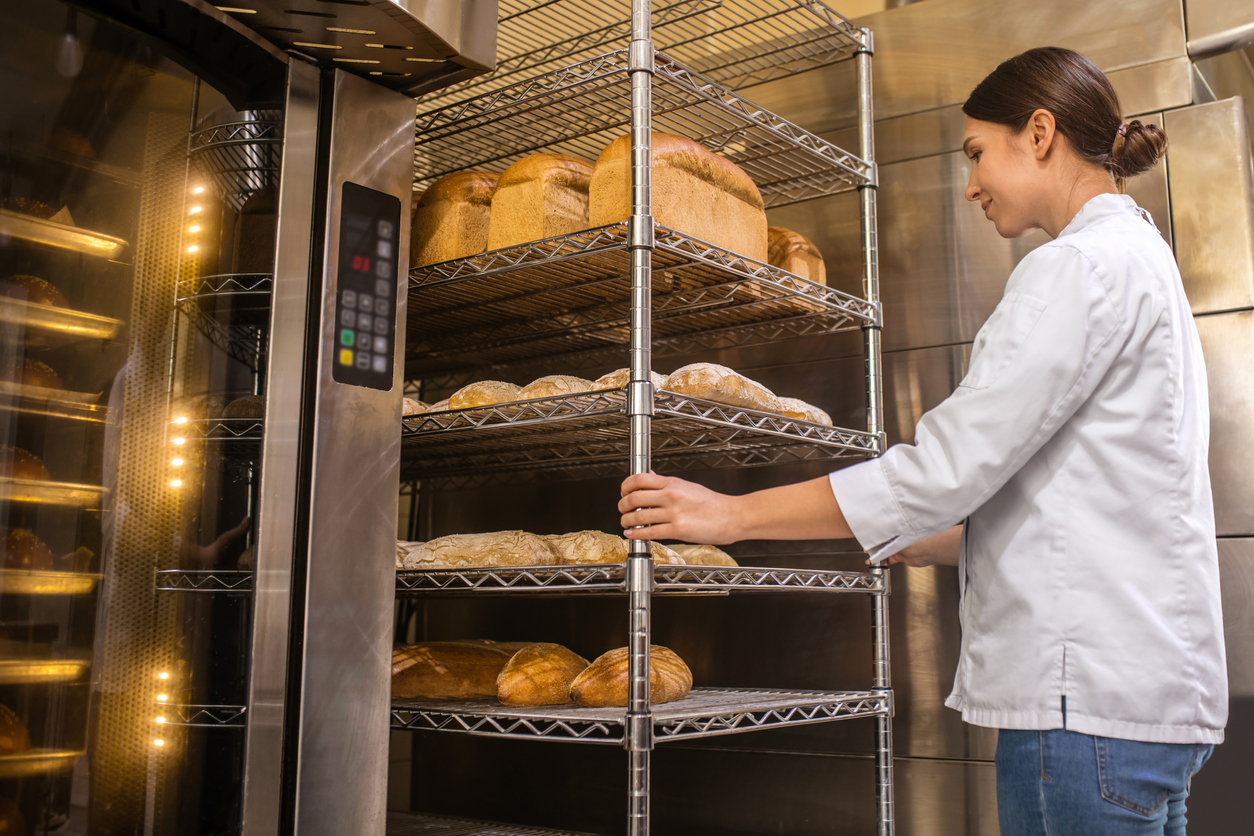 This may sound obvious but it's no good investing in racks that are too big for your oven, or not making the most of your oven capacity!
Is your oven a single rack or a double rack? A rectangular shaped side load rack typically has an area of 513 square inches, whereas an end load rack is a bit bigger with an area of 533 square inches. Therefore, two side load racks would fit into a double rack oven and do the same bake cycle as a double rack but you wouldn't be able to get two end load racks into the same oven.
Therefore, it's a good idea to get the specifications of your oven spot on before choosing your racks, so you know exactly what it can and can't manage.
What's My Working Environment Like?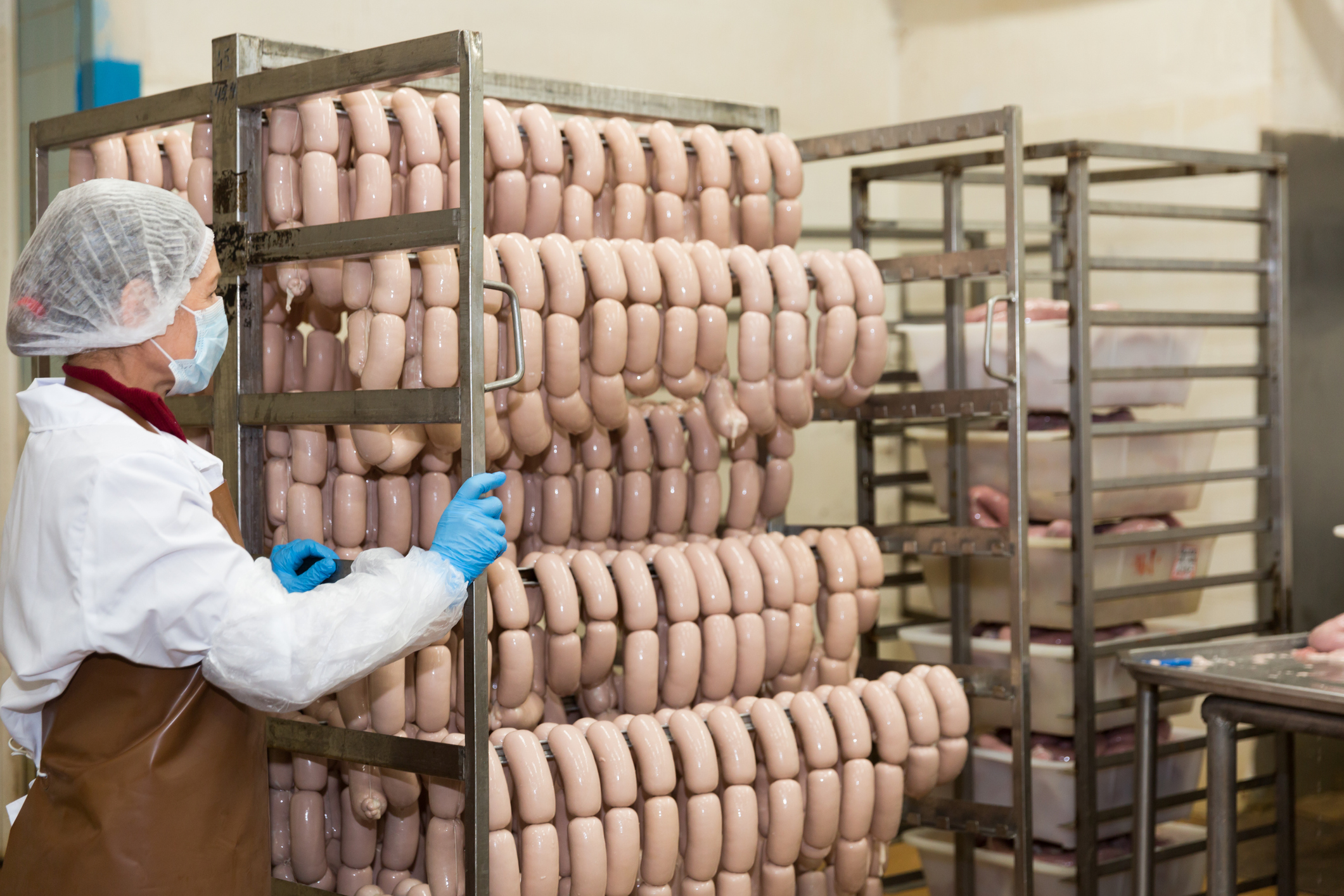 It's absolutely crucial to consider your working environment when working out which rack configuration best suits your business.
How much space do you have to work in, for example? Single racks are typically far easier to maneuver in smaller spaces. In fact, in smaller bakeries, the use of double racks can be prohibitive because double racks have the footprint of two single racks, so require much more space to move about in.
Another thing to consider is whether or not you need to navigate a ramp when putting your rack into a cooler or freezer. Freezers are often built up off the floor, so many establishments favor a side load single rack configuration because it allows easy navigation of a narrow ramp. It also means that when the rack is pushed uphill or downhill, the pans are contained by the side panel of the rack and there's no need for a pan stop.
Do I Need To Use Form Pans?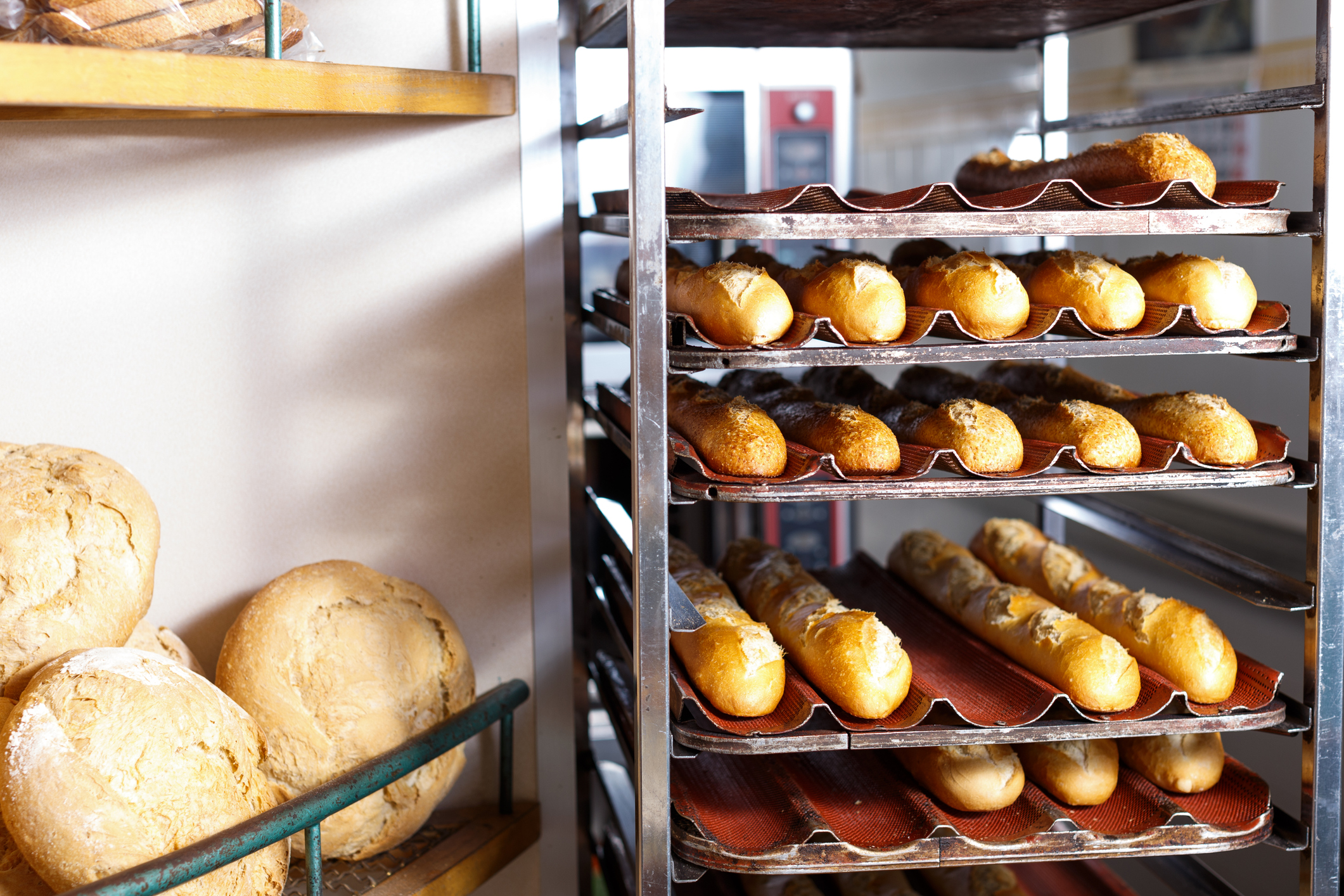 Many businesses these days make baked goods in all manner of shapes and sizes and need to use a form pan to make sure that the desired effect is reached.
Burger buns, muffins, baguette logs – so many of the things we see on our bakery shelves have been baked in a tray that's been specifically stamped out for that exact product. With so many different shapes and sizes, your business will require a rack that fits the dimensions of your form pans perfectly.
Schaumburg Specialties has been carrying out custom form pan projects for our valued clients for decades, so we know all about working out which rack configuration would work best for your own type of form pan. Contact us today to see how we can help.
Which Configuration Is Most Cost Effective?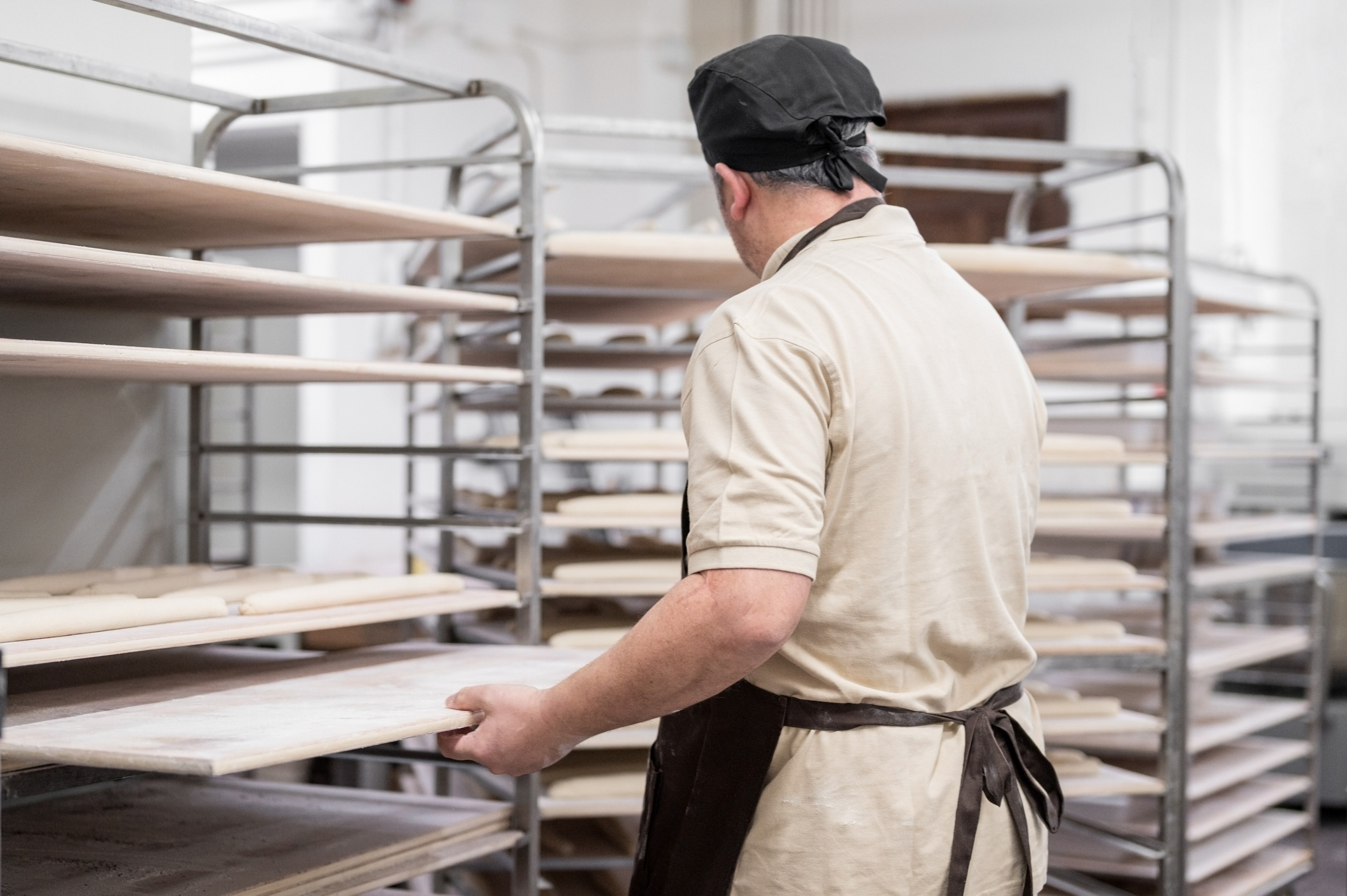 It goes without saying that the more you can bake, the more money you can make!
In larger bakeries that have the space to accommodate them, double racks – which are typically side load configured – are popular because they mean twice as much product can be baked than if single racks are used.
Double racks are also popular because they typically don't cost twice as much as a single rack. For example, a single pan rack from Schaumburg Specialties would set you back $730 on average and a double pan rack would cost you $930. So you're getting double the amount of product – but not spending twice as much!
Whether your racks are side load or end load configured makes no difference when you're buying from our SHOPCraft range.
Rack Configuration Determines Rack Stability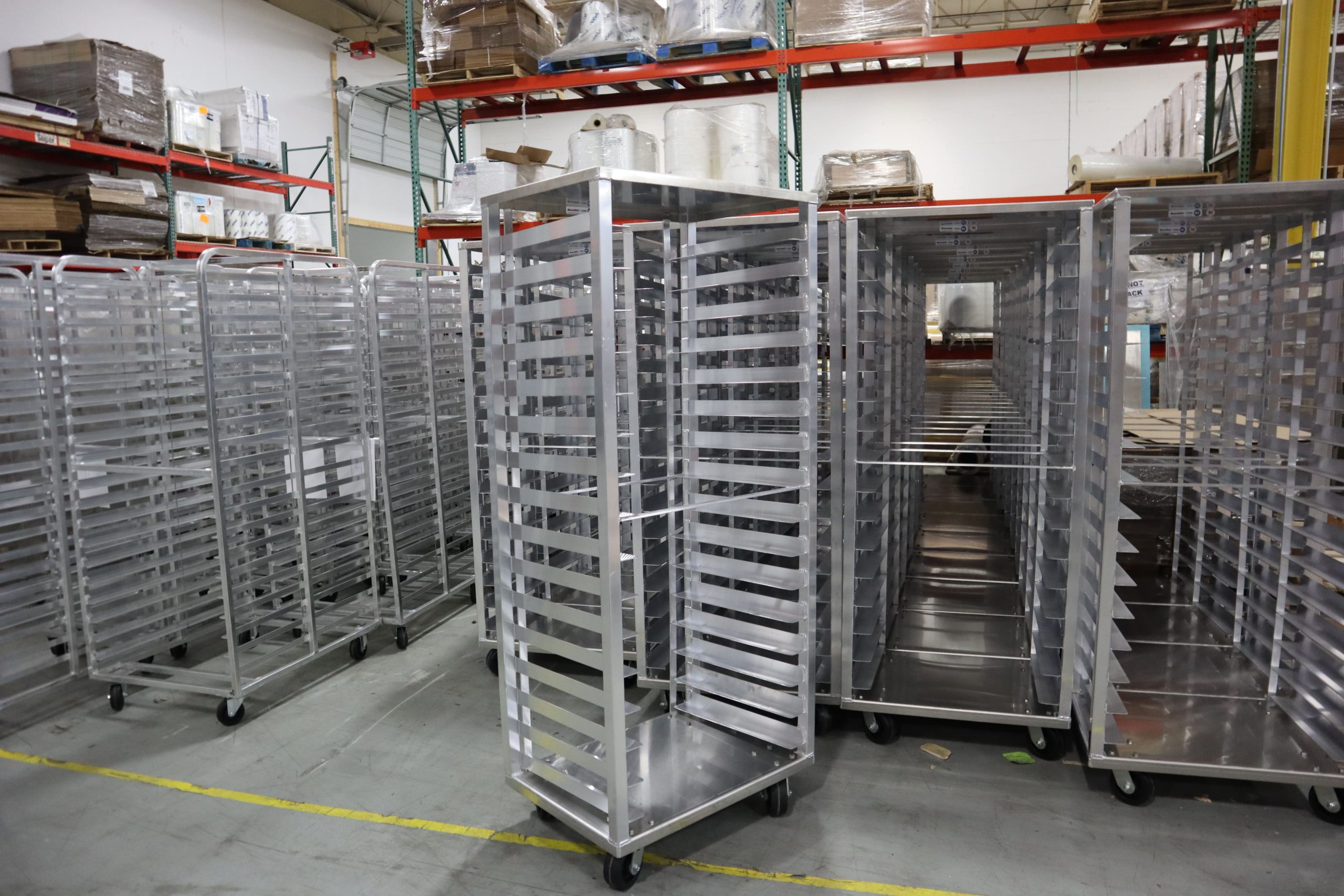 All businesses want and need racks that are stable and sturdy and won't tip or sway or buckle. However, it's worth bearing in mind that side load racks, which hold the pan by its short sides, are typically not as stable as end load racks, which support the pan by its long sides.
In the end though, it comes down to personal preference and the rack configuration you feel will best suit your business needs.
Which Rack Configuration Is Best For My Business? How Schaumburg Specialities Can Help
Still not sure of the best rack configuration for your business needs? Speak to one of our experts about our SHOPCraft range or how we can get your custom rack project up and running.
When you choose SHOPCraft, you're choosing racks that will maximise your profits and reduce your costs. We offer a range of aluminium and stainless steel single and double racks that can be custom built and tailored by our design and manufacturing experts to your exact requirements.
Whether you want your racks single or double, side load or end load or double, triple or quadruple bay configured, we can make it happen! Contact us today!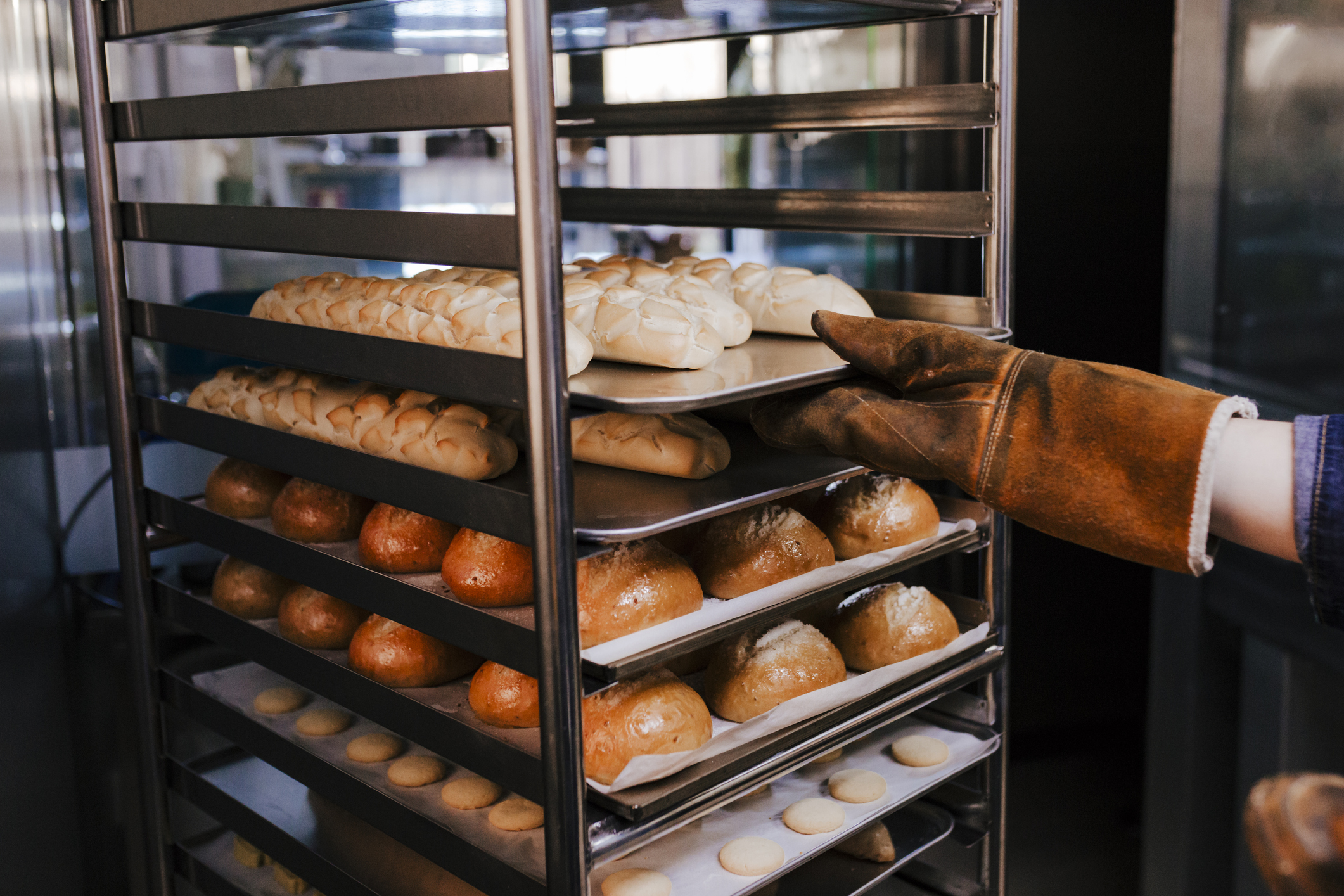 Custom Build Your Project With Schaumburg Specialties
Here at Schaumburg Specialties, your productivity is our passion. Regardless of your spatial, budgetary or operational requirements, our team of SHOPCraft experts can design and manufacture the oven rack you need to transform the productivity at the heart of your business. To find out more about how we can help, contact us for a free quote.