Expert Metal Fabrication for Aerospace Application
As the celebrated manufacturers of the iconic INTELLICraft range of tables, racks, carts and trolleys, Schaumburg Specialties are America's leading metal fabrication experts catering for the aerospace industry. Bringing together over 30 years of experience in this space, our fabrication team creates superior-performance products that are designed to precision and built to perform.
Discover INTELLICraft: the definitive brand of racks, trolleys, carts and tables for the aerospace sector.
SHOP THE RANGE
Years spent meeting the requirements of America's aerospace industry have placed us at the forefront of metal fabrication in this space. Our customers continue to place their trust in us thanks to our exceptional build quality, our unrivalled durability and our undying commitment to using only the finest materials and most advanced fabrication technologies. Whether your organisation needs storage or transport products or tables for manufacturing parts, we're inviting you to achieve aerospace excellence with INTELLICraft. 
Work Ladders
& Storage Products
Today's aviation industry faces a number of challenges; from tight production deadlines to continuous health & safety concerns. INTELLICraft work ladders & storage products meet both of these challenges, using a 100% welded construction to transform the productivity & safety levels at the heart of your business.
ENQUIRE
Large Component Transporting
Included in the INTELLICraft selection is a broad variety of heavy-duty storage and component transport solutions, including tool racks, component trolleys and more. Mobile, durable and lightweight, INTELLICraft is an essential for safe, convenient large component transporting, with a durable construction that is supportive of the heaviest loads.
ENQUIRE
INTELLICraft
Storage Carts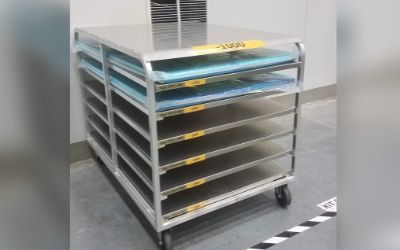 Easy to move. Simple to clean. Guaranteed to stand the tests of time and heavy usage. Utility Carts by INTELLICraft feature an all-welded construction for convenient maintenance and ultimate longevity. What's more, these products come with a 5 year guarantee!
Shop Now
INTELLICraft
Transport Carts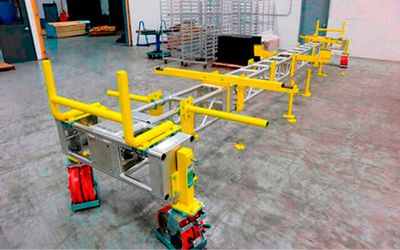 From wing transport carts to custom racks for tools, parts and other aerospace components, we're proud to manufacture a comprehensive variety of systems that transform the efficiency & productivity at the heart of your assembly operation.
Shop Now
INTELLICraft
Assembly Tables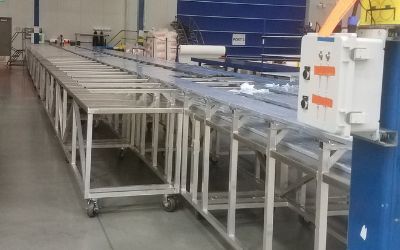 Built to order, Aircraft Sub-assembly Tables by INTELLICraft provide ultimate mobility and sufficient stability to facilitate the highest levels of health and safety. Combining convenience with performance, our products perform under pressure: period.
Shop Now
Achieving Aerospace Excellence
Here at Schaumburg Specialties, we understand that precision is a top priority in the maintenance and manufacturing of aviation and aircraft components. That's why our expert team of metal fabricators use the latest in manufacturing processes to guarantee superior-performance products that are meticulously designed to the highest of standards. With INTELLICraft, we're inviting your company to achieve aviation excellence.
We're proud to offer maximum flexibility with a comprehensive choice of colours, materials and configuration options, with a tailor-made approach available on request. From wing transportation carts to tool trolleys, component racks and more, INTELLICraft provides the reliable support you need to facilitate a safe, productive and highly efficient assembly environment or workshop. To get started with your own bespoke project, reach out to us for a free consultation.
Contact

When asked if he would recommend SHOPCraft Colors to other people, Steve VandeWalle replied, "Yes, definitely. You can buy a cheaper rack anywhere else, but having a premium SHOPCraft rack with the anodized coating is well worth the money.
Steve V / Appleton, WI

Thanks so much for getting the racks to me! They just disappeared (into production) as soon as they got here - they are really great. The only problem is that the wheels turn!!

Ken J / Elk Grove, IL

We ordered the disposable bakery rack covers. They work great and the shipping time was super fast. Very satisfied and will reorder again. Great company!

David Leach / Illinois State University

I have enjoyed working with you and your company in the past several years. Your focus on customer service and the quality of your product far exceeds your competitors. I can always count on you to expedite my orders effectively and efficiently and many times I received my order sooner than I expected.

Bob V. / Carolina CPL Co-Op / NC

The pan carts look absolutely great! Really appreciate Eric driving them all the way down here. I think that's a first from any vendor we've ever dealt with! Really shows your guys' commitment to your customers.

Javier H. / Udi's - Pinnacle Foods / CO

HEAVY duty and solid. I wanted - and found - something that could stand up to lots of constant use. With its lifetime guarantee, I've kept our receipt, but I doubt I'll need it more than to remind myself and others what a quality bargain we found.
Peter Enchelmayer / St M Chapel Hill, NC / Kitchen Assistant

After receiving a sample [of your donut racks], it was immediately clear that these were the racks for us. The choice of materials and the quality of construction exceeded my expectations. After ordering over 800 racks from [Schaumburg Specialties] over the last 10 years I wouldn't think of purchasing them from anyone else.
Jason T / Central Florida Donut Distribution Center