Pioneering Performance in Agriculture & Indoor Farming to Meet Production Needs
As an industry, agriculture and indoor farming are growing exponentially in America and beyond, with crops like tomatoes, chives and medicinal cannabis occupying large portions of the market. In order to support the growth of this industry, Schaumburg Specialties offer an extensive range of precisely-engineered products that support high levels of productivity and harvest quality across hydroponic, aquaponic and aeroponic farming processes.
AGRICraft offers made to specification products: tables, racks, trays and carts for the indoor farming and agriculture sector.
SHOP THE RANGE
Today's growing indoor and vertical farming sector needs sturdy, supportive products that are highly resistant to a number of pressures; including humidity, temperature and aggressive PH levels. By choosing our range of durable products, indoor farming operations can proceed in confidence that their drying racks and crop growing racks will be fully resistant to a range of fertilizers and chemicals whilst maximizing the efficiency and quality of their final harvest. When all of those elements of your growing operation are taken care of, a good yield can be expected.
Processing
Workstations
At Schaumburg Specialties, we understand that certain crops must go through a unique set of processes to achieve a high quality end product. That's why we're proud to offer procession workstations and other indoor farming essentials that are designed according to the nature of your crop, the conditions it demands and the space it requires to thrive.
ENQUIRE
Produce &
Feed Processing
Whether you're using hydroponic, aeroponic or aquaponic processes (or a combination of these processes), your drying racks and growing tables must provide a safe ground for agricultural products to grow and survive. That's why our products provide ample space for trimming and pruning, ensuring a shorter drying time by encouraging strong airflow.
ENQUIRE
AGRICraft
Utility Carts & Boot Racks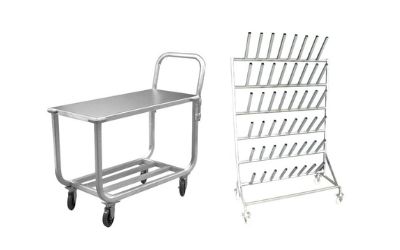 Unlike any other indoor farming carts, AGRICraft products feature a welded construction which is designed to last. What's more, these sturdy farming essentials can support heavy weights, including finished crops and bags of fertilizer.
Shop Now
AGRICraft
Germination Racks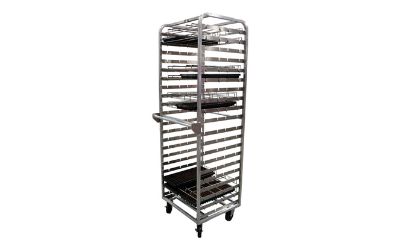 Our germination, drying, and crop growing racks are fully resistant to a range of fertilizers and chemicals, maximizing the efficiency and quality of your harvest.



Shop Now
AGRICraft
Processing Tables
Productive and successful indoor farming operations demand durable, low-maintenance spaces on which to process a range of crops. Our selection of racks and carts tick all those farming boxes, no-matter the challenge. Get in touch to get started!
Shop Now
Meeting the Needs of the Indoor Farming Sector
Indoor farming is set to transform America's agricultural industry. However, to realize the true potential of these innovative farming processes, businesses must be prepared with the right equipment, including farming racks, herb drying racks, processing tables and more. In order to support the growth of this exciting industry, we're offering products that allow you to grow more agricultural products, faster.
Agriculture and indoor farming operations typically operate under a number of changing environmental conditions; including humidity, temperature and fluctuating PH levels. By opting for equipment from Schaumburg Specialties, your farming operation can proceed in confidence that your racks, carts, trolleys and dollies are equipped to deal with these pressures, facing zero rust or erosion due to contact with water or aggressive fertiliser products. For a healthy, productive harvest, call on the Schaumburg team.
Contact

When asked if he would recommend SHOPCraft Colors to other people, Steve VandeWalle replied, "Yes, definitely. You can buy a cheaper rack anywhere else, but having a premium SHOPCraft rack with the anodized coating is well worth the money.
Steve V / Appleton, WI

Thanks so much for getting the racks to me! They just disappeared (into production) as soon as they got here - they are really great. The only problem is that the wheels turn!!

Ken J / Elk Grove, IL

We ordered the disposable bakery rack covers. They work great and the shipping time was super fast. Very satisfied and will reorder again. Great company!

David Leach / Illinois State University

I have enjoyed working with you and your company in the past several years. Your focus on customer service and the quality of your product far exceeds your competitors. I can always count on you to expedite my orders effectively and efficiently and many times I received my order sooner than I expected.

Bob V. / Carolina CPL Co-Op / NC

The pan carts look absolutely great! Really appreciate Eric driving them all the way down here. I think that's a first from any vendor we've ever dealt with! Really shows your guys' commitment to your customers.

Javier H. / Udi's - Pinnacle Foods / CO

HEAVY duty and solid. I wanted - and found - something that could stand up to lots of constant use. With its lifetime guarantee, I've kept our receipt, but I doubt I'll need it more than to remind myself and others what a quality bargain we found.
Peter Enchelmayer / St M Chapel Hill, NC / Kitchen Assistant

After receiving a sample [of your donut racks], it was immediately clear that these were the racks for us. The choice of materials and the quality of construction exceeded my expectations. After ordering over 800 racks from [Schaumburg Specialties] over the last 10 years I wouldn't think of purchasing them from anyone else.
Jason T / Central Florida Donut Distribution Center