Metal Fabrication for Medical Purposes
America's thriving medical, dental and veterinary sectors operate to the highest standards of hygiene, health and safety. With the acclaimed MEDICraft selection by Schaumburg Specialties, medical and healthcare organizations can invest in medical carts, pathology carts, mortuary or necropsy carts and custom made stainless steel treatment tables that are safe to use, easy to move and simple to clean. With today's public health challenges, why settle for standard?
Introducing MEDICraft: precision metal fabrication for medical, dental & veterinary purposes.
SHOP THE RANGE
Here at Schaumburg Specialties, we're proud to use our decades of experience in metal fabrication to create a safer, more secure healthcare landscape throughout the USA. From medical racks and frames to storage units, work tables and more, we build equipment for the medical, dental and veterinary sectors  that meet and exceed industry specifications and standards. Whilst our welded construction offers security and stability wherever it is needed, our choice of materials are easily sanitized to a high standard using basic cleaning products. Where sanitation and support are essential, choose MEDICraft.
Medical Racks
& Work Tables
Whether your organisation operates in the medical, dental or veterinary sectors, it is essential to invest in racks and work tables that offer optimal efficiency and ultimate cleanliness. Our essential medical cart features a welded construction, providing less places for germs and bacteria to call home. Meanwhile, our medical carts and more provide foot-operated levers for sanitary use.
ENQUIRE
Storage Units
& Frames
Depending on the size, scale or nature of your medical, dental or veterinary organisation, using space effectively and safely is a top priority. By investing in Schaumburg Specialties' selection of medical storage units and custom made frames, your organisation can store essential equipment like drugs and sharp tools in a place that is safe, secure and accessible to authorised personnel only. This can bring the added benefit of freeing up more space in your treatment areas, enhancing levels of safety in the process. Discover strength and sanitation combined with MEDICraft!
ENQUIRE
MEDICraft
Cabinets & Racks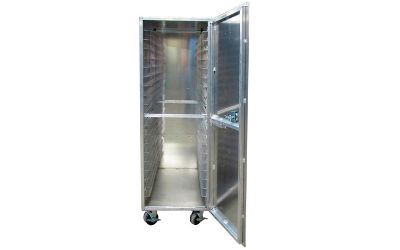 Our custom built cabinets and racks feature a strong, sturdy base with lockable wheels to offer both functionality and manoeuvrability. We also supply IV stands and dispensers.


Shop Now
MEDICraft
Tables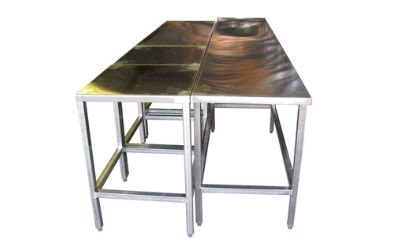 Keeping medical instruments and supplies safe and clean requires a platform that is stable and conducive to the highest levels of hygiene. Fortunately, our selection of adjustable, reliable medical tables cannot be beaten on sanitation or strength. We also supply autopsy and necropsy tables.
Shop Now
MEDICraft
Overbeds & Carts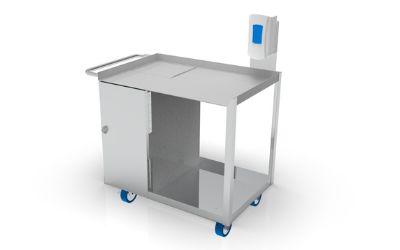 A perfect addition to any clinic or hospital, Schaumburg Specialties offers custom medical carts that provide a large staging area on which to process and store utensils, equipment, medication or other supplies.



Shop Now
Custom Made Clinical Equipment
We're passionate about using our 30+ years of metal fabrication expertise to make a real difference to our medical, dental and veterinary sectors. That's why we've channelled all of our skill and experience to introduce MEDICraft: the durable and definitive selection of precision-manufactured medical products from the experts at Schaumburg Specialties. Where sanitation, safety and support are needed, we're here to help.

Adjustable, easily-movable and supportive of heavy working loads, choose the MEDICraft range.
Our medical carts, food racks and supply tables have become a cornerstone of the MEDICraft brand. However, our offering doesn't stop there. We're also proud to provide an array of medical equipment essentials, including hand sanitizer dispensers, medical supply dollies, IV stands and more, with each and every product finished to the highest industry standards. We can even create a bespoke product - just get in touch!
Contact

When asked if he would recommend SHOPCraft Colors to other people, Steve VandeWalle replied, "Yes, definitely. You can buy a cheaper rack anywhere else, but having a premium SHOPCraft rack with the anodized coating is well worth the money.
Steve V / Appleton, WI

Thanks so much for getting the racks to me! They just disappeared (into production) as soon as they got here - they are really great. The only problem is that the wheels turn!!

Ken J / Elk Grove, IL

We ordered the disposable bakery rack covers. They work great and the shipping time was super fast. Very satisfied and will reorder again. Great company!

David Leach / Illinois State University

I have enjoyed working with you and your company in the past several years. Your focus on customer service and the quality of your product far exceeds your competitors. I can always count on you to expedite my orders effectively and efficiently and many times I received my order sooner than I expected.

Bob V. / Carolina CPL Co-Op / NC

The pan carts look absolutely great! Really appreciate Eric driving them all the way down here. I think that's a first from any vendor we've ever dealt with! Really shows your guys' commitment to your customers.

Javier H. / Udi's - Pinnacle Foods / CO

HEAVY duty and solid. I wanted - and found - something that could stand up to lots of constant use. With its lifetime guarantee, I've kept our receipt, but I doubt I'll need it more than to remind myself and others what a quality bargain we found.
Peter Enchelmayer / St M Chapel Hill, NC / Kitchen Assistant

After receiving a sample [of your donut racks], it was immediately clear that these were the racks for us. The choice of materials and the quality of construction exceeded my expectations. After ordering over 800 racks from [Schaumburg Specialties] over the last 10 years I wouldn't think of purchasing them from anyone else.
Jason T / Central Florida Donut Distribution Center