---

Have you ever wondered how to increase productivity with oven racks? You're not alone! Every day, thousands of food producers throughout America use oven racks to produce food en-masse. In the latest blog from ShopCraft, we share some tips with our customers on how to increase food production using these products in three simple steps. Check it out!
Whether you're a small, local bakery or a food producer operating a large production line, using oven racks correctly can transform the productivity at the heart of your business. However, understanding how to increase food production using oven racks requires a number of considerations, including:
Selecting the right oven for your food production requirements;
How to choose the perfect oven rack;
How to clean & maintain your oven rack.
In this brief guide to oven racks, we answer all of these questions and more. Keep reading to learn more – you can thank us later!
Step 1: Choose the Right Oven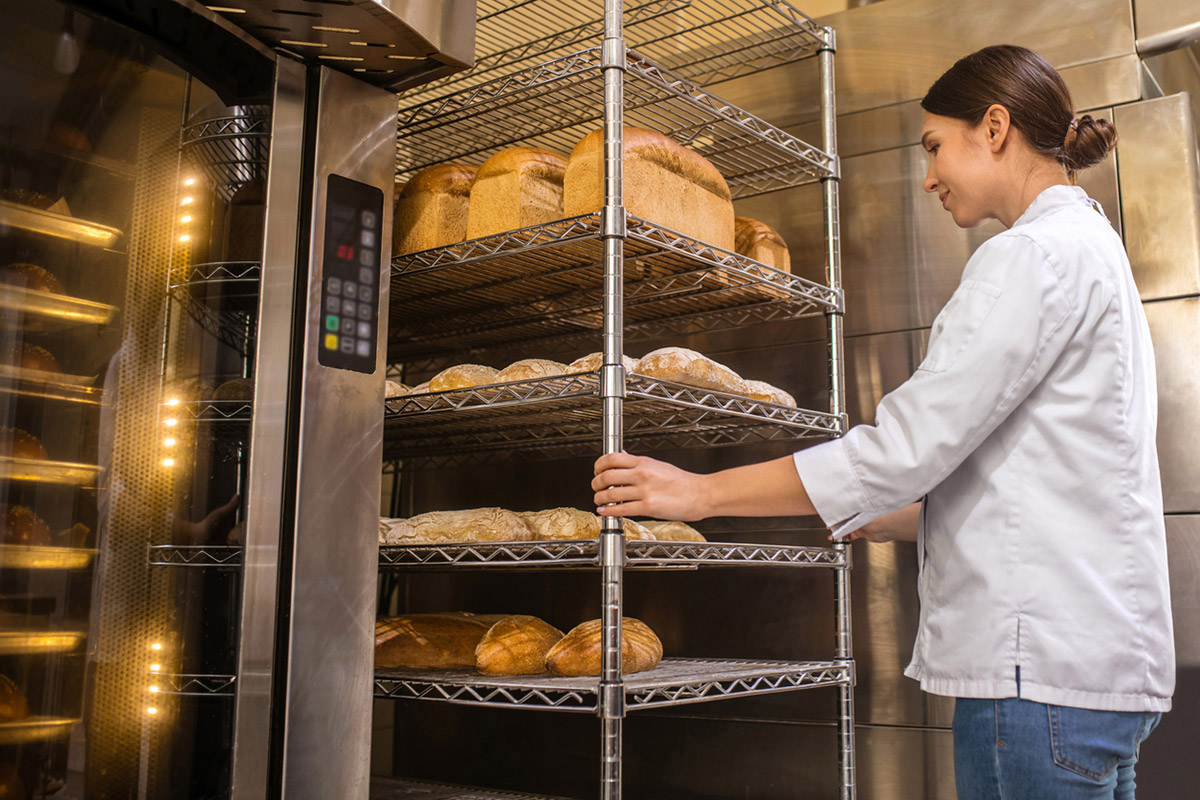 Before we explore how to increase productivity with oven racks, first thing's first: you'll need an oven that's up to the job. When orders increase and demand overflows, you need shorter turnaround times. Whilst your choice of oven racks is critical, choosing the right oven is equally important.
Investing in a high-quality rack oven can help your food production operation become more efficient in finishing your culinary masterpieces on a commercial scale. Whilst it can be tempting to cut corners here with cheap or used, standard-quality ovens, opting for high-capacity, high-volume alternatives will pay for itself.
With all of the choices out there, we're making that decision easier than ever by offering some of the most efficient and effective options available, allowing our customers to increase production speeds, meet delivery targets and satisfy even more customers. Here's just a few of the
commercial rack ovens we've got on offer:
726 Single Rack Oven: Holding one single oven rack with a max tray size between 20" and 30", the 726 Single Rack Oven is as smart as it gets with computer controls for over 500 recipes. This industrial rack oven is available in gas, oil and electrically heated models, baking everything without adjustments. What's more, this ovens' total convection control (TCC) ensures your products come out cooked evenly with maximized volume & minimized weight loss.
724 Double Rack Oven: Holding one double oven rack or two single oven racks, the powerful 724 oven offers a level of output that is ideal for 24/7 production and allows food production businesses to bake up to four different products simultaneously with a multiple-alarm system. Energy efficient and highly versatile, this industrial grade oven even features a high-volume steam system which produces desirable texture and crust.
For more advice on choosing the perfect oven system, check out our previous blog which explores this question in detail.
Step 2: Choose the Right Oven Rack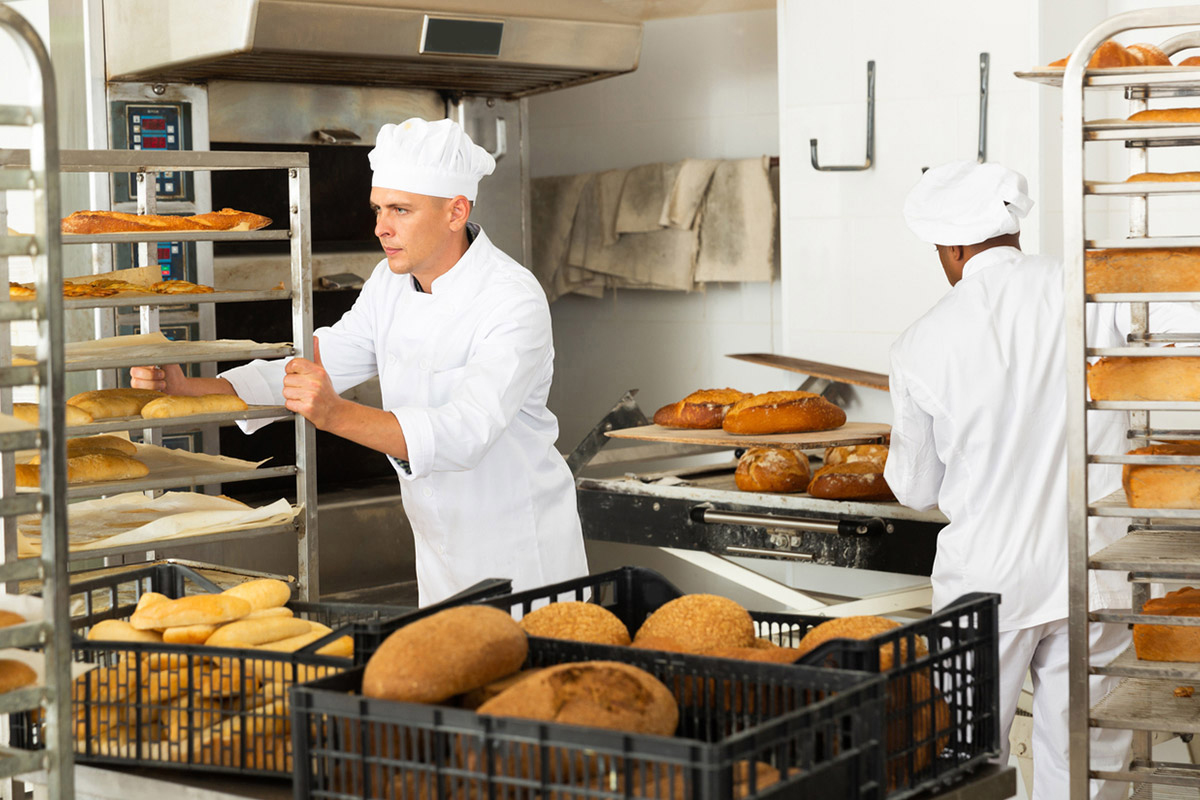 Knowing how to increase food production depends on knowing how to choose the perfect oven rack. Fortunately, we've got some tips and advice that will help you make the right decision.
Once you've chosen your oven, it's time to think about the racks that will be placed within it, as well as the oven lift that will suspend the racks. When it comes to choosing the right oven rack, it's essential that you understand the basic material handling equipment available in order to ensure the best possible baking experience. Indeed, your choice of oven rack can draw that thin line between a profitable kitchen and an unprofitable one.
When you choose ShopCraft oven racks, you choose oven racks that maximise your profits and reduce your costs. Offering a range of different customizations to suit your business needs, we offer a selection of stainless steel or aluminum options to withstand the highest cooking temperatures in your oven. Meanwhile, our use of the most tensile materials means that you can invest in ultimate longevity and lessened costs in the long run.
Customizable Aluminum Double Oven Racks: These pan racks work well for proofing prior to your baking process as well as many other non-oven applications. Order in standard sizes or have them custom built for your pan size.
Regardless of your choice of oven rack, opting for SHOPCraft offers significant and unique benefits:
1. Ultimate Quality
Unlike other oven racks, those produced by SHOPCraft are supported by an all-welded construction which does not include rivets, nuts or bolts, apart from stainless steel fasteners which are attached to the casters. Meanwhile, a vertical support tube in the centre of each side panel strengthens each slide in the centre of the rack. For a virtually indestructible oven rack, SHOPCraft is the natural choice.
2. Ultimate Mobility
The mobility of your oven rack will often contribute to the overall production speed behind your food business. The unrivalled mobility behind SHOPCraft oven racks is secured by its high temperature wheels which are impervious to water and grease. Indeed, regardless of how loaded your rack is, you can ensure smooth mobility across your production floor.
3. Ultimate Longevity
We're totally confident in the strength and performance of our oven racks. So confident, in fact, that we're offering each and every SHOPCraft customer a lifetime guarantee behind their product.
Still unsure about about the strength and quality of SHOPCraft compared to cheaper market alternatives? Check out some testimonials below from our satisfied food production customers:
"We started purchasing casters for our Oven Racks from Schaumburg Specialties in 2000 so we were aware of the SHOPCraft brand. We have been very pleased with the quality and durability of the Double Bay Racks we bought in 2011—they were built so well that no modifications have been needed as our processes have changed." – Commercial Bakery, North Dakota
"We are very pleased with the racks that we have purchased from your company over the years. We don't recall even a single issue with any of them. We use them daily – all still very sturdy, which shows how good the construction has been!" – Food Plant, New York
"We have purchased SHOPCraft aluminum oven racks from Schaumburg Specialties and have found them to be very well built and extremely durable. We have been using these racks for years and, despite the constant use in and out of the ovens, they continue to hold up." – Food Production Firm, Illinois
Step 3: Clean & Maintain Your Oven Rack Properly
By undertaking some cleaning and maintenance duties on your SHOPCraft oven rack, you can ensure that your oven racks always move smoothly whilst ensuring the crevices and corners of your oven rack don't become totally blocked with burnt-in grease. After all, when spilled materials are baked into your rack again and again and again, they become carbon materials which can be quite difficult to remove. IN the vast majority of cases, such burnt-on material is resistant to acid and alkaline-based cleaning products.
When it comes to properly cleaning & maintaining your oven rack, there's three main ways to go about it: blasting, burning or scraping. Here's some tips you can follow before you reach that point:
Clean every day: That's right – you'll want to clean your oven racks daily if possible. Try a simple cleaning detergent to remove the thinnest levels of grease and burnt-on ingredients.
Use a pressure washer: Force crusty materials off with a strong blast of water.
Ice blast: Freeze those most problematic deposits and blast them off. Simple!
Use a rack washer: This is one of the most convenient ways of washing your racks and prevents your cleaning task from becoming unmanageable.
Need more tips on cleaning and maintaining your SHOPCraft oven rack? We've got a tutorial video for that – see below!
Boost Food Production with SHOPCraft Oven Racks
Here at SHOPCraft, we offer a huge selection of customizable oven racks to boost productivity in any food production environment. To get started,
contact us today for a FREE, expert consultation.