---
Whether you're running a restaurant, a bakery, or any other foodservice business, having racks and other food production equipment that complies with the highest food safety and hygiene security standards is crucial.
If the way your food produce is handled, stored and transported is not in line with stringent food safety regulations, then you could be putting your business – and your customers – at risk.
Here in the US, we have super strict food safety laws for good reason. According to the US Food & Drug Administration (FDA), approximately 48 million (roughly 1 in 6) Americans fall sick every year as a result of foodborne diseases. Of these, 128,000 are hospitalized and of those, 3,000 die.
These are sober statistics, but in fact this huge public health burden is largely preventable. The Food Safety Modernization Act (FSMA) was put in place by the FDA to ensure that every part of the food supply chain is complying with stringent regulations to keep the food we eat safe. Food production businesses, like any other, must observe their responsibilities and take steps to protect their customers from the dangers of contaminated foodstuffs.
At Schaumburg Specialties, we understand how confusing constantly evolving food safety laws can be and how stressful it can be to keep on top of them. We work hard to ensure that our SHOPCraft bakery and commercial kitchen racks, indeed every piece of food production equipment we manufacture, is fully compliant with FSMA food safety regulations.
Read on to learn how the FSMA can affect your business practices and how our food safe SHOPCraft racks can ensure you're fully FSMA compliant.
How Do FSMA Regulations Affect Your Food Production Business?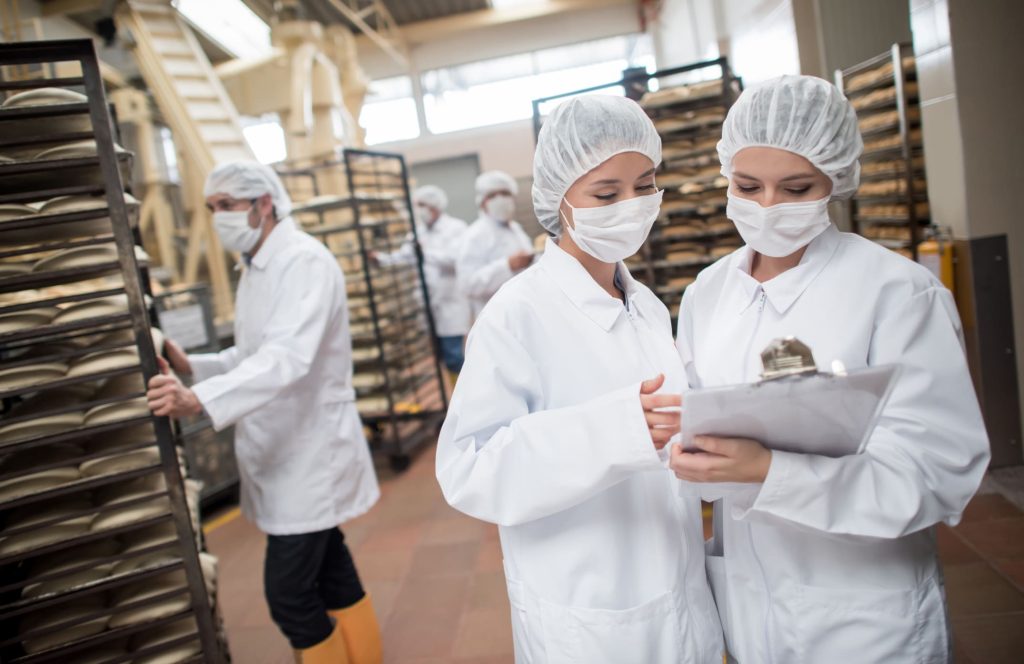 The Food Safety Modernization Act (FSMA) was signed into law in 2011, giving the FDA authority to regulate the way food is grown, harvested, and processed.
The purpose of new regulations was to establish a unified system for identifying, responding to and preventing foodborne illnesses. It is specifically the new regulations around the processing of food that affects those in the bakery and commercial foodservice businesses, and the FDA has mandatory recall authority if any food safety standards are breached.
FSMA regulations also put the onus on the purchaser rather than the manufacturer to ensure that they buy food production racks and equipment that is well-designed and can be easily cleaned and sanitized. So if there are any flaws or inadequacies that lead to food safety issues, it is the purchaser who is responsible.
At Schaumburg Specialties, we care about our customers and their businesses and are happy to take on a big part of that responsibility. We're fully committed to providing our customers with food production equipment that is perfectly designed, super easy to clean and sanitize and completely regulation compliant.
How SHOPCraft Racks Can Ensure Food Safety Compliance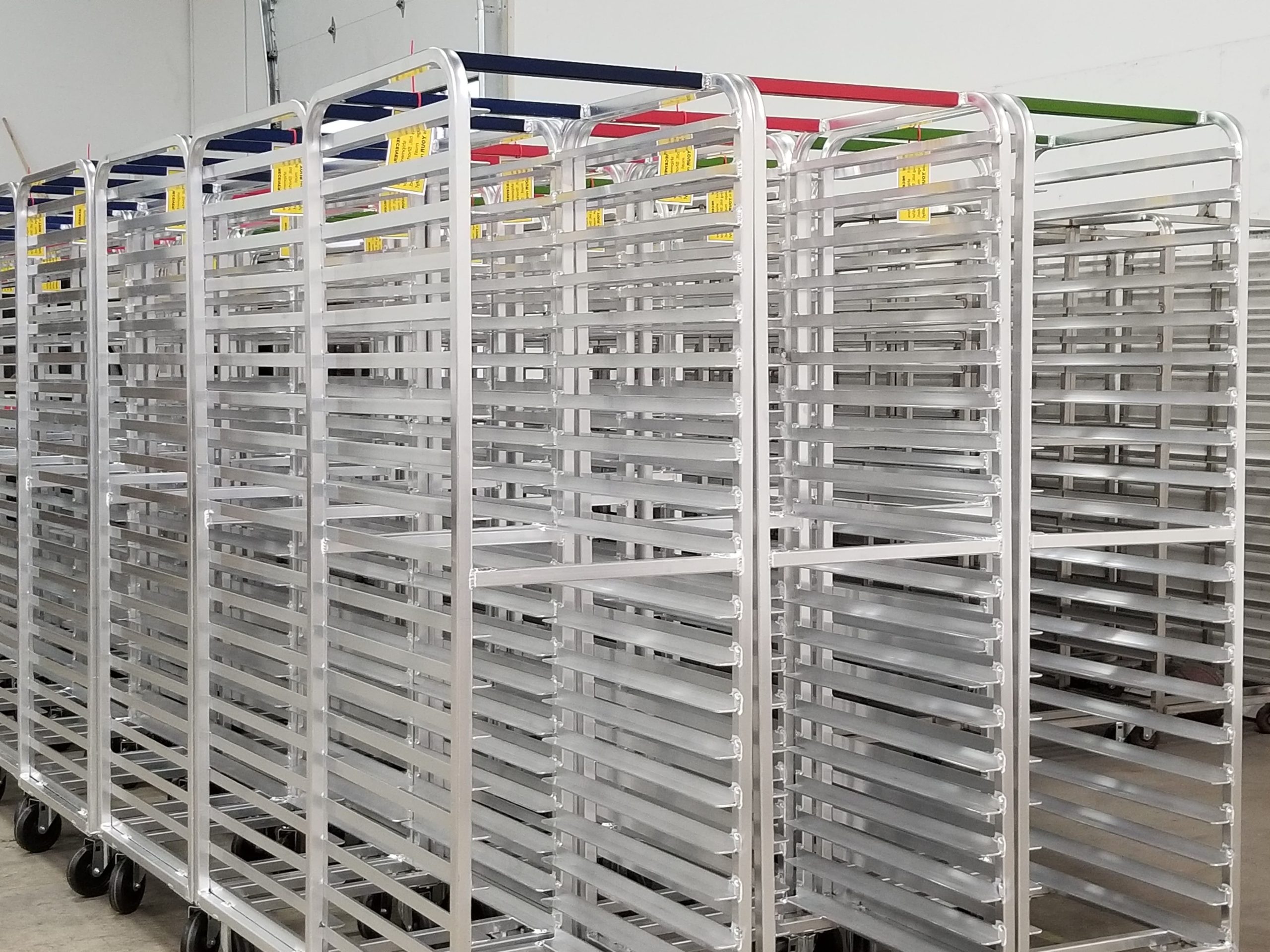 Schaumburg Specialties understands what it means to have an efficient, productive and profitable business and the key role that top-performing, food safe and regulation compliant racks play in achieving it.
We know that trying to keep up with often confusing food safety rules and regulations is tough, so we take all the worry away and work with you to ensure all your food production equipment meets the highest standards.
So what is it about our SHOPCraft racks that means they're food safe?
100%-Welded Construction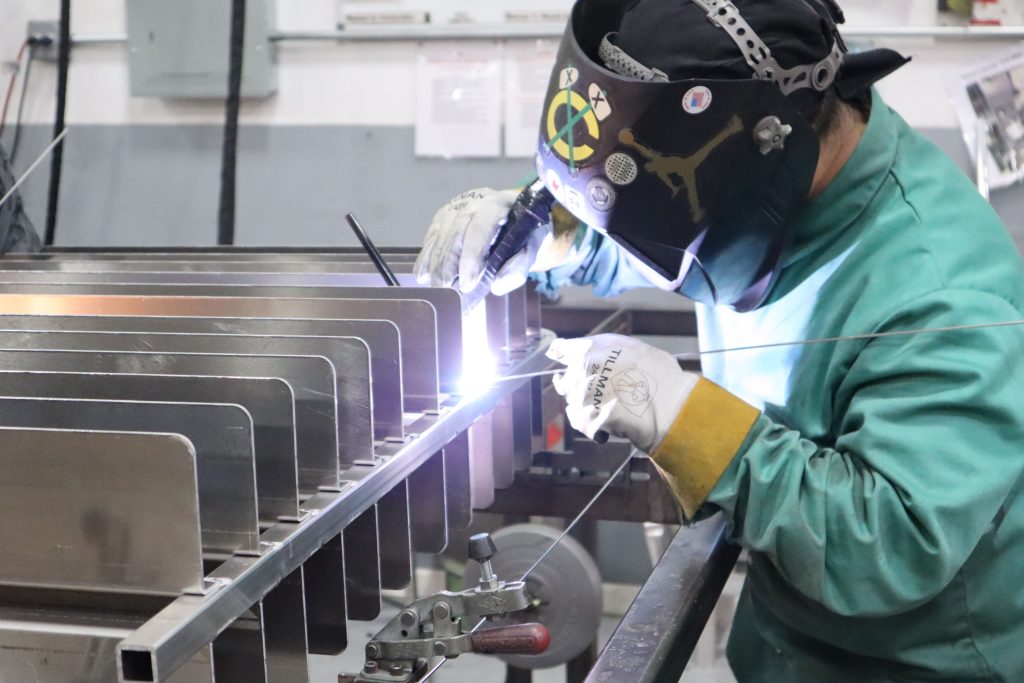 Part of ensuring proper sanitation in a food service setting is to have "clean equipment design" that allows access to observe, inspect, clean, and reach in for sampling. If you can't reach something, you can't clean it, and this goes for all of the parts of a bakery rack.
Our SHOPCraft racks feature the very best clean equipment design and are super easy to clean and sanitize. This is mainly due to their all-welded construction, which gives smooth, clean lines and means there are no rivets, nuts and bolts involved, which are tricky to reach and keep sanitary.
An all-welded construction also means the tube ends of each rack are welded shut. This is important because it means food, debris, and dirt are unable to penetrate the rack and become a breeding ground for bacteria, keeping your produce safe and your business fully compliant with FSMA regulations.
Highly Corrosion Resistant & Low Maintenance
Our SHOPCraft racks are made from premium quality aluminum or stainless steel and are extremely resistant to corrosion, aggressive cleaning agents, water penetration and rust formation – making them reliably food safe.
Rest assured that our SHOPCraft racks can withstand high oven temperatures and heavy use without breaking or corroding, meaning you can get on with running your busy production line without worrying about any breakdowns or inadequacies that could lead to food safety issues.
Our Lifetime Guarantee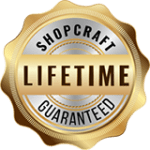 As previously mentioned, FSMA regulations place the responsibility of ensuring food production equipment is compliant with safety standards on the purchaser. At Schaumburg Specialties, however, we are happy to take a lot of that responsibility away from our valued customers.
All our SHOPCraft racks are covered by Schaumburg Specialties' lifetime guarantee, which protects our clients' investment for the lifetime of the product they buy. We stand behind the quality and workmanship of everything that we build, so if any problems occur that could lead to issues with food safety standards that aren't down to misuse, we'll repair or replace it free of charge.
Our brilliant lifetime guarantee gives you an extra layer of protection when you invest in our food safe and regulation-compliant SHOPCraft racks. Contact us today for more information and to discuss your requirements.
Be Food Safe With Our Entire SHOPCraft Range
Being fully compliant with food safety regulations of course means that your whole commercial kitchen premises need to be kept clean and in tip top condition. The hygiene security of the utensils you clean with, the surfaces you use for food preparation and the hygiene compliance of staff is just as important as the cleanliness and sanitation of your food production equipment.
At Schaumburg Specialties, we know everything there is to know about complying with food safety regulations and we're proud to supply the racks, pans, ovens and washers that keep your business food safe.
Read on to learn more about some of our other products that are instrumental in helping your business be FSMA compliant.
Somengil multiwasher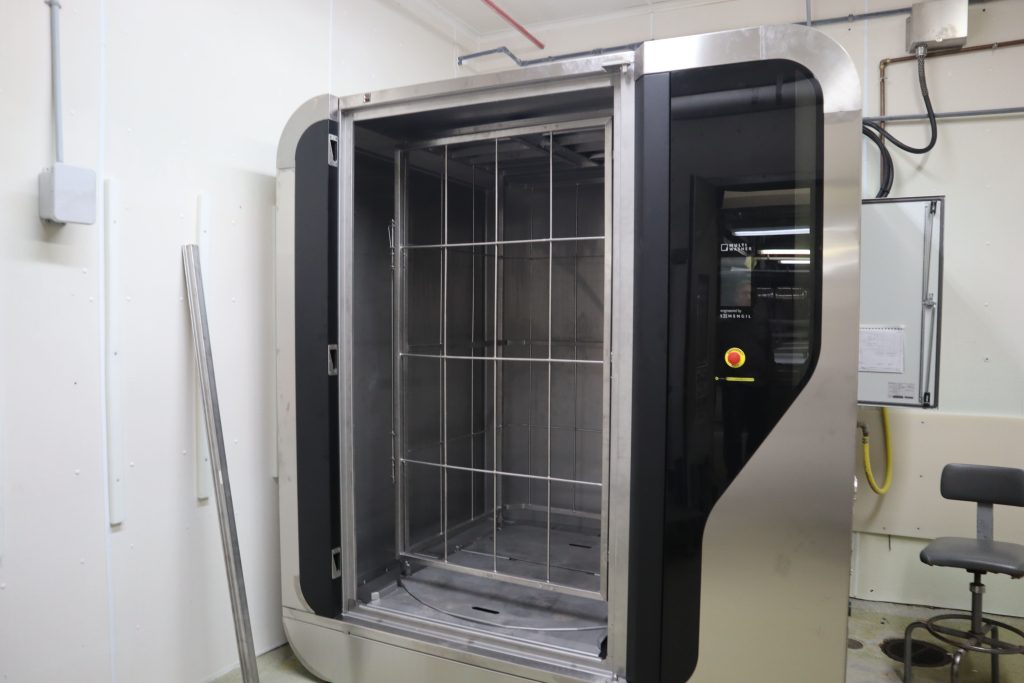 When it comes to unbeatable cleanliness and sanitation, look no further than the Somengil multiwasher, available through Schaumburg Specialties. This multiwasher washes and sanitizes large quantities of utensils and any tool or equipment to the very highest standards, whichever food industry you're in.
Investing in a washer such as this will make any worries you have over clean and sanitized production equipment completely disappear. Contact us today to find out more.
Pan Rack Covers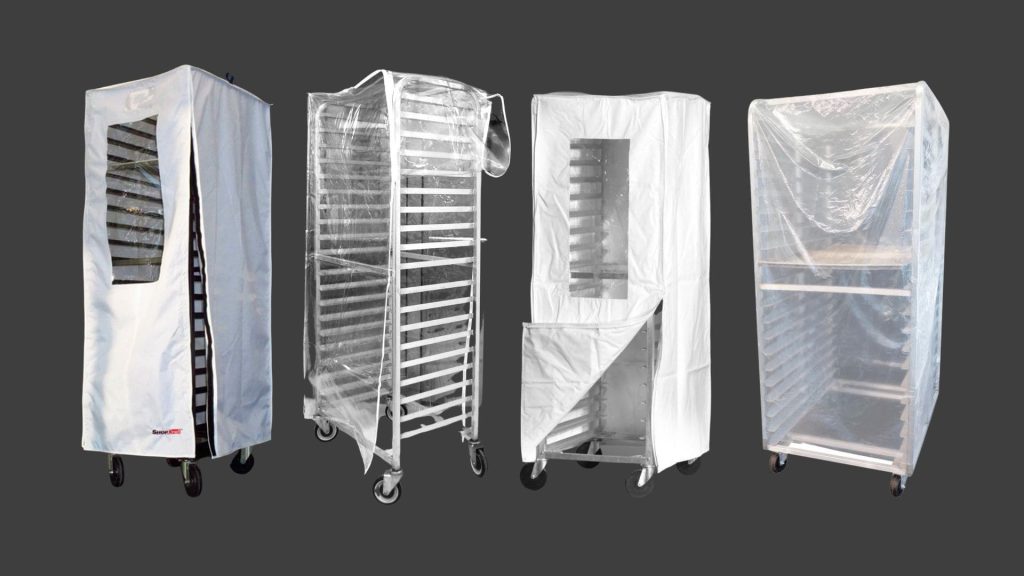 Protect your food product from exposure to harmful pathogens and cross contamination with our highly efficient and versatile pan rack covers.
Providing an extra layer of high quality protection when food is being transported or stored, our pan rack covers are made from a water repellant and machine washable nylon pack cloth that's easy to clean and will protect your product from exposure to air and light (which can cause spoilage).
Using our pan rack covers will allow you to markedly improve food safety and go a long way to helping ensure you are keeping on top of FSMA food safety regulations.
Conclusion
A huge part of running a productive and profitable business is compliance with the highest food safety standards. Not complying with FSMA regulations can put both your business and your customers in jeopardy.
At Schaumburg Specialties, we understand that keeping on top of stringent regulations can be confusing and time consuming – that's why provide premium quality sheet pan racks that can make any worries you have about food safety compliance disappear. All-welded, corrosion-resistant, super strong and extremely durable, our racks require little maintenance and come with a lifetime guarantee.
We can be your trusted partner in making your food service facility meet FSMA standards. Contact us today to discuss your specific business requirements and let us help you and your production equipment be completely food safe.
Custom Build Your Project
Here at Schaumburg Specialties, your productivity is our passion. Regardless of your spatial, budgetary or operational requirements, our team of experts can design and manufacture the trolly, table, cart or rack you need to transform the productivity at the heart of your business. To find out more about how we can help, contact us for a free quote.