---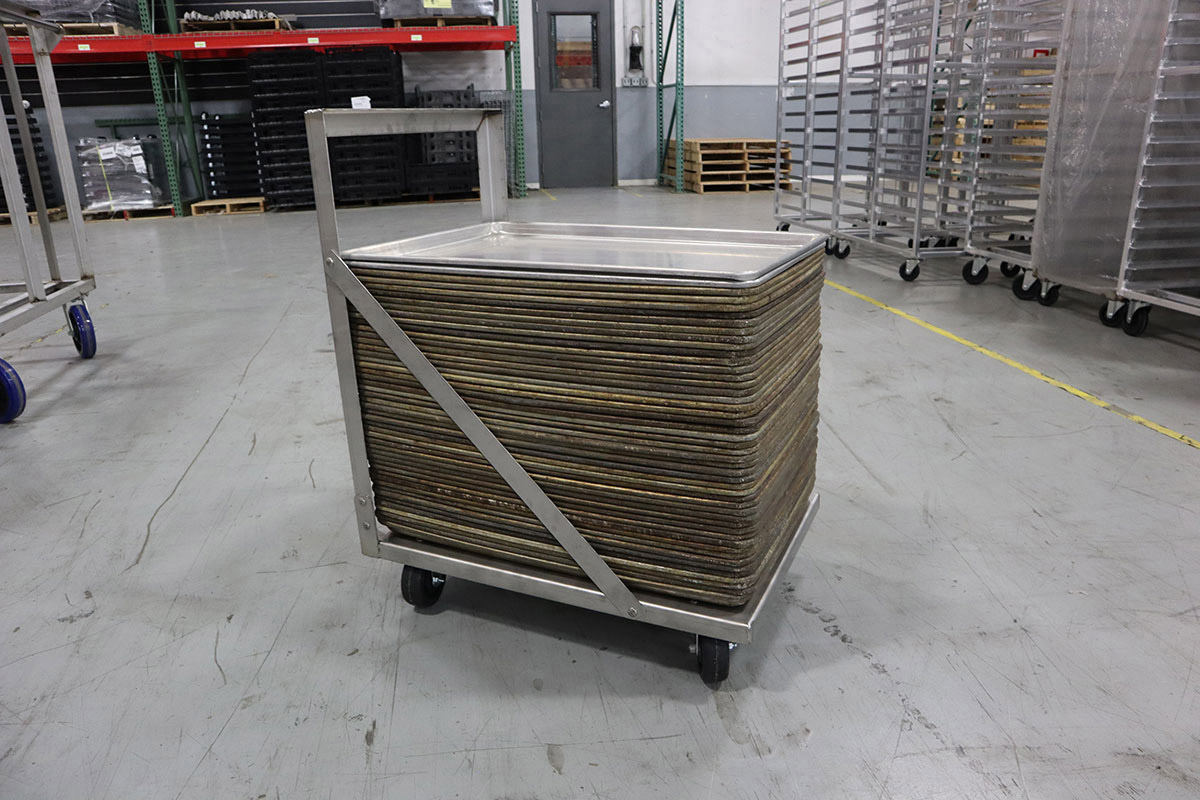 From time to time, we're approached by customers with that classic question: what is a pan dolly and why do I need one for sheet pan storage? In the latest blog from Schaumburg Specialties, we look at what pan dollies do and how they can help virtually any business when it comes to storing sheet pans. Read the full piece below and don't forget to visit our
Learning Center for more industry-leading advice!
Before we get into the specifics of these products and how they can assist your food production operation, let's answer that first question: what is a
pan dolly?
What Is A Pan Dolly?
An essential tool for any commercial bakery or food production business, a pan dolly is a flat, low-to-the-ground trolley which is designed to stack empty sheet pans.
Also known as 'pan trucks', pan dollies are essentially mobile carts that allow commercial bakeries and commissary kitchens to safely and quickly deliver large batches of pans to their destination. Easily-moved, heavily welded and typically available in a range of commercial-grade metals and plastics, these convenient pieces of transport equipment can be found in any food production environment where efficiency and productivity top the agenda.
While pan dollies are often used to transport empty sheet pans, these products are incredibly versatile. Indeed, you don't have to worry about what will fit on your pan dolly and what won't: these products are available in custom sizes or can be specifically tailored to fit your needs.
So: you've found out what a pan dolly is. But why does your business need one? Keep reading to find out more…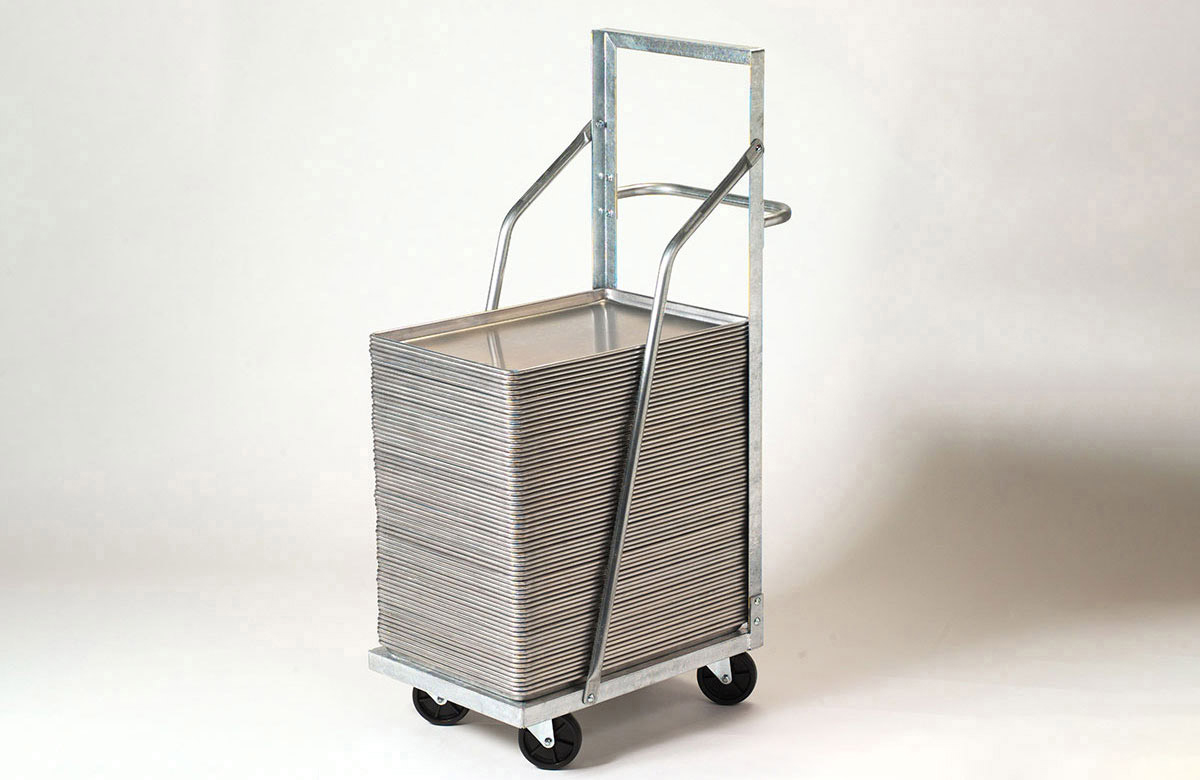 Why Your Business Needs Pan Dollies
At this point, you may be asking yourself: "why does my business need a pan dolly?". In the next section of this blog, we highlight some of the many benefits of pan dollies. including their storage benefits; stable design and impressive strength. Check it out!
Easy to use: Transporting sheet pans and baked goods has never been easier with our selection of pan dollies. Simple to load and taking some of the hard labour out of your food production process, allowing you to stack lots of sheet pans in a way that makes each trip nice and simple.
Reduce time: Here at Schaumburg Specialties, we understand that time is of the essence for any commercial bakery or food production business. Businesses can save on time by using a pan dolley, on which a stack of empty pans can be easily moved directly to where needed.
Impressive capacity: If you need a strong storage solution for sheet pans, a pan dolly is the natural choice. Holding up to 200 pans at once, pan carts offer significant capacity and strength. From holding single or double stacks at a time, or even for donut baskets and donut screens, these products take care of the job.
Unrivalled durability: Many pan dollies and pan carts are advertised as being strong, tough and durable. However, when we say it, we mean it: our 100% welded construction has been designed with durability in-mind, using only the highest quality materials to ensure you get the most out of your product from day one.
Low-to-the-ground: Thanks to their low-to-the-ground-design, pan dollies allow commercial bakeries and commissary-style kitchens to make the very most out of their available floor space. Indeed, while pans can be stacked high from the ground up, they can be wheeled into different locations if and when space gets tight.
Total mobility: Regardless of the weight your pan dolly is carrying, you can proceed in confidence that your product is easy to move in a way that is safe, secure and smooth. Built using heavy duty casters on a strong base, our selection of pan dollies can effortlessly run on uneven floor surfaces or around tight spaces.
Easily-cleaned and highly resistant: We understand that hygienic protocol is top priority for commercial bakeries and commissary-style kitchens. That's why we've engineered our pan dollies to be easily cleaned and sanitized to a high standard. What's more, our choice of materials means you can enjoy impressive rust resistance, meaning and even longer lifespan for your pan dolly.
If your food business or commercial bakery needs a solution that's guaranteed to perform – whether that's when moving food products or storing sheet pans – we're here to help with our huge selection of pan dollies. From
small plastic bakery tray dollies to screen dollies, folding chair dollies and more, we've got you covered!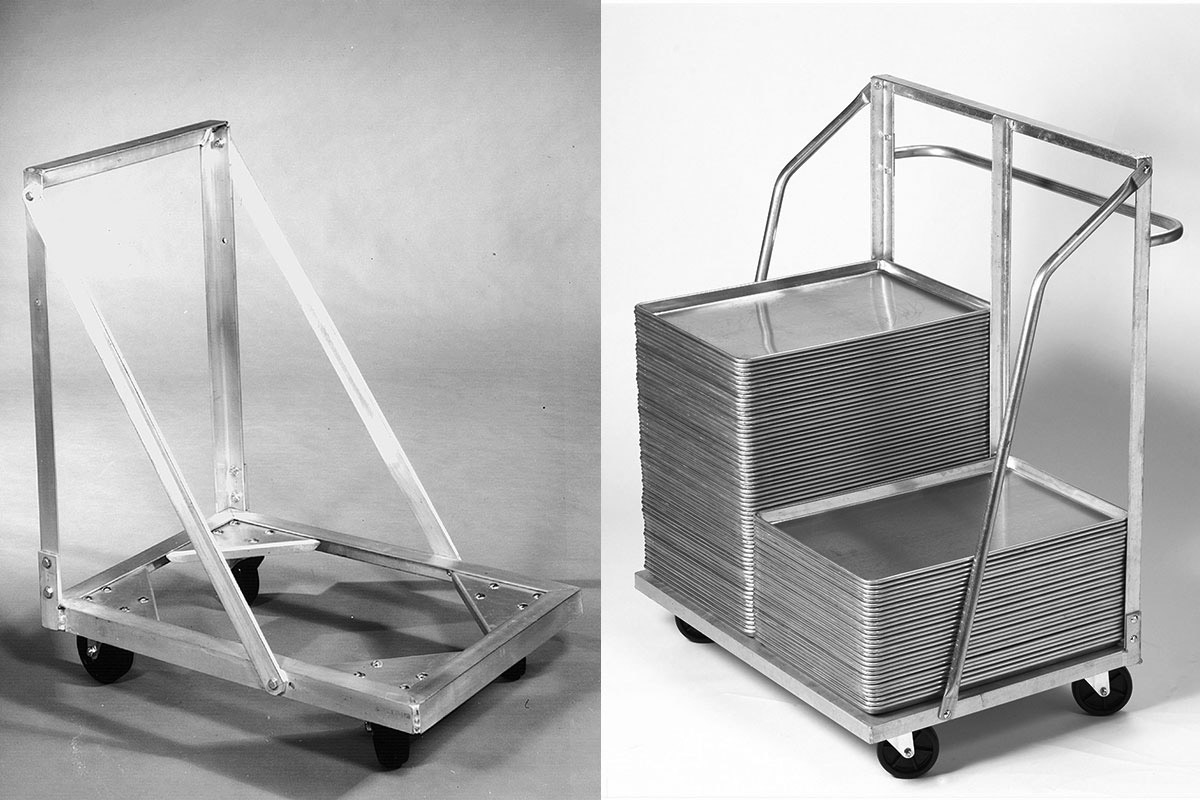 Get Your Pan Dollies from Schaumburg Specialties: America's #1 Metal Fabricator
Need a strong, durable and easily-portable pan dolly? If so, we want to hear from you. Click here to view our full range of pan dollies. View our full range of metal fabrication services here. Alternatively, contact us today to discuss your unique requirements.