---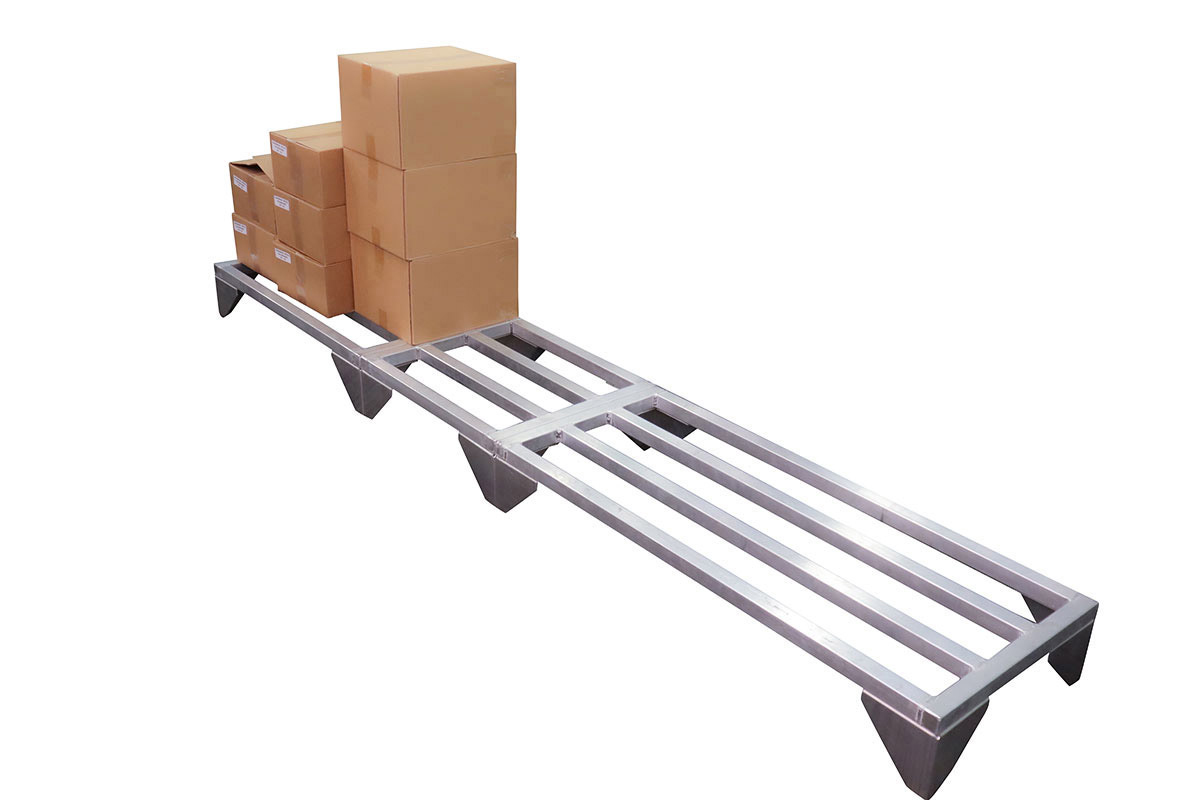 If your business works within a busy food production environment like a commercial kitchen or commissary kitchen, it's highly likely that you've asked yourself one key question: what is an aluminum dunnage rack and why do I need one? In the latest blog from Schaumburg Specialties, we explore the benefits of dunnage racks and how they can transform efficiency in a food production environment.
Today's fast-paced foodservice industry requires more than chefs, commercial cooks and industrial scale ovens. Indeed, whilst those elements are important, business owners within this sector must also provide a secure environment that allows easy storage of food; simple & effective cleaning and faster, more efficient preparation of meals. That's where aluminum dunnage racks come in!
What is an Aluminum Dunnage Rack?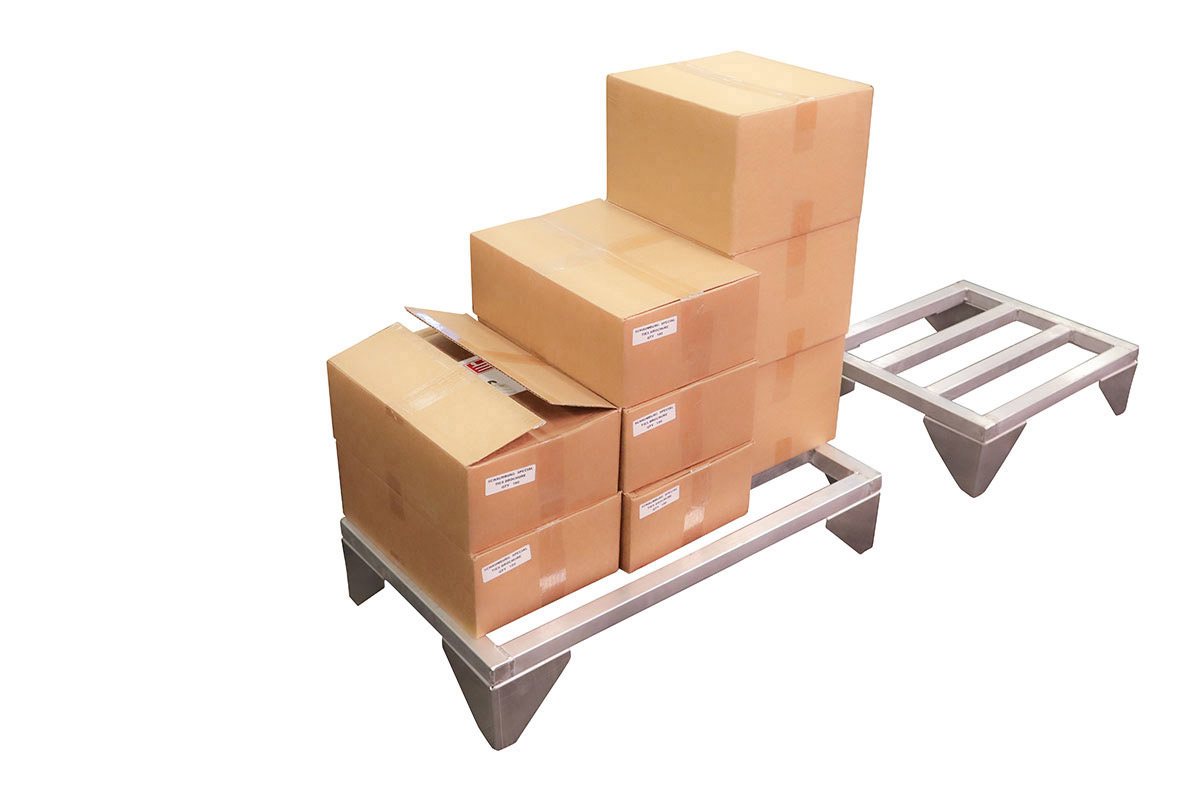 An aluminum dunnage rack is a rack which enables you to store items like flour, sugar and canned foods off the production floor in a way that occupies very little space. When it comes to increasing the storage space in commercial kitchens, dunnage racks are one of the most sensible & cost effective options.
Aluminum dunnage racks are low-to-the-ground racks that are used throughout the foodservice industry to support food products. If you're wondering why they're so close to the ground, it's because many health code requirements require businesses to keep their food and their ingredients at least six inches above the ground in storage environments. Aluminum dunnage racks meet this requirement while providing a durable and reliable place for staff to store ingredients and equipment in bulk.
So – what kind of things can be stored on an aluminum dunnage rack? The list is practically endless. If it's in your pantry, it can be stored on a dunnage rack:
Bags of flour;
Sugar;
Cases of bottled water;
Bag of rice; and
Much more!
These food production essentials can store practically anything your commercial kitchen requires – the list goes on and on!
The Benefits of Aluminum Dunnage Racks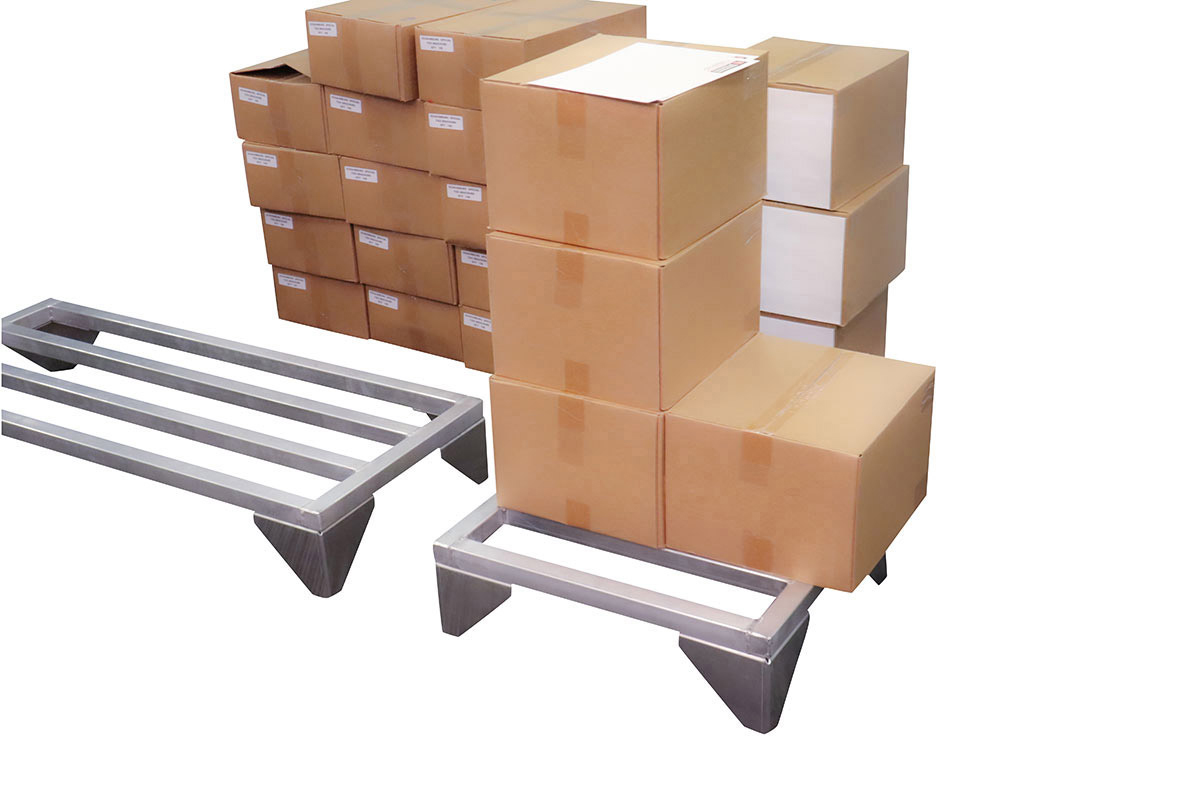 Aluminum dunnage racks can be found in nearly every busy food production environment. Let's take a look at why these racks are so important.
Health code compliant: As previously mentioned, many health code requirements demand that foodstuffs and ingredients be stored at least six inches above the ground in storage areas. Alumimum dunnage racks provide that essential half-foot buffer, allowing you to store your inventory safely, effectively and compliantly.
Durable construction: When you're shopping for an aluminum dunnage rack, you'll want to see a range of features – and durability is perhaps the most important thing to consider. Because of their low-to-ground and hardy construction, the best dunnage racks can each hold thousands of pounds of weight. This means that you can store heavy objects (such as bags of potatoes) that may be unsuitable to store on basic shelving structures. Meanwhile, the durable construction of an aluminum dunnage rack means that you can free up additional space in your walk-in storerooms.
Impressive resistance: Commercial kitchens and other food production facilities are busy and sometimes intense environments, with staff moving at a rapid pace to meet tight schedules. That's why you'll need equipment that is hardy, durable and built to stand the test of time and heavy usage. Unlike any other product, aluminum dunnage racks offer good resistance to rust and corrosion and typically perform well under pressures like heat, fire and low temperatures.
Strength & sturdiness: It's true – your choice of dunnage rack should ideally offer an impressive level of rust and corrosion resistance. However, durability is important, too. When you choose an aluminum dunnage rack, you choose a strong and durable material that won't damage, crack or deteriorate over time, holding its original shape for years.
Easy to clean: Aluminum offers a level of durability and hygiene that is simply unrivalled. Unlike other materials, aluminum can easily withstand frequent washing with heavy duty detergents and chemicals, stopping the build-up of dirt and debris in its tracks. Fundamentally, opting for an aluminum dunnage rack helps you store what you need to while keeping your production environment as clean as possible.
The benefits of aluminum dunnage racks don't end there. Aside from all of the advantages listed above, aluminum dunnage racks also allow you to create additional storage in areas where space is limited. Don't be afraid to get creative with your dunnage rack and take full advantage of the versatility they offer!
Schaumburg Specialties: Manufacturers of America's #1 Aluminum Dunnage Racks
The benefits of aluminum dunnage racks are obvious and can apply to food production environments of all shapes and sizes. At this point, you may be asking: "Where can I find the best aluminum dunnage racks?".
If you're looking for a high-performance, cost-effective aluminum dunnage rack, you've come to the right place at Schaumburg Specialties. As manufacturers of the celebrated SHOPCraft® racks and carts, we combine decades of metal fabrication expertise to offer our customers a product that works for life. Here's just a few reasons to get your aluminum dunnage rack from your trusted fabricators at Schaumburg Specialties:
Our aluminum dunnage racks are supported by the Schaumburg quality commitment.
We create aluminum dunnage racks that are personalized and designed to your specification – get a quote here!
Our products are created using over 30 years of metal fabrication experience
We supply your business with some of the shortest lead times available
Get Started with Your New Aluminum Dunnage Rack
<p"> We pride ourselves on the strength and performance of our aluminum dunnage racks, and we want you to become the next business owner to enjoy their many benefits. To get started, view our official dunnage rack product page to place your order. Alternatively, get in touch with us now to discuss how we can make your own design a reality!</p">