---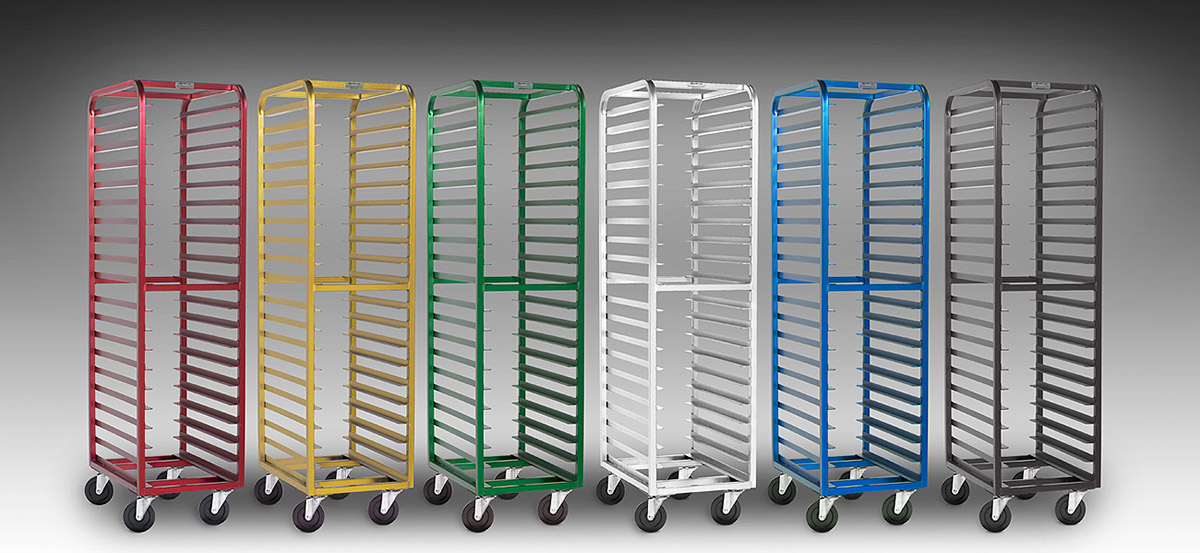 When it comes to commercial kitchen equipment, the effectiveness of any product will largely come down to the material's strength, durability and level of resistance. But how can industrial bakeries and other large-scale food production operations take steps to maximize the durability and lifespan of their equipment? In the latest blog from Schaumburg Specialties, we explore how businesses can achieve this through the benefits of color anodized kitchen equipment.
Here at Schaumburg Specialties, over 50 years of metal fabrication experience has taught us a thing or two about the importance of durability in the world of ancillary food production equipment. No business is prepared to splash out the dollars on expensive replacement and repairs, and procurement managers rightfully wish to see their products perform to their ultimate potential for years into the future.
Where Strength is a Priority, We've Got Some Tips…
From our highly-popular SHOPCraft selection right through to our INTELLICraft and MEDICraft brands, we're passionate about creating ancillary commercial kitchen equipment that performs under pressure for decades, and there's a few ways we do that: from using the finest of materials, to using cutting-edge fabrication technology and welded manufacturing processes. However, there's always a way to make your equipment even more resistant to corrosion and scratching. The secret lies in hard-anodization, which we're explaining in full in this week's blog. Keep reading to learn more!
The Many Advantages of Anodized Aluminum

It's true: our welding expertise, fine materials and advanced fabrication technologies create auxiliary food production equipment that lasts for decades (we even offer a
lifetime guarantee on our celebrated range of SHOPCraft products). However, there are situations where businesses may want to invest in something even stronger (if that was even possible!). These situations include:
Environments where equipment is used within an extremely high-temperature oven
Busy, bustling spaces where bumps, scratches and scrapes may be unavoidable
Multi-purpose commissary kitchens where versatile equipment is essential
Environments where time constraints make maintenance tasks difficult to complete
If any of the above situations apply to your food production environment, a hard-anodized, customized product from Schaumburg Specialties could be the answer you've been looking for.
What is Anodized Aluminum?
Before we get into the benefits, let's look at how anodized aluminum differs from traditional aluminum. The aluminum in hard-anodized commercial kitchen equipment goes through a process which makes it significantly harder and more durable. To achieve this, the aluminum is immersed in a chemical bath and exposed to a strong electrical current. This produces oxide, which forms a hardened layer over the aluminum's surface, making it far more durable and resistant to potential corrosion.
Keep reading to discover the many benefits of anodized aluminum in food production settings!
Benefit #1: Take Durability to a Whole New Level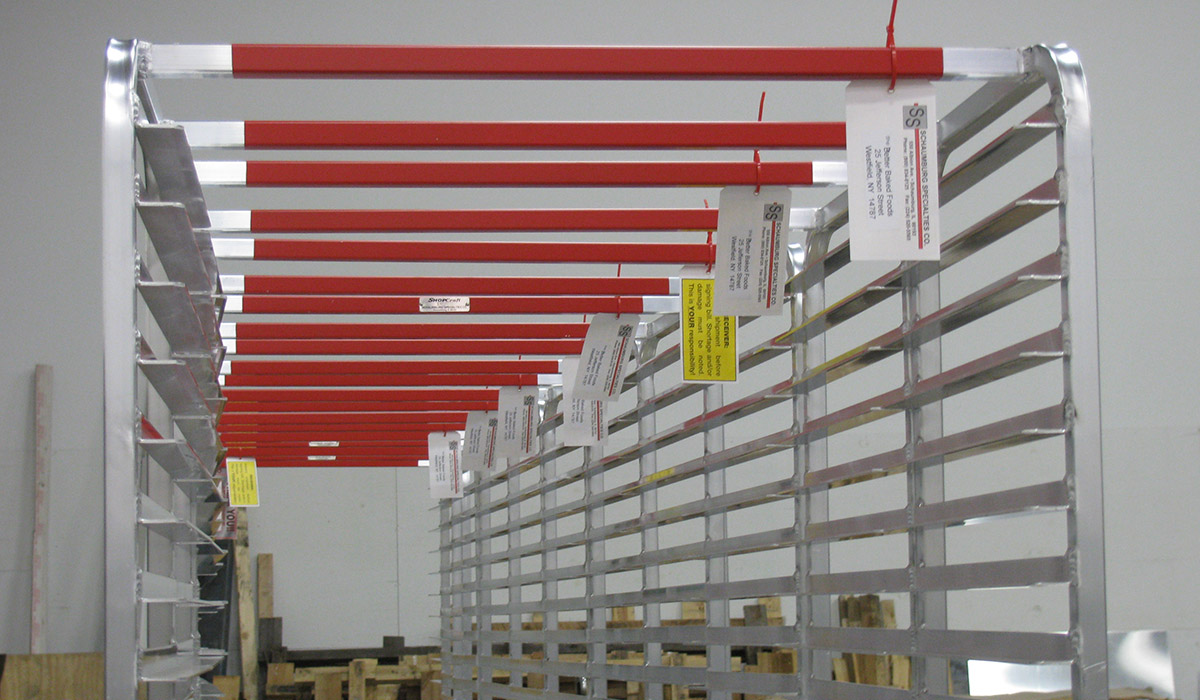 As we've previously touched upon, hard-anodized aluminum has a strong layer of protection compared to standard aluminum. This is largely down to the layer of oxide which is formed during the anodizing process when the equipment is being manufactured. This makes it extremely resistant to corrosion.
When you opt for an anodized product from Schaumburg Specialties, your business can use a product that is far less likely to be affected by corrosion. Simple!
Benefit #2: Enjoy Unrivalled Scratch Resistance
The unbeatable durability of anodized aluminum adds a strong layer of protection to the surface of your ancillary commercial kitchen equipment – including from wear and tear from problematic utensils like spatulas or forks.
By opting for anodized aluminum, you can ensure your products don't fall victim to bumps and scratches. In fact, your equipment is highly likely to retain its smooth, even surface – even after years of constant use.
Benefit #3: Anodized Aluminum is as Low-Maintenance as it Gets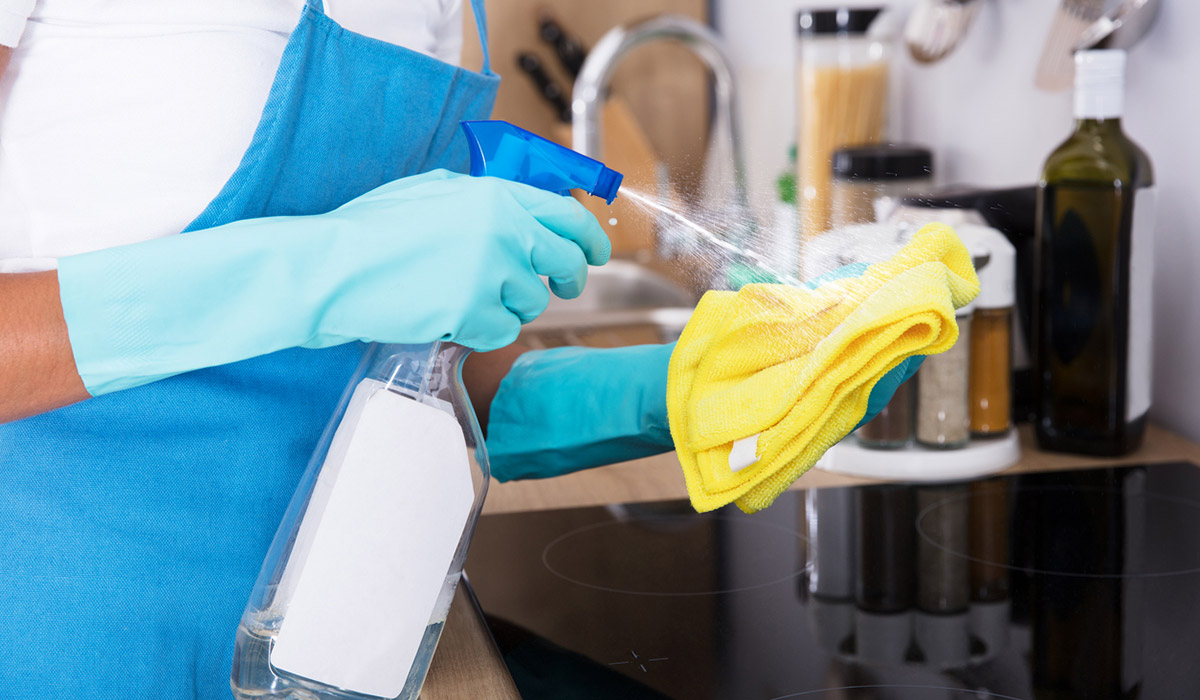 Unlike many other areas of a commissary-style kitchen, any anodized aluminum equipment you have will be extremely easy to clean to the highest of sanitary standards. This is of particular importance in busy, deadline-driven environments where finding the time to conduct a deep clean isn't always possible.
This is another area where anodized aluminum's corrosion resistance comes in. You can clean your equipment to a high standard using the most aggressive chemicals, all with no impact to the integrity of the equipment itself. It really doesn't get any easier!
Benefit #5: Add a Splash of Branding to Your Business
Everybody loves a splash of color, right?
During the anodization process, the aluminum hardens and seals against oxidation. This allows for colors to be added to the metal, and that brings its own unique benefits:
Brand consistency: In today's competitive marketplace, brand identity is extremely important. By opting for commercial kitchen equipment in your own branded colors, you can extend your brand to the most important production areas of your business.
Greater organization: Years in the business has taught us that color coding is a fine thing in busy production spaces. Color coding certain areas of your kitchen can facilitate a streamlined, more organised approach. You can even use color anodization to segregate products, such as gluten-free, kosher, non-allergen etc.
No chipping/flaking: Unlike paint, color anodized equipment will not chip or flake, causing potential contamination to food products.
Our range of color-anodized oven racks are available in blue, red, gold, green, clear and black. Contact us today to get started!
Order Your Anodized Aluminum Equipment from the Masters at Schaumburg Specialties

Here at Schaumburg Specialties, metal fabrication is our passion. To get started on upgrading your commissary-style kitchen equipment, browse our full selection of SHOPCraft products now. Alternatively, contact us to discuss your unique requirements or send us your drawings for a quote!