---
In the world of logistics and food production, transportation and food storage, there's one match-up that comes up time and time again: metal pallets vs wood pallets. In the latest addition to the Schaumburg Specialties Learning Center, we put these two kinds of pallets head-to-head, comparing their features, benefits and prices. Check it out!
Whether your business operates in the food production, manufacturing or medical space, ensuring your loads of products or equipment reaches its end destination safely can present a massive logistical challenge. In the vast majority of cases, businesses use pallets: sturdy platforms constructed from either metal or wood that can be used to safely move products from Point A to Point B.
Metal Pallets vs Wood Pallets: Why Pallets Matter
The fact is that billions of pallets are used on a daily basis around the world for a huge variety of storage, transportation, manufacturing and industrial applications. These humble products allow easy forklift access to goods and vastly eases the process around loading and unloading freight. Due to their low cost, wooden pallets currently account for approximately 95 percent of pallet usage worldwide.
It's true: wooden pallets are currently the most popular option across virtually all sectors of industry, and there's a few reasons for that:
Wooden pallets are highly convenient in settings where sanitation isn't a major concern;
Wood offers reasonable strength at a low up-front cost; and
Varying strengths can be achieved by using thicker boards or by swapping softwoods for hardwoods (such as oak, for example).
Yes – wooden pallets certainly are strong and affordable. However, these trusted staples definitely have their limitations. Metal is the superior material, and is guaranteed to not let you down like its wooden counterpart. Keep reading to find out why…
Wood Pallets vs Metal Pallets: Why Metal is the Sensible Choice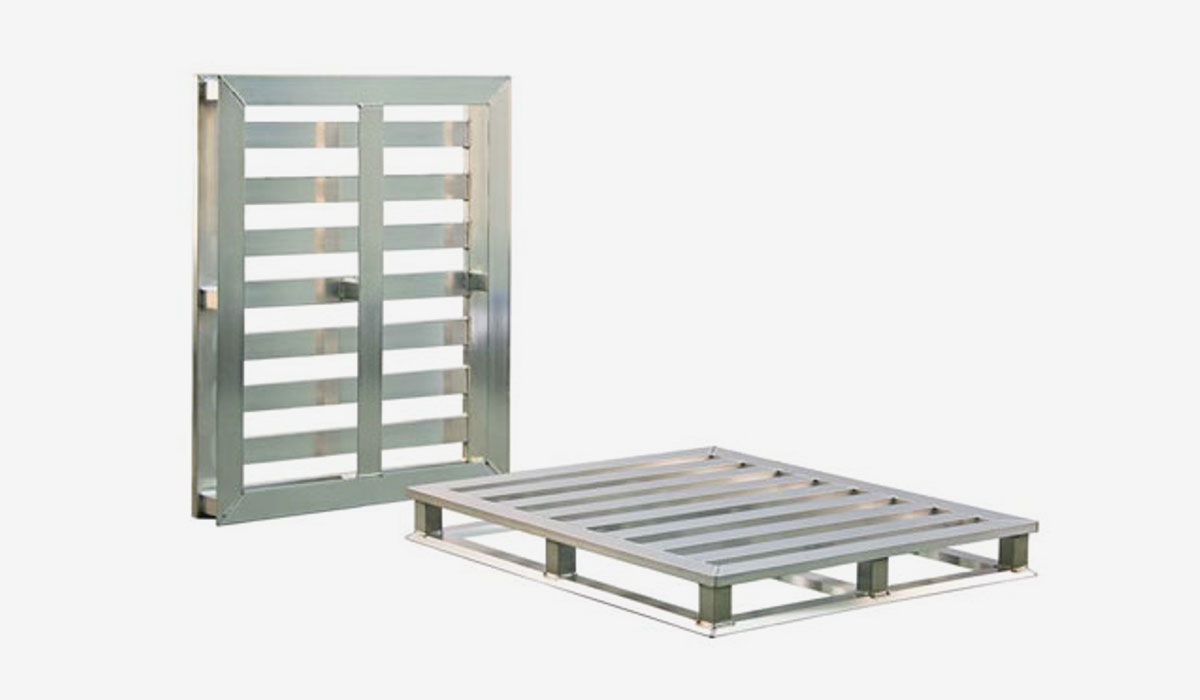 Throughout our many decades serving businesses throughout America, we've seen first-hand the significant disadvantages behind wooden pallets. Here's just a few of them:
Short lifespan: If you're a procurement manager or a budget-conscious production professional, you'll want a product that can really stand the test of time and heavy usage. You can't expect that from wooden pallets, which will typically need to be replaced every two to three years.
Weight: It is true to say that wooden pallets are relatively heavy for the function that they provide, weighing an average of 20-26kg/44-57lbs.
Calculations: In the world of business, accurate calculations around freight load weights are essential. Its exact tare weight (ie. the difference between the total weight and the load weight) can't be reliably determined. One of the key reasons behind this disadvantage is down to the fact that wooden pallets can absorb water.
Hygiene: Wood is a rough material that can play host to all kinds of harmful germs, bacteria and pathogens, as well as invasive bugs and insects. Making a bad problem worse, wooden pallets can not be easily cleaned or disinfected. This is a big no-no, especially in hygiene-conscious industries like food production or the medical industry.
High maintenance: Few materials out there become as easily deformed as wood. Being highly susceptible to deformation and sawdust, taking care of these problems is often more effort than what most business owners have time for!
So: now you know the disadvantages of wooden pallets. But what's so special about metal?
The Advantages of Metal Pallets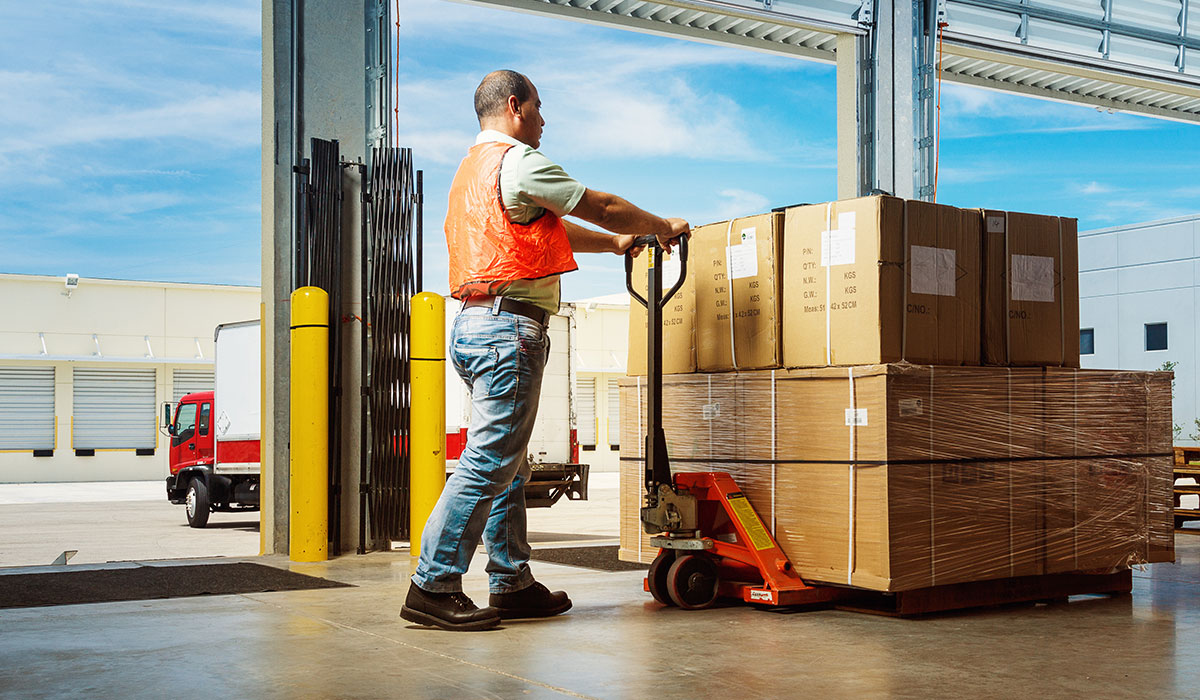 Wood will rot, deform and present a cleaning headache for virtually anyone. As Chicago's leading metal fabrication business, we're confident in saying that metal is better: simple.
It's an unfortunate fact that your pallet will let you down when you need it most, during times of extreme demand and tight production deadlines. By opting for a metal pallet, you opt for a product that's going to perform no matter the challenge:
Stronger design: Forget softwood and damaged joints and screws. If you're moving a heavy load, you're gonna need something that's strong enough to handle it. Where strength is concerned, metal pallets are the sensible choice. Whilst metal pallets typically weigh less than their wooden counterparts, they can take significantly more weight during transportation and storage.
Reduced waste: The low-cost, easy-to-discard nature of wooden pallets has created a major waste problem, with many pallets simply discarded via landfill instead of being responsibly recycled. Unlike wood, metal will perform for years before reaching this point. Secondly, the amount of goods damaged as a result of weak wooden pallets creates a further waste issue. Of course, with metal, the likelihood of product damage is significantly lessened.
Custom design: The vast majority of wooden pallets come in a standardised design. However, choosing a metal pallet will often allow for bespoke design features to be included. For example, your metal pallet can be designed to include removable doors, open access, detachable panels and more – the possibilities are endless, and will help you move more product than ever.
Highly resistant: Wooden pallets degrade quickly under tough conditions and heavy usage, with extreme weather and hot and cold conditions hastening their decline. Metal pallets are ideal for heavy use and are more than capable of performing under this kind of pressure.
Easy to clean: Forget ground-in dirt, chipped wood and impossible-to-remove stains. Metal pallets can be cleaned to the highest of standards and offer an impressive level of resistance to even the most aggressive cleaning agents.
Don't let your business fall victim to pallet problems. To keep your production line moving, think metal!
Metal Pallets: Order Yours from Schaumburg Specialties Today
Here at Schaumburg Specialties, we're passionate about connecting our customers with the perfect storage, transportation and containment solutions to meet their needs. To see the typical design of our metal pallets, visit our dedicated product page. Alternatively, send us your own drawings or contact us to discuss your unique pallet requirements. We look forward to hearing from you!