---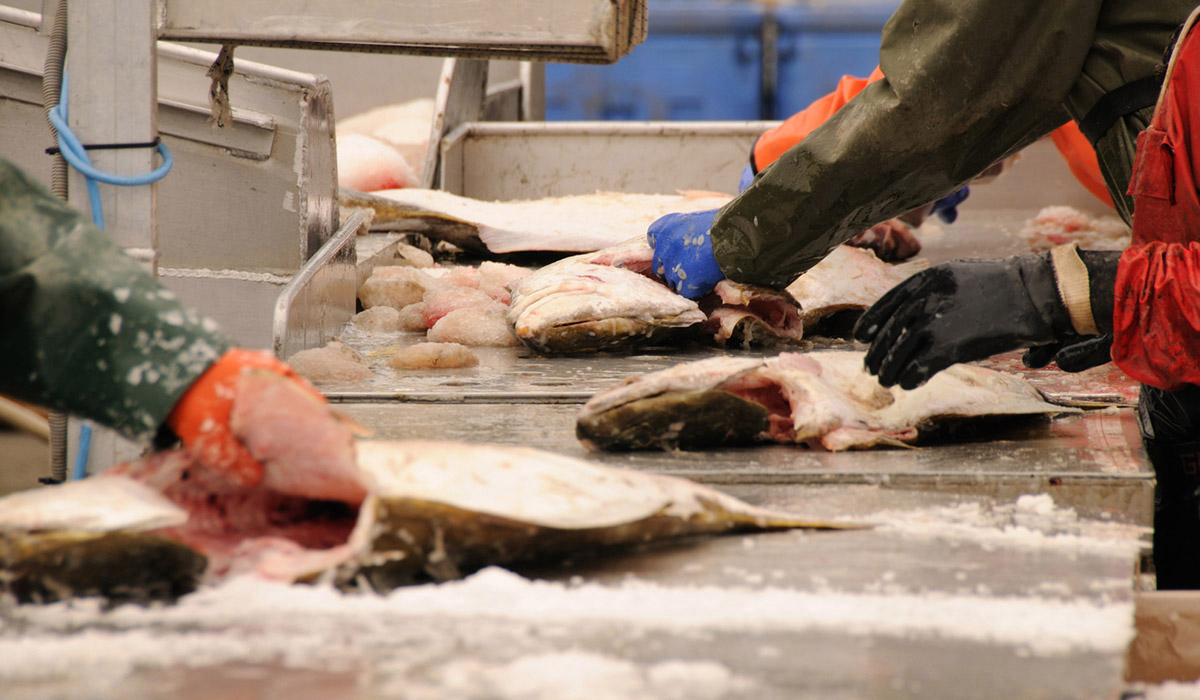 Throughout the United States, an appreciation for seafood is on the rise; with sales standing at around 16.9 billion dollars in 2021. But what kind of equipment do production managers and plant managers need to process seafood in a way that's safe, productive and profitable? In the latest blog from Schaumburg Specialties, we highlight what's needed to process seafood, and how our metal fabrication services can help!
Unlike today's indoor farming and bakery industries; the seafood sector regularly works to overcome a number of challenges. These challenges can range from catching the fish, right through to storing, transporting and filleting the fish for commercial consumption. Indeed, the list of processes goes on…
Bleeding
Chilling
Thawing
Grading & Packing
By-product handling, and
Much, much more
Whether you're a production manager or plant manager dealing with shellfish, whitefish or delicacies like salmon, monkfish or caviar; the need for strong, stable and versatile equipment is crucial. While you'll typically need industrial equipment and machinery like infeed systems, crust freezers and bleeding wheels, you will also require equipment that facilitates the work of your wider production team
Seafood Processing: What Do I Need to Succeed?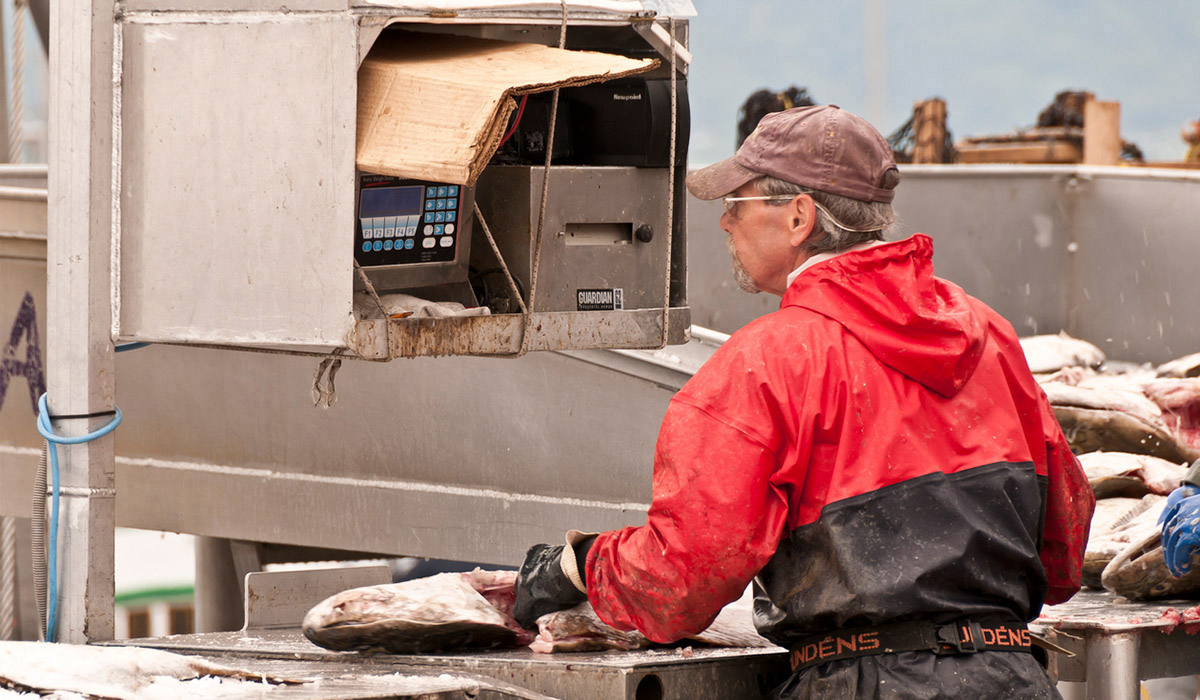 Whilst those larger, mechanized systems are essential to any industrial seafood processing organization, marine businesses of all shapes and sizes require supporting equipment. This equipment can include:
Seafood processing tables, frozen produce processing tables & packing operation tables
Dunnage racks, utility carts, lug racks, shelving & pallets, and
Conveyor crossover platforms, stainless steel sinks & more
The list of things you and your team will need to process seafood is extensive. However, these bare essentials can help any seafood business transform its efficiency, whether it's operating within a warehouse or a water-based vessel like a boat or a ship.
Finding the right equipment to make a positive difference to your business can be a challenge. Fortunately, we're making that decision-making process easier than ever as we look at each of these products-in depth. Keep reading to learn more!
Essential Seafood Processing Equipment: How Schaumburg Specialties Can Help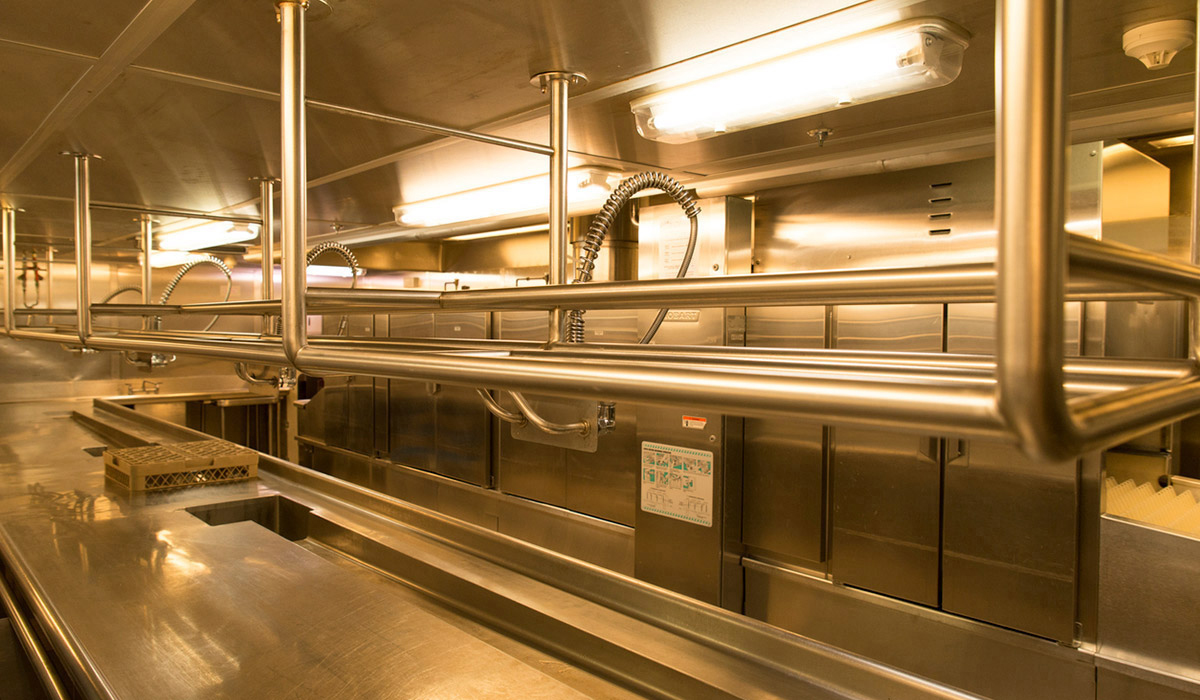 Depending on the product your business is working with, you'll need a variety of products that can tick some (if not all) of the boxes below:
Easily cleaned
Resistance to harsh marine environments
Easy mobility
Versatile and high-performing
By ensuring that your seafood processing equipment meets these requirements, you can ensure your business is compliant, productive and efficient to its core. We've put together a list of equipment essentials that will help you get there…
1. Enhance Your Productivity with Personalised Processing Tables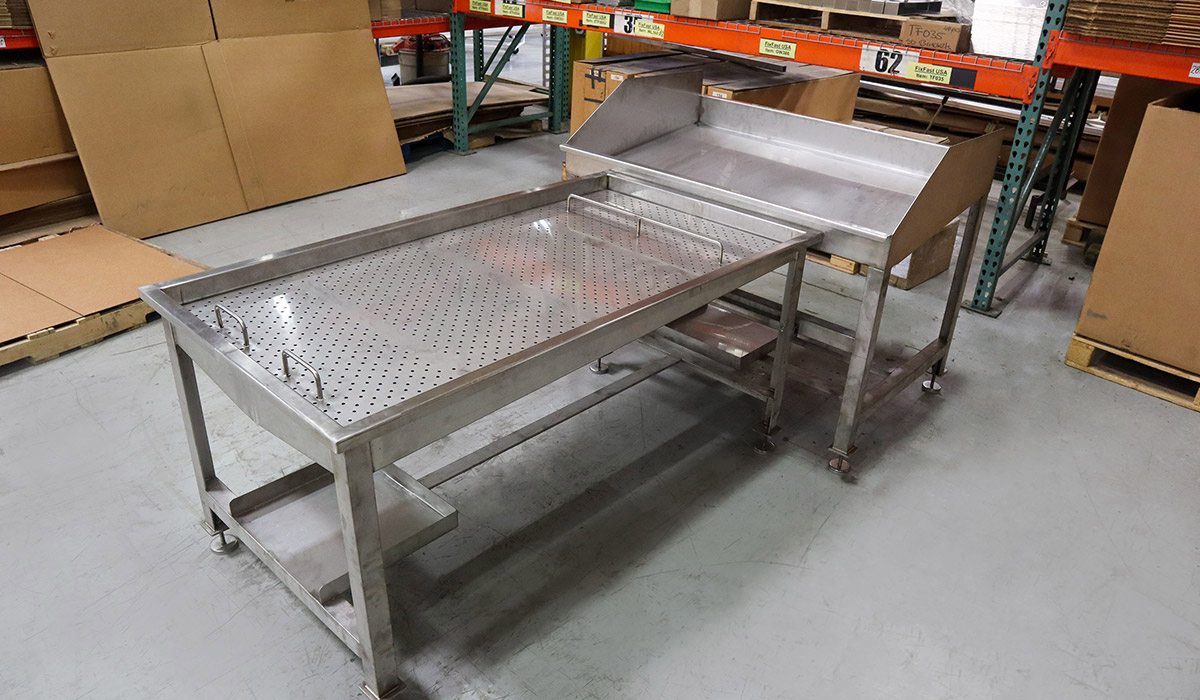 Regardless of the type of seafood or marine product you're dealing with, opting for a marine-grade processing table can make that critical difference between a fruitful business and one which haemorrhages profits. While the type of table your team needs will vary, we recommend three different kinds of processing table; with each example created to your own bespoke specifications:
Seafood processing tables: Heavy duty and completely customisable, these are a must for any seafood processing operation, big or small. These can even be made to include slanted shelves on which to receive produce.
Frozen produce processing tables: Featuring walls, a drain and an opening where product can be loaded onto the table, this is an ideal product for working with frozen seafood.
Custom packing operation tables: Designed to meet food safety regulations, these products feature an adjustable hopper, locking casters and polished surfaces.
Here's just a few reasons why a custom-made product from Schaumburg Specialties can help:
Ultimate resistance: When opting for a stainless steel construction, production managers can expect the highest levels of resistance to rust caused by saltwater, ice and other contaminants.
Convenient extras: Meanwhile, these products can include optional features like drains, where by-products and liquids can be collected.
Customisable surfaces: Does your team need a space on which to cut and fillet fish and other seafood products? Don't sweat it. We can add a chopping board-style surface between your table and your produce, with a 'ship's ledge' design to increase stability in fast-moving environments.
2. Improve Your Seafood Storage with Racks, Carts & Shelving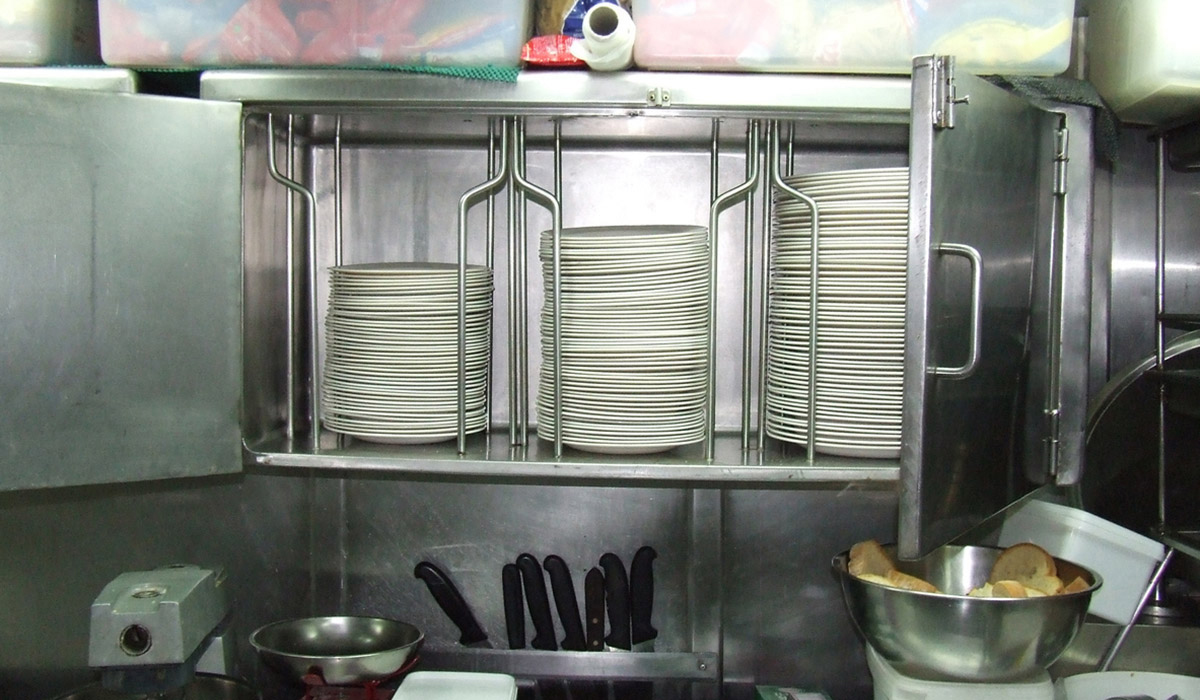 If over 30 years in the metal fabrication business has taught us anything, it's that virtually any business can benefit from custom racks, carts and shelving. Where production managers and plant managers look to improve the safety of their seafood storage and staff convenience via ergonomic design, we often recommend the three products below:
Dunnage Racks: Seafood is yet another of the food industry's perishable products that requires special care and attention when in storage. By opting for a dunnage rack, production managers can ensure their products are safe and elevated off the ground, whether they're being stored in refrigerators or dry storage areas.
Utility Carts: Utility carts are an essential part of any seafood processing business, and can be used to avoid and solve sanitation and contamination issues. What's more, these extremely durable products feature an all-welded construction and come with a 5 year guarantee!
Lug racks & shelving: Lug racks provide an ideal way to store containers filled with seafood and marine by-products. Meanwhile, production managers on water-based vessels can invest in security and stability with personalised wall shelving, which can be firmly anchored to walls within fishing boats and ships.
3. Boost Your Efficiency with Conveyor Crossover Platforms, Stainless Steel Sinks & More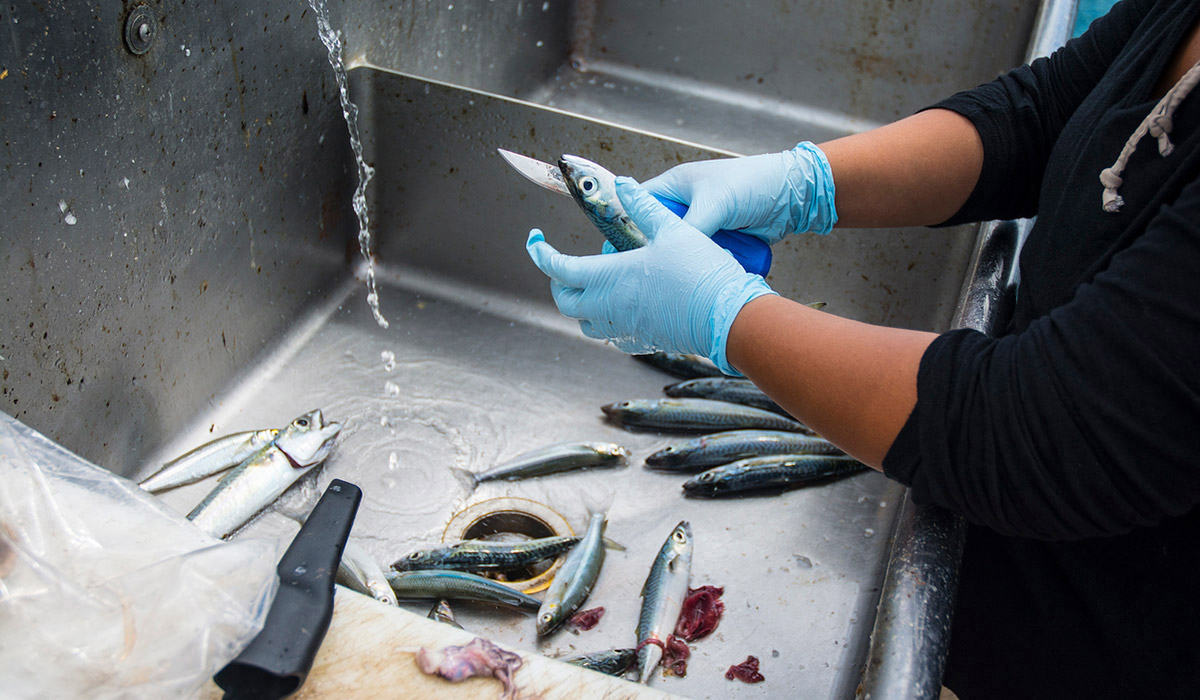 It's true: seafood processing equipment like frozen produce tables, utility carts and lug racks can transform the productivity at the heart of virtually any seafood business. However, plant managers and production managers in this sector can take that level of efficiency a step further by considering supportive equipment such as conveyor crossover platforms and stainless steel processing sinks!
Conveyor Crossover Platforms: If you're working in a seafood processing plant that uses heavy machinery like conveyors, you'll likely need a solution that helps you access all areas of your production floor when needed. Where this is needed, look no further than conveyor crossover platforms. Durable and easy to clean, these provide a safe and secure stairway, allowing you and your staff to journey across conveyor belts.
Stainless Steel Sinks: When working with fish, a large degree of rinsing and handwashing is required. By inserting stainless steel processing sinks across various locations in their workspace, plant managers and production managers can provide that space in a way that's convenient and accessible to all members of staff. Available in a corrosion-resistant stainless steel construction, this one's a no-brainer for any seafood processing operation.
Calling All Production Managers and Plant Managers: Get Creative with Schaumburg Specialties
As one of America's most experienced metal fabrication companies, Schaumburg Specialties is calling on production managers and plant managers in the seafood processing industry to get creative with us. To get started on your bespoke seafood processing equipment project,
get in touch with us to discuss your requirements. Alternatively, you can submit your own drawings for a quote!