---
At Schaumburg Specialties, we have a rich and proud history of providing unique custom build solutions that solve our clients' most difficult production challenges.
With decades of metal fabrication expertise under our belts, we are happy to provide our food production clients with high quality, durable equipment that can not only optimize work space and transform a business' efficiency and productivity, but will perform at the very top level for a lifetime – guaranteed.
Whether it's product customization or a custom build you're after, or you want to simply order some of our in-stock products from our SHOPCraft range, we've got you covered!
In this blog, we discuss some custom build projects that we have worked on for various meat company clients. Producing equipment for meat clients is a very different challenge from producing for baking clients because the processes involved are so different. Meat cooks for longer than bread, at a lower temperature, and companies producing meat will typically be using bigger ovens because they tend to assemble their products on a larger scale.
Configuring rack dimensions so that the client is able to optimize their oven space is a big part of what goes into our custom build work, as is solving a client's particular workspace or logistical challenge.
So whatever problem you have, or design solution you have in mind, we can make it happen. Read on to find out more about our custom build work for some of America's top prepared meat (and protein) providers, Ed Miniat, Grecian Delight Kronos and Ruprecht Co ….
Ed Miniat – Sous Vide Cooking Racks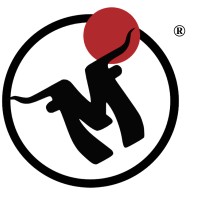 Ed Miniat is a leading producer of customizable sous vide protein solutions, based in the Chicago area. They produce sous vide prepared proteins on a large scale for several industries including restaurants, prepared foods companies, grab-and-go assemblers and foodservice providers.
Begun in the Chicago Stockyards over 120 years ago, it was in the 1980s that the company began to pioneer the sous vide cooking method, whereby a vacuum-sealed product is immersed in a water bath at just below boiling point to be cooked. It's a popular method for cooking meat/proteins on a large scale because it's known to maintain precise temperatures, produce consistent texture and achieve high moisture retention.
The Ed Miniat team approached our experts at Schaumburg Specialties in need of a custom build project to produce several more of the heavy duty racks and grids that they placed their meat pouches on for cooking.
We visited the Ed Miniat factory site in Chicago and saw the equipment the company was using for ourselves. We noticed that a crane was deployed to lift the racks one at a time – each with their grids full of meat/protein pouches – into huge containers of water for the sous vide cooking process.
The Schaumburg team visited the Ed Miniat factory to see the equipment they were using for ourselves.
Our design experts knew that these racks and grids had to be super sturdy and strong, not only to withstand high cooking temperatures and water immersion but also to maintain their form when being lifted by the cranes.
So we went back to our HQ and did some drawings and designs that reverse engineered what we'd see on site.
Once the designs had been signed off by the Ed Miniat team, our expert metal formers and welders got to work making 35, 12-level racks, with 12 wire grids (one per shelf) and two heavy duty bars across the top of each that would stop the meat floating off the rack during cooking.
Our team got to work custom building super sturdy racks complete with bars to keep the meat in place during cooking.
Having manufactured and delivered the cooking racks to our client, they were able to get on with their mass food production, safe in the knowledge that they were using top quality and high performing racks that would stand the test of time. All in a day's work for Schaumburg Specialties!
Grecian Delight Kronos (GDK) – Gyro Loaf Cooking And Freezing Racks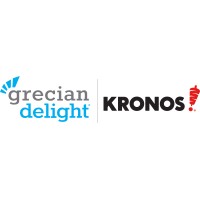 Also based in the Chicago area, Grecian Delights Kronos has made its name providing products including meat and proteins, specialty breads and sauces, dips and spreads, to foodservice professionals.
GDK Foods is the result of two merging Mediterranean food powerhouses, Grecian Delights and Kronos. Both have their roots in 1970s Chicago and both brought the gyro sandwich from Greek restaurants to American consumers across the US.
As with Ed Miniat, the team at Schaumburg Specialties was approached to help custom build 12 new racks, following a design of racks that the company was already using to cook, cool and freeze the meat for its gyro loaves.
Each rack had three rings (top, middle and bottom) each housing nine pieces of ground meat that had been packed into a cone shape. Each piece of meat had a solid rod through it that would be placed into one of the nine holes on each ring before being put in the oven or freezer. Once cooked, cooled and frozen, the meat would be ready to slice (frozen cuts slice very easily without crumbling) and sent to grocery stores across America.
Each rack had three rings, each containing nine pieces of meat
In this case, oven size was critical and our design team had to ensure that we were building racks that would optimize the client's oven and freezer space and maximise the business' efficiency and productivity.
The wheels were also a crucial part of this custom build project. Most meat production facilities have epoxy resin coated floors for sanitary purposes and steel wheels can damage such flooring. We put high temperature glass filled nylon wheels on the racks we built for GDK to protect their flooring and guarantee that the racks would be able to perform optimally at very high temperatures.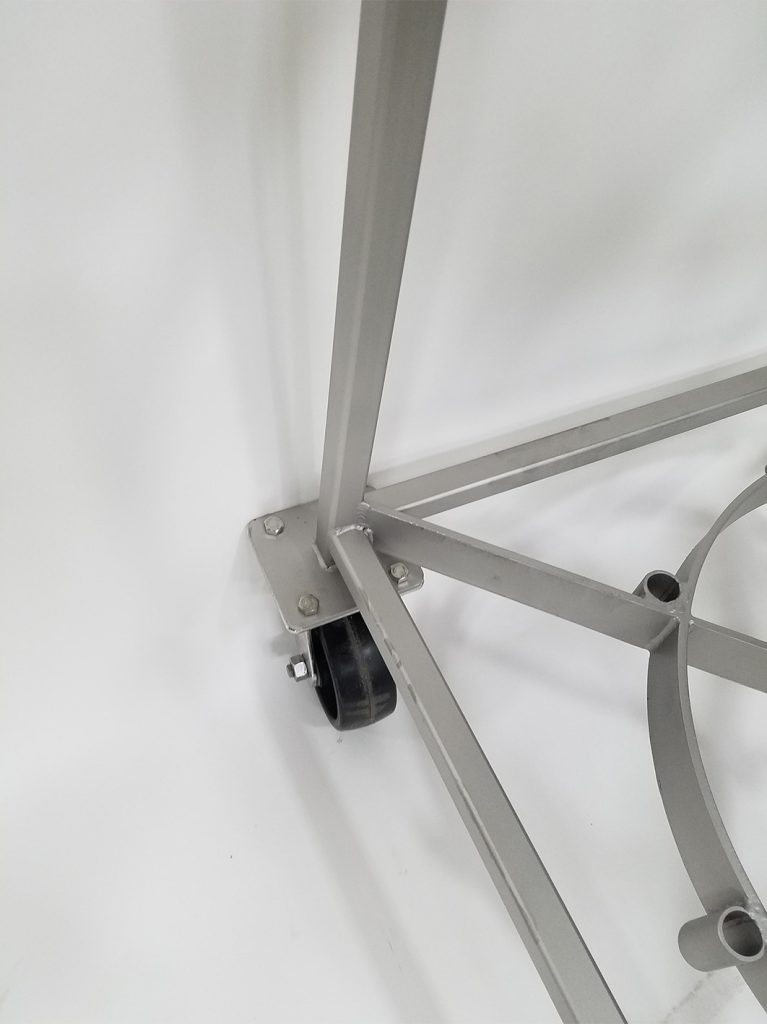 The wheels were a crucial part of this project
Having emulated the design of the racks that the company was already using, we custom built the new equipment for our client and delivered the racks to them in Chicago. Happily, they were delighted with our work and we look forward to continuing a fruitful business relationship.
Ruprecht Co – Oven Racks, Boot Drying Racks and A Food Processing Table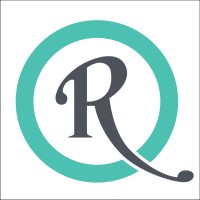 Over the years, Schaumburg Specialties has been privileged to carry out lots of custom build projects for Ruprecht Co, a meat processing facility based in Mundelein, IL that produces both raw and fully cooked proteins.
Established in 1860, Ruprecht is the oldest operating beef processor in the Chicago area and prides itself on being a solutions-driven meat processor and food manufacturer serving national restaurant chains, food manufacturers, food service suppliers and private label retailers.
One of the recent projects we worked on for the company was custom built oven racks. As with GDK, the size of the ovens that Ruprecht were using to cook their meat and protein products was critical in this project.
They approached the team at Schaumburg Specialties to make double length single racks specifically to fit in their oven. Typically a single oven rack is 26in approximately in length and we designed and built racks that were around 44in in length. This meant that workers could fit more product onto their racks for cooking and that the client's oven space was maximized.
The double length oven racks in action at Ruprecht and Co's food processing facility
Another interesting custom build we did for Ruprecht was a meat processing table. The company asked our team to build a table that could fit between eight and 10 people around it to trim and cut the meat that they were producing for their clients across America.
Meat processing table with holders for meat trimmers
Chopping boards were added to the table on either side.
We also custom built a large boot drying rack for Ruprecht Co, to fit between 20 and 50 pairs of boots. When working in meat production, workers' feet can get very cold and wet, so they need somewhere to dry off their boots at the end of their shift!
The successful execution of several very different custom build projects for Ruprecht Co, GDK and Ed Miniat demonstrates the wide variety of know-how and expertise that we have at Schaumburg Specialties. We relish a challenge and can guarantee a custom build that will transform the efficiency and productivity at the heart of your business, whatever your challenge or design idea.
Get in touch with our brilliant design engineers and metal fabricators today to make your custom build dreams a reality.
Custom Build Your Project With Schaumburg Specialties
Here at Schaumburg Specialties, your productivity is our passion. Regardless of your spatial, budgetary or operational requirements, our team of experts can design and manufacture the trolly, table, cart or rack you need to transform the productivity at the heart of your business. To find out more about how we can help, contact us for a free quote.