---
As coroners, morticians and funeral directors will know; the analysis and dissection of cadavers requires the highest levels of precision and sanitation in combination with high-performance equipment. Here at Schaumburg Specialties, we're helping post-mortem professionals meet their obligations with a custom-build metal fabrication service that includes autopsy tables, morgue slabs, embalming tables and funeral dressing tables.
As a crucial pillarstone of modern medicine, both forensic and clinical autopsies require high-grade tables on which to perform dissections and post-mortem examinations. Indeed, the field has been gaining steady traction over recent years and has become central to many recent advances in clinical medicine. This gaining of traction is reflected in the market outlook from now until 2027, which projects the value of the autopsy tables market to rise from a valuation of $43 million in 2022 to $58 million by 2027.
Custom-Built Post-Mortem Tables & Equipment: Who We Can Help
The growing field of post-mortem medicine and care after death is growing, with equipment like autopsy tables, embalming tables and mortuary dressing tables becoming used by a growing number of professionals in the United States and beyond.
With this fact in-mind, Schaumburg Specialties is committed to assisting these professionals with custom-made equipment that is easy to clean, simple to use and guaranteed to perform. Here's just a few examples of those who can benefit from our custom-build metal fabrication services:
Anatomical pathologists;
General practitioners;
Nursing staff;
Police departments;
Funeral directors;
Medical chaplains;
Spiritual care personnel;
Coroners; and
Morticians.
This list is not exhaustive, and that fact is largely down to the increase in commercial and academic research on cadavers.
Comfort, Durability & Sanitation: What Professionals Expect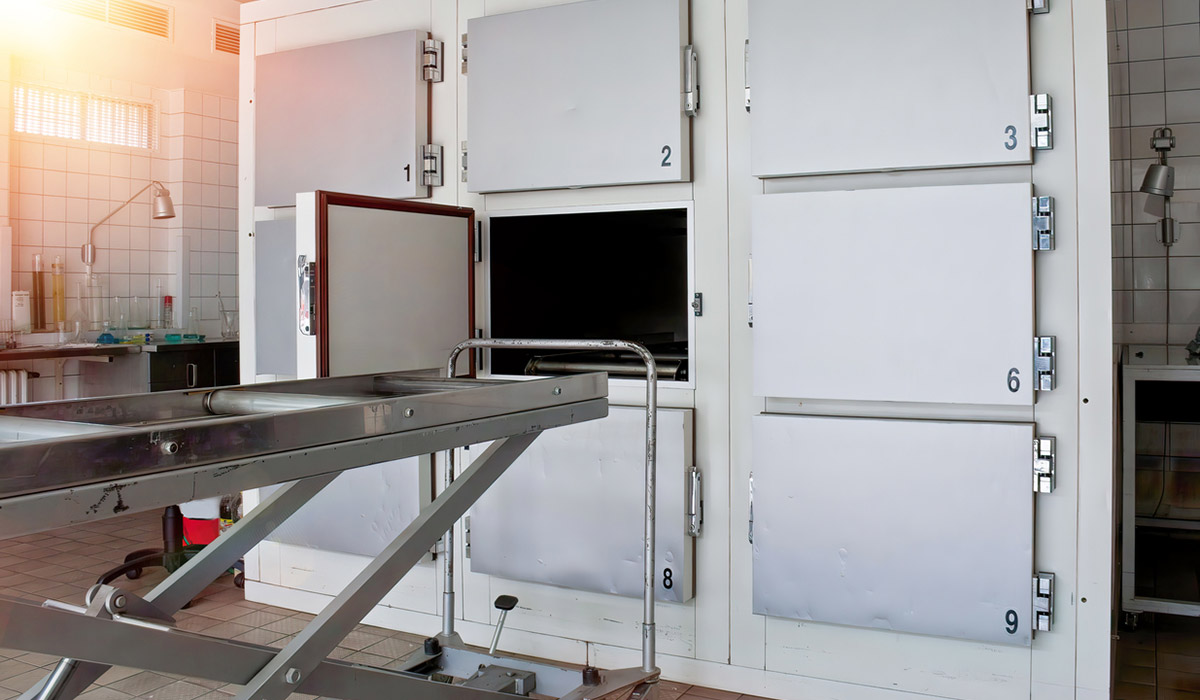 As a staple of today's medical landscape, professionals have a number of expectations when it comes to their choice of autopsy table and mortuary slabs. As one of America's leading metal fabricators, we ensure that our custom-made equipment meets the following objectives:
Comfort: We understand that medical professionals can work on post-mortem cases for long periods of time. With this in-mind, it is critical that any table is built with comfort in-mind. As creators of the famous MEDICraft brand of medical tables and more, we place ergonomics at the core of our equipment design; working with our customers to add bespoke features that enhance comfort.
Durability: Like virtually all kinds of medical tables, mortuary tables and embalming tables will sustain heavy use over a long period of time. Schaumburg Specialties combines the highest quality in sheet metal with an all-welded approach to ensure that your custom-made product can withstand the test of time.
Sanitation: Unlike other materials, stainless steel and aluminum can be cleaned to the very highest of standards using aggressive chemical agents without compromising the strength or integrity of the surface material. That's why we prioritise these materials throughout our fabrication processes.
Your One-Stop Supplier of Ancillary Post-Mortem Equipment
Working according to your budgetary, spatial and operational requirements, our experienced metal fabrication team can add a number of custom features to your autopsy table, morgue slab or embalming table. These features include:
Heavy duty, lockable casters & swivel wheels;
Adjustable height features;
Sloped design for fluid drainage;
Above/below surface services supply;
Can be designed to fix onto medical sinks and cleaning tables;
Foldable design options; and
Much more.
No request is beyond the ability of Schaumburg Specialties. To find out more about how we can help the medical community with custom-built ancillary equipment, view our complete
MEDICraft selection
Schaumburg Specialties: Supporting Post-Mortem Medicine
As the creators behind the celebrated selection of MEDICraft medical tables, sinks and other ancillary equipment pieces, Schaumburg Specialties is committed to assisting post-mortem professionals in their work with superior-quality products that are custom-made and guaranteed to perform. To get started, contact us to discuss your unique design requirements.