---
As a part of almost every non powered piece of mobile equipment casters and wheels play a humble but very important part in the function of that object! From the office chair you sit on, to the most sophisticated piece of custom specialized equipment, mobility or movement almost always plays a large part. This also includes SHOPCraft pan racks and oven racks!
When we think of caster wheels, we don't give them much thought. However, when you go out to buy a caster wheel, you realize how much you need to learn.
Among the wide varieties of casters, it is important to know the types, pros and cons, and differences between them. For caster wheels, especially industry caster wheels, there are a number of things that need to be considered. These range from the floor type caster wheel will be used on to the load size it will have to bear. In this post, we will give you all the information that can help you choose the right casters for your bakery rack. Let's get started!
What Is a Caster Wheel?
Casters, or more commonly known as caster wheels, consist of an assembly that has a wheel and a bracket and are attached to a larger body in order to move that body around.
So simply put, a caster wheel is a part that moves a shopping cart when you push it. Caster has a wheel and a bracket, and the bracket is attached to the body with screws or some other thing.
Now that we know about caster wheel basics let's jump to our main concern.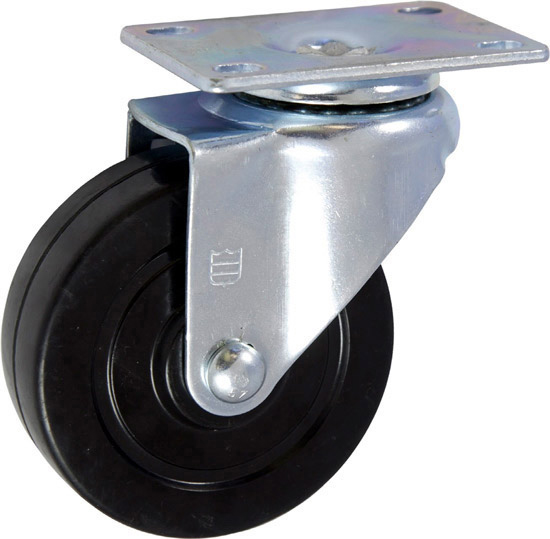 What Is a Caster Wheel Made Up of?
Let's begin with a little basic caster & wheel instruction.
A caster (when we mention it, we mean that it includes the wheel) is made up of two basic components:
First, there is the bracket, sometimes called the rig or yoke. Then there is the mounting device that has two basic types. One is a plate with holes in it that can be fastened to any flat surface, the other one is a stem type, which is inserted into a socket or through a hole and usually has a single fastener to secure it to an object.
The second part of the caster is the wheel. This is the part that supports the load while rolling in the direction of travel.
How to Select the Right Rack Caster
When choosing the correct caster wheel, one more thing that we have to consider is the environment they will be rolling in. Caster wheels are made of different materials that work best in the right conditions.
From differing surface types to temperatures it can withstand, it's essential to get to know these factors. This is to ensure the longevity of use for these caster wheels. So, let us guide you further on this topic!
First off, most of our available casters attach to the rack with a plate. But, you may need casters for equipment that does not have enough surface for a mounting plate. For these situations, a Stem caster would be for you. Stem casters have a stem that attaches the object to the caster and is commonly used for items with legs, like office tables and chairs.
Next, we need to check for the surface that the caster will be rolling on. Our Epoxy Resin casters will be great for moving your equipment on rough surfaces. They are adept wheels for wet surfaces as well. These caster wheels are highly durable and come with either zinc-plated steel or stainless steel brackets. We have wheels that can also withstand either up to 525°F and 550°F.
For your smooth but dry surfaces, we've got our Phenolic casters. These wheels are created from macerated canvas or fabric mixed with phenolic resin. They are mixed in a way that they are still very durable. While water resistant, the material make up of this wheel makes it suitable for wet environments. They come with zinc-plated steel brackets and can withstand up to -40°F and 525°F.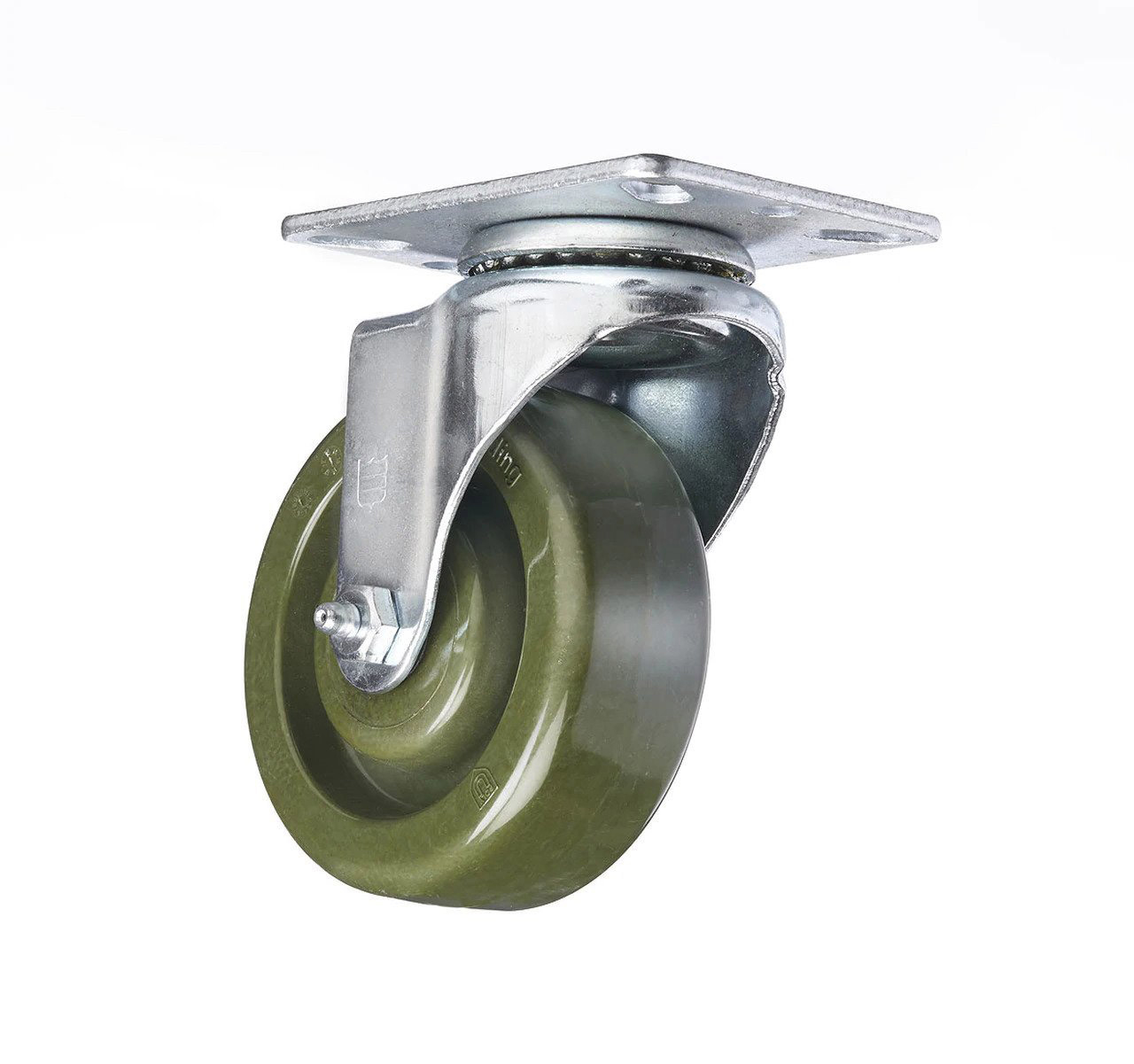 Now, for smooth and wet surface types, we have our Rubber on Stainless, Glass Filled Nylon Freezer, and Glass Filled Nylon caster wheels. This time, the main difference is the temperatures these wheels can withstand.
For temperatures that go as low as -40°F, the Rubber on Stainless casters are great. But, you have to take note that they can also only withstand up to 425°F. Rubber still, is one of the most common materials used for wheels as they provide good surface protection. Rubber also tends to be softer than most casters so they have good cushioning. This is essential for absorbing shock and for smoother coasting.
The Glass Filled Nylon Freezer casters are also able to withstand temps as low as -40°F and can deal with temps as high as 525°F. These wheels have glass fiber reinforcing their nylon treads for added strength and durability. The density from these materials allows the wheels to be able to manage heavier loads, too.
If your casters do not need to go into such cold areas, you can opt for our Glass Filled Nylon casters. They offer the same strength and durability as the Freezer ones, but could only go on temps as low as -10°F.
If you already have a caster in mind and would like to see our selection, you can check this
link out. Our selection for stem casters is also available on request.
Bakery Racks Casters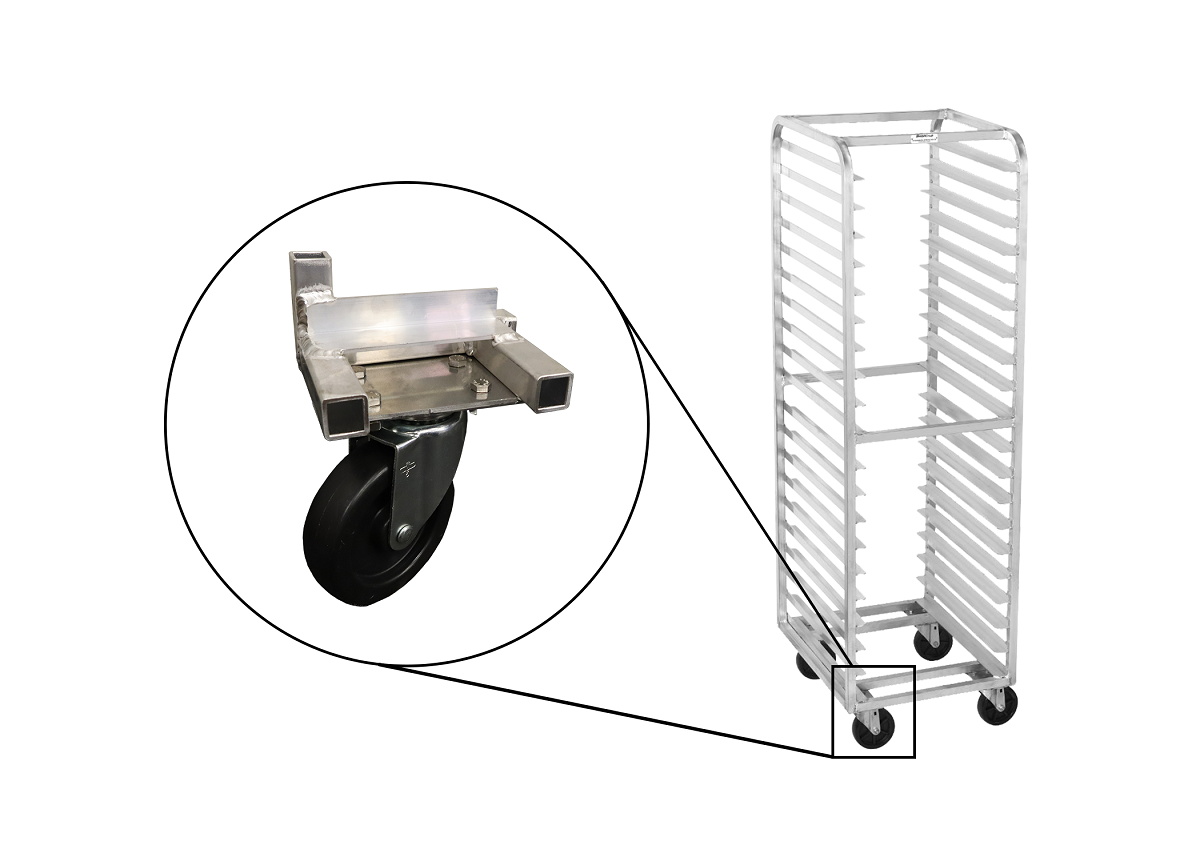 Further we are mostly going to focus on bakery racks as an object to select a caster for. Often you may not have an option in the type of caster (bracket) used because the rack has already been designed for a specific size caster for the rated weight of the unit. And you may just not have the option of selecting the caster of your choice!
In the case of SHOPCraft and Schaumburg Specialties, you do have options in the type of casters and wheels selected for your racks. The reason being is that most SHOPCraft racks are made to order.
If you are just buying one or two racks it may not be worth the effort to request a special or different caster because it may increase the price above your budget. But let's just say you want to standardize all your racks in your bakery with SHOPCraft racks and optimize each rack with the best caster for the specific use of that rack. Undoubtedly, it will save you time, effort, and money.
Oven Racks
Let's start with oven racks. Typically oven racks require a caster and wheel that will sustain the high temperatures and harsh conditions of the oven. Most caster brackets will hold up to normal oven temperatures and baking times. This includes both stainless steel
45HT4138XX03 and zinc-plated steel 45HE4150XX03.
The stainless steel caster bracket will have a longer life as it is not affected by corrosion or rust while the zinc-plated version is more cost-effective. Both of these casters are sized for the required height of a typical oven rack and have a capacity of 350 lbs. per caster.
Often with the harsh environment of a baking oven, a great option is to order a heavy-duty caster like our
70HT4020RB02. This caster is also available in zinc plated or stainless steel but has a larger overall height, wider wheel, and higher capacity. What this does for you is to extend the life of the caster.
Pan Racks
All the information above also can be applied to the SHOPCraft aluminum or stainless steel pan racks.
But one consideration for a cooling rack or freezer rack is the addition of freezer grease or high-performance grease with other general-purpose casters; the supplied grease in the swivel bearing of the caster is usually a lower grade grease that will sometimes freeze or become stiff when submitted to low temperatures.
When Choosing a Caster…
As we mentioned before, choosing a caster wheel is a bit more complicated than it seems, but we will try to deconstruct it for you. Below we will discuss a series of factors that one needs to take into consideration before buying a caster wheel.
Load Capacity
A caster wheel is made to move things around, usually heavy loads. This is particularly true for industrial caster and wheel because in industries heavy stuff is usually on the move. So for industry casters, you need a wheel that is thick enough to bear that pressure and doesn't break under it.
That's why the load capacity is the first consideration. You will need to know or have a reasonable idea of what a load of your cart will be. One way to choose the right caster wheel, in case of load weight, is to divide the total weight by the number of caster wheels. You will get the load on a single caster wheel which should guide you about the thickness of the caster wheel. Once the capacity of the caster has been established next to decide how it is to be attached. As a rule of thumb the higher the caster capacity the longer the life of the caster.
Mounting Device
Plate vs Stem. SHOPCraft racks typically choose a plate caster as the preferred style of mounting. We feel that the plate method is a more secure design in supporting the swivel bearings. Stem casters
 45PO5125XX41 are acceptable but often put additional stress on the structure that holds the caster.
Wheel Diameter
Wheel size depends upon many factors, including the load weight. It should be obvious that the greater the load weight, the bigger the wheel size, the larger the wheel diameter the better the object will roll. Most often if a small wheel is specified the object will not roll as well requiring more effort to move. Rough surfaces or loose objects such as stones or metal chips on the floor will cause more difficulty with a smaller wheel.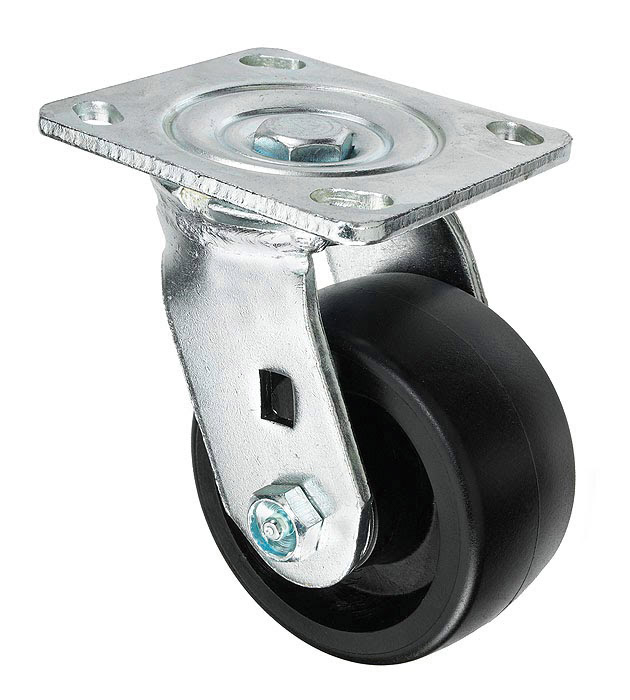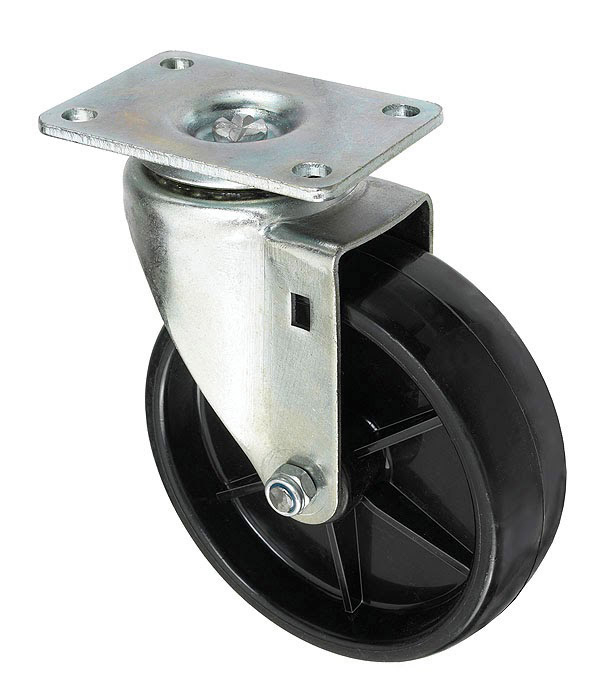 Swivel or Rigid
Sometimes a combination of swivel and rigid casters are used to provide a more positive movement of the object. Depending on the configuration and design, casters sometimes all rigid casters can be used. Other times two swivel and two rigid casters can provide a steerable option. And many times all swivel casters are used if maneuverability is desired. But generally speaking, if the object is square or close to square as a bakery rack all swivel casters provide the best results.
Wheel Type
The wheel type is usually selected by the conditions in which the caster is to be used.
In the case of SHOPCraft oven racks, the recommended choice is a non-metallic high-temperature glass-filled nylon, high-temperature phenolic, or high-temperature epoxy resin. A steel wheel is not often recommended because in a food production facility the floors are often epoxy covered and a steel wheel can damage the coating.
Other considerations in selecting wheel type are concerned with the fact if a softer or quieter rolling movement is desired. A softer wheel type such as a polyurethane or rubber wheel can often be used. Most often SHOPCraft pan racks utilize a polyolefin wheel because of its durability and economical cost.
There are many other wheel types that can add color aesthetics to your workplace environment in addition to providing a great roll. If capacity is your need the phenolic wheel is a great choice.
And often the harder the wheel material choice the better the rollability. In a wet environment, we prefer the solid polyolefin wheel. This wheel has great resistance to moisture, animal fats, and chemicals while providing a good roll and is economical.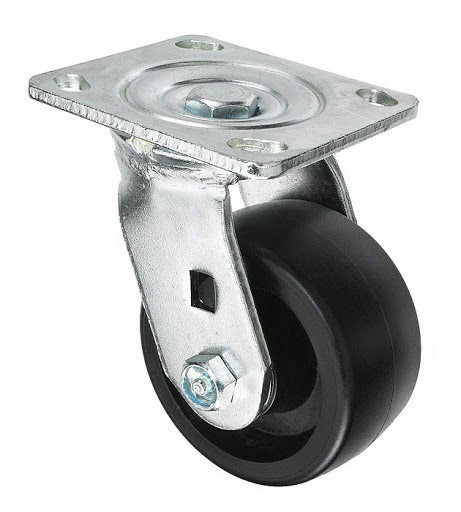 Wheel Bearings
Wheel bearings are an important part of the castor wheel and need to be chosen very carefully. Otherwise, the whole system may halt because you chose the wrong bearing which broke under pressure.
There are several types of wheel bearings, each suited for specific requirements.
Plain Bearing: Plain bearing or sliding bearing can be used in areas where the load is relatively light and easy to move around
Ball Bearing: Such a bearing is used in places where extra help from the rolling balls can help move the body around with much less effort. However, ball bearings are subject to greater wear and tear than the plain bearing.
Roller Bearing: If you are looking for the strength of a plain bearing and the ease of a ball bearing, roller bearing should be your choice. It can withstand more pressure than ball bearings and is easier to roll than the plain bearing. It is being used in industrial casters.
These were some of the most commonly used wheel bearing types. There are many more wheel bearings that can also be used for their particular features.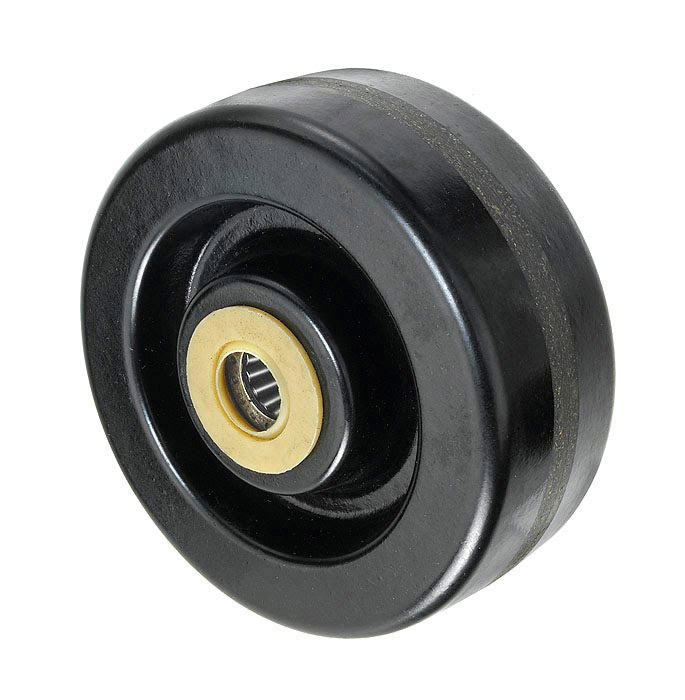 Options
Options such as brakes, thread guards, bearing seals, and grease fittings are all considerations to increase the function and life span of a caster.
Brakes are probably the most requested option. And depending on the caster series some very positive and effective brakes are available. However, on the lighter series casters, the cheaper brakes are often not as effective or don't remain effective for long.
External Factors
External factors like the area a caster is expected to perform in also need to be considered. If the caster is to operate outdoors or on a soft surface such as a carpet will also be considerations.
Floor
Floor-type heavily influences the choice of the caster wheel. If you're going to use a caster wheel on a hard and smooth surface, you should go with soft tread wheels. On the other hand, hard tread wheels are recommended for softer surfaces as they roll better on such surfaces.
In addition to the rolling factor, floor protection is also to be considered. In case of a carpeted or other soft surfaces, never go with steel or cast iron wheels. They will wreck the floor. You need to go with high modulus rubber wheels which will be easy on the surface. While, in case of industrial casters, steel or iron wheels work great because they can bear the pressure without bending or breaking.
Extreme Climates
If you are working in extreme climates, you need to choose the right caster wheels for that, or you will be stuck with something that won't work at all.
Price
And lastly price! One way to provide a less expensive bakery rack is to use an inexpensive caster. While this is usually one consideration that is overlooked. At Schaumburg Specialties, a SHOPCraft rack is an investment. You may pay more for our racks but the value offered far outweighs the additional cost. We build racks and custom equipment to provide the very best for you.
Conclusion
Undoubtedly, choosing the right casters for your bakery racks can seem a challenging task. At Schaumburg Specialties we will help you to decide. We can standardize all your racks in your bakery with SHOPCraft racks and optimize each rack with the best caster! We will utilize our experience, and knowledge of the industry to provide what you want at the best value.
 Contact us now to get the caster you need!