---
Handling a restaurant and a kitchen is no joke. First, you have to make sure that the restaurant is spotlessly clean, second is that your staff has to be well-trained, and sure, the taste of the food that you are serving is a plus, but what really makes restaurants stand out is the efficiency, organizational manner, and cleanliness of your full service. You can't achieve to even be remotely great if you have crummy equipment and food carts. The choices for food carts are immense and impossible to choose from, but here's a guide that we've come up with to give you a head start to be one of the best restaurants in town.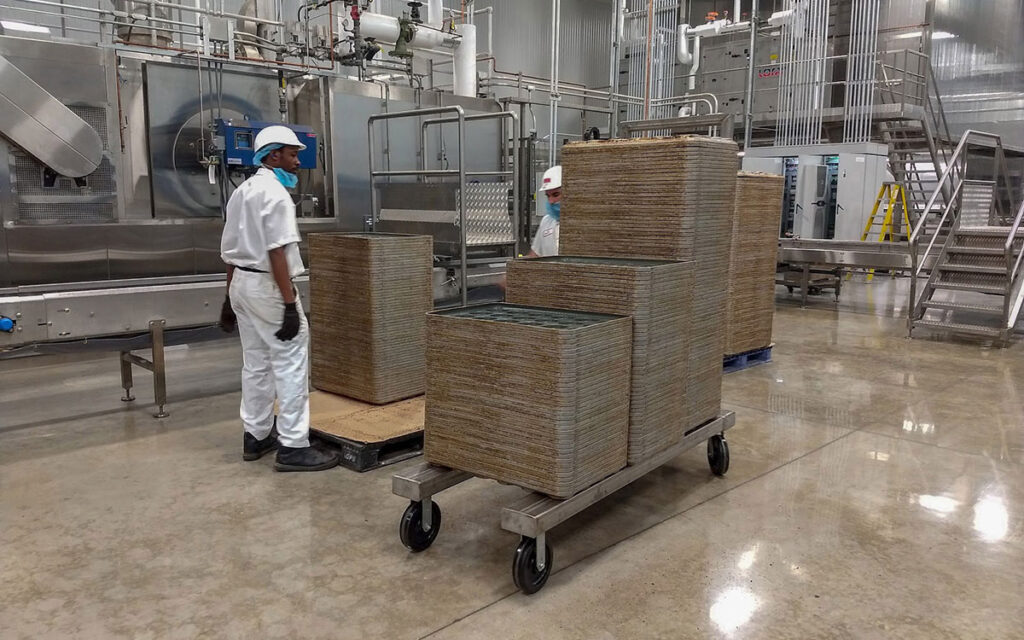 These food service carts are made from food-grade commercial stainless steel or aluminum that fits the restaurant and kitchen environment. These durable carts would give you the benefit of more productivity because they would save you up a great amount of time and effort for tedious tasks. Since the carts are food-grade, you never have to worry about chemical reactions on your carts or having to face frequent sanitary and safety inspections because of sub-par equipment.
Types of Food Service Carts
Restaurant Service Carts
Multi-tasking is a common sight at restaurants, one way or another and no matter how well you can carry dozens of dirty plates used utensils or even boxes of supplies, it would be unsightly and a workplace hazard to carry everything by hand. Good thing there's the Picking Cart to properly store a lot of restaurant items with ease, it has standard industry sizes suitable to any restaurant size.
Most restaurants that handle meat know that meat and its stock is difficult to move by hand. With a Boxed Beef Truck, ideal for use in walk-in freezers and coolers, transporting and storing large quantities of beef stock and produce will be a breeze and it can also be used for meat tempering to properly thaw frozen meat.
Custom Carts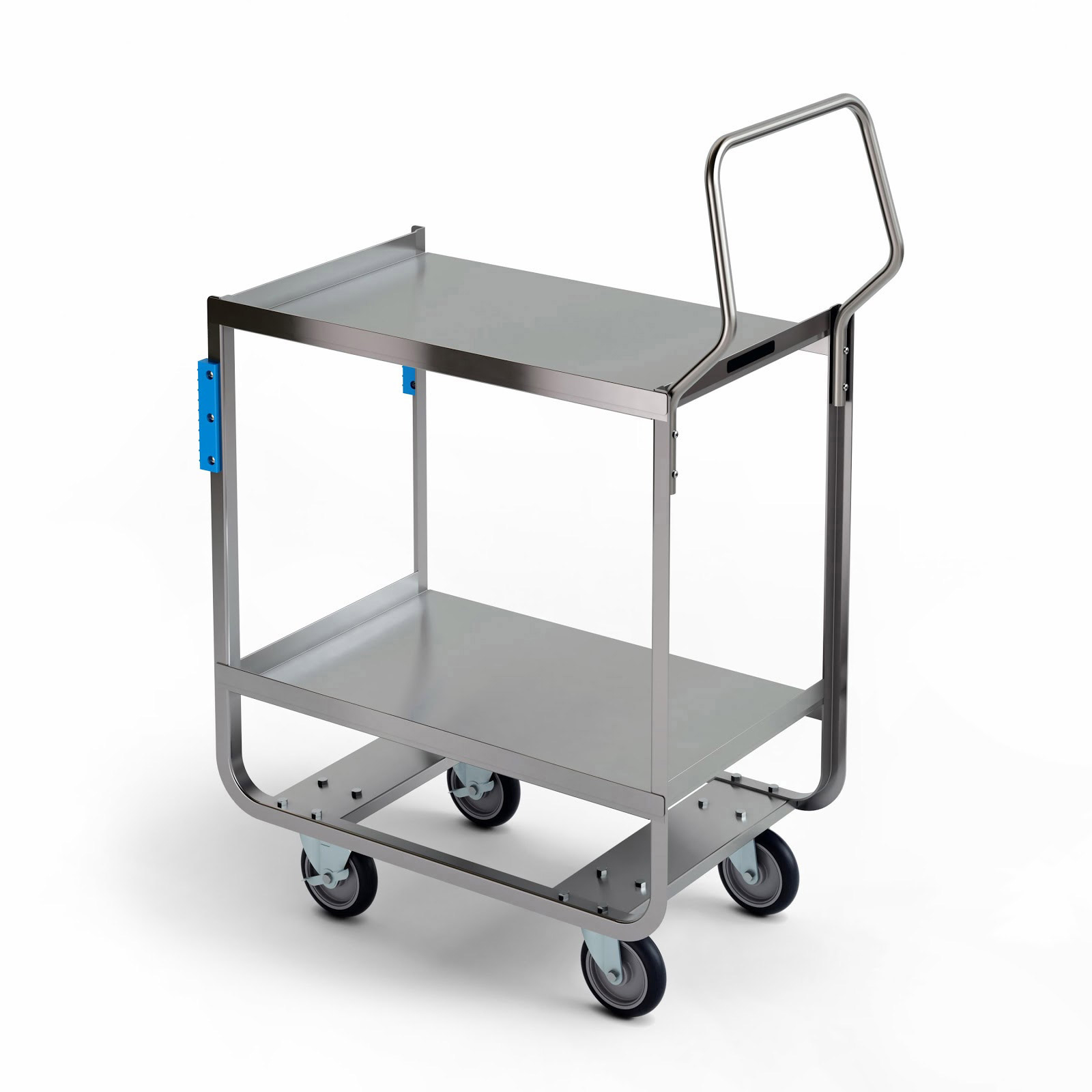 Another way that makes storing and transporting items within your restaurant in an efficient, presentable and sanitary manner is with Utility Cart or also known as a Bus Cart. You can never go wrong with them because it greatly reduces the risks of food contamination, it transports items by the bulk faster also, leaving you and your staff more time to focus on your restaurant's queue. It can also be customized to fit your restaurant's space, making a more productive kitchen layout.
Depending on what kind of food and ingredients that you handle, you can have a cart that's modified to your food product's sizes. Like this Perforated Aluminum Rack, for example, that is lightweight because of the material used, has a carrying capacity to transfer 48 bags of 36-inch long French bread loaves, inclined wide shelves that support the product to prevent damage and the perforations that prevents the product "to sweat", lengthening the bread's shelf life and also protecting the bread from getting soggy.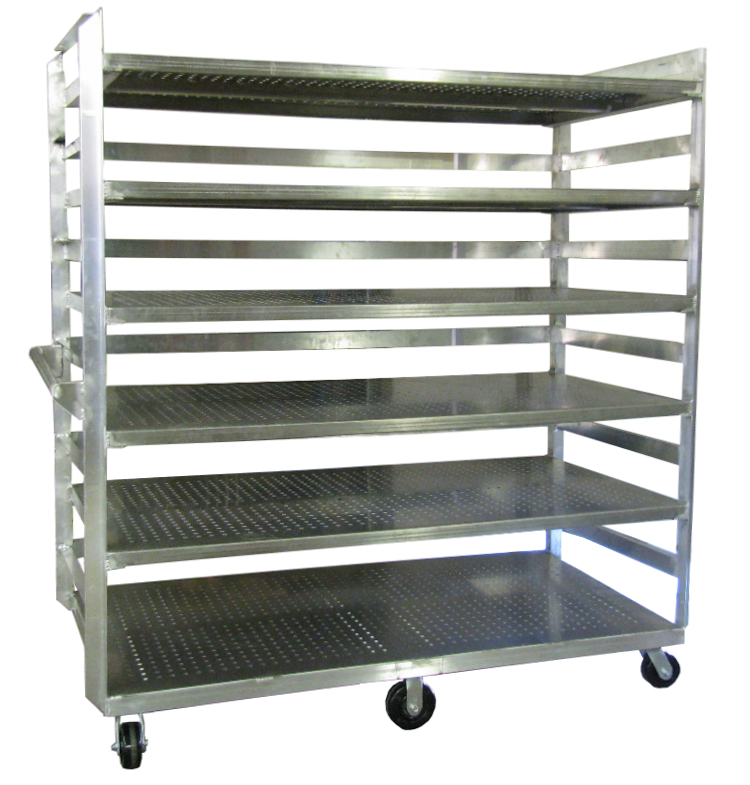 Stainless Steel Carts
Handling meat should be done safely and carefully. If you are not cautious enough, contaminants and bacteria would taint your meat, leaving heavy losses to your business such as bad taste, food poisoning incidents, and terrible reviews. You should handle meat the right way with a Stainless Steel Meat Tote. It would safeguard the transfer of your meat in and out of your restaurant while keeping it fresh.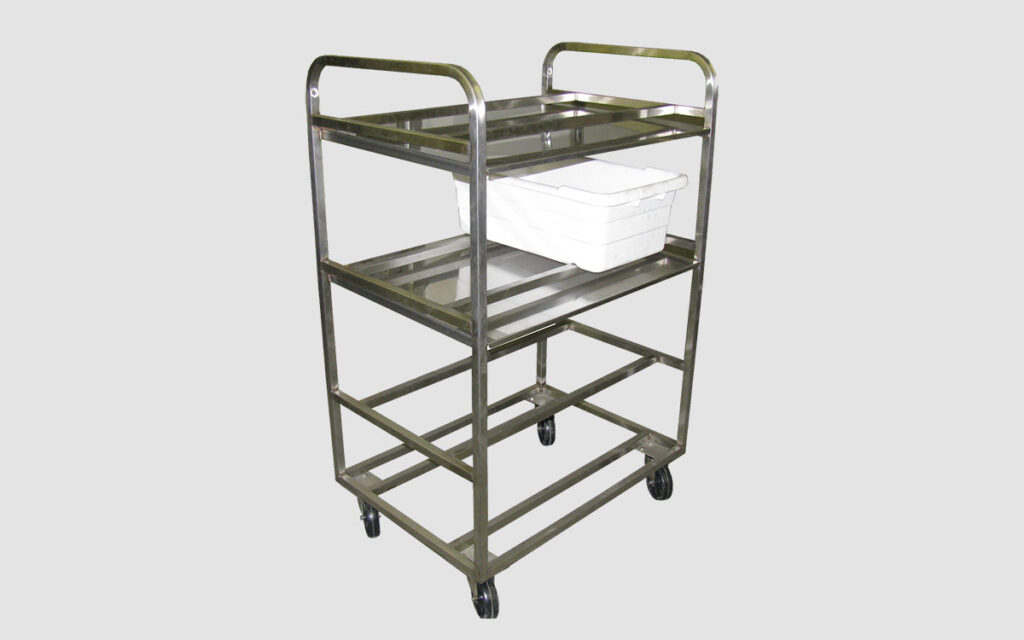 Other Must-have Equipment
Racks
Racks are a simple yet vital component of any kitchen. It can be used for various food service applications since you can store, organize and transport your food and supplies with it, and can also be used as a cooling rack. An
Aluminum Single Pan Rack is all-welded, making it sturdy and durable. It has no small parts that would someday go missing, has 20 levels that hold one 18" x 26" pan per level. It has a full pan space clearance between middle cross-section support tubes and lower pan slide, and it can be customized and color-coded.
Casters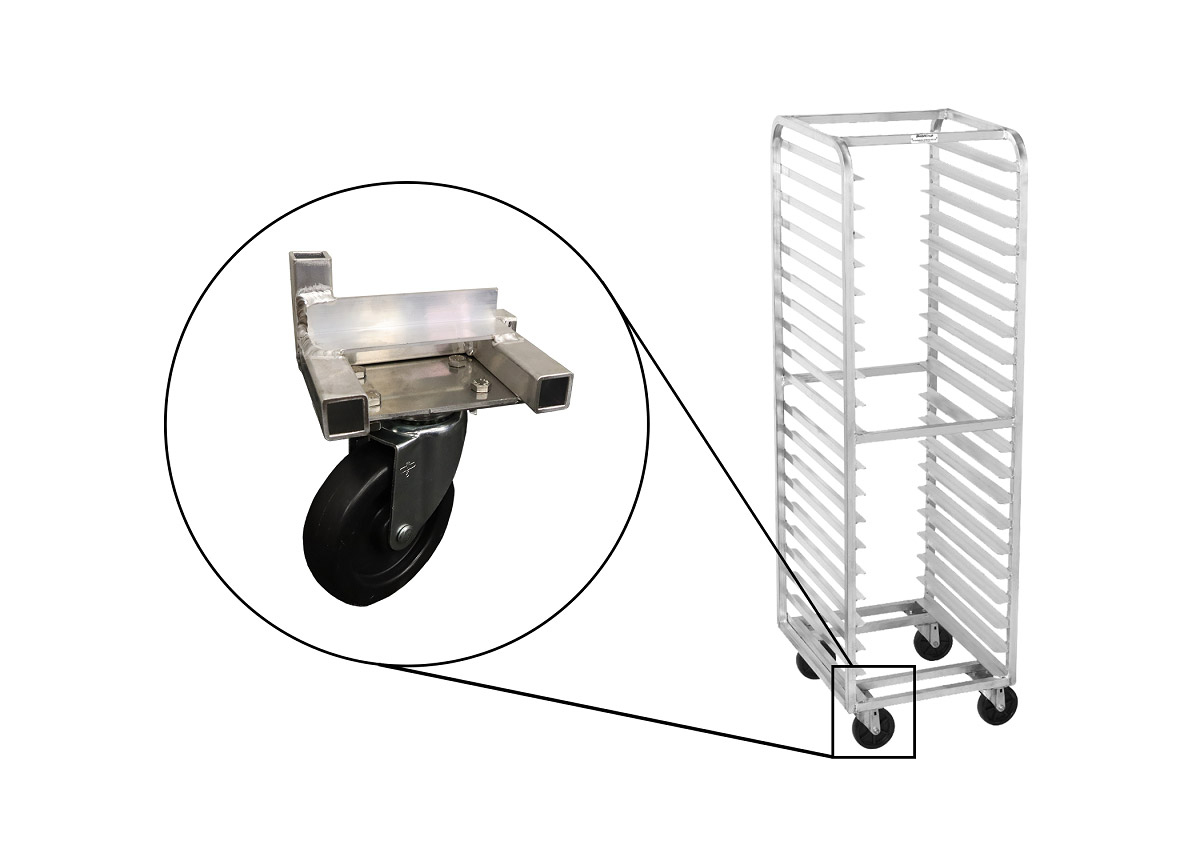 It's not a cart if it doesn't have wheels. The wheels of the carts are called Casters and it is one of the most important parts of a cart. There are different types of casters for varying working environments. If you are using the wrong caster, chances are your cart would not function well to its optimal performance or worse, breaking the cart down and ruining the food that your staff has just prepared, wasting not only your time, but the staff and customer's as well, leaving you with an unnecessary expense and an irate customer that's hungry and angry.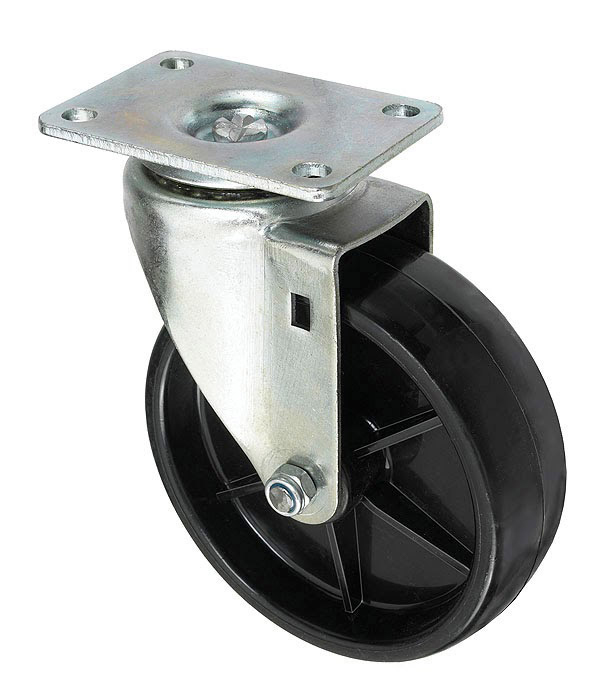 Casters can be outfitted to roll along a straight path, or freely rotate 360 degrees like this High Temp Heavy Duty Caster, that can swivel in any direction, carry 750lbs of load, and has a temperature rating of a continuous 490F or 550F intermittent that's good for hot and busy commercial kitchens.
Another thing if you're not using the right caster, especially if the cart is involved in your restaurant's dining area is that your cart could leave permanent scratches on your floor that's a huge blow to your business' ambiance and look. It is recommended that you should use easy-rolling, high-shock, chemical and impact-resistant casters such as High Temp Glass Filled Nylon Wheels or High Temp Caster with Epoxy Resin Wheels – your floor would thank you for it.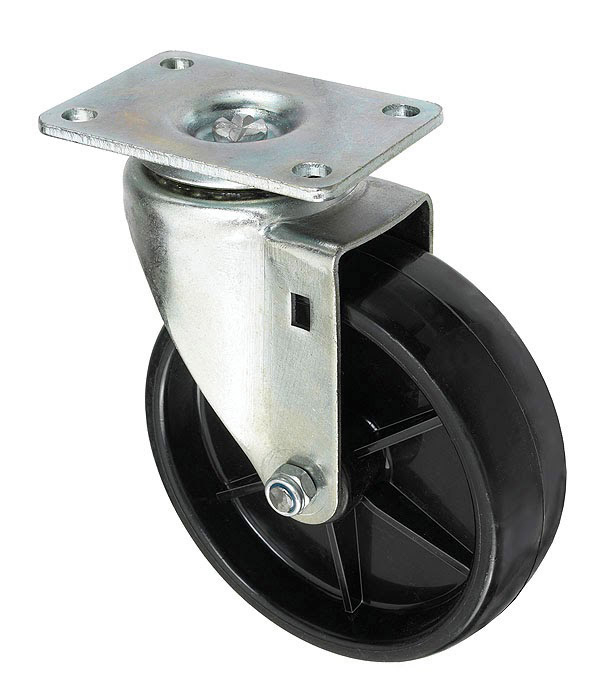 Your Restaurant Should Work Smart, not Harder
Hard work alone would not contribute to your business' success, you shouldn't have to worry about cheap equipment repairs and frequent maintenance, you should be worrying more about your reputation. It is about time that you should invest in equipment that's quality engineered, requiring low maintenance. Getting better equipment saves you money in the long run, it also saves you headaches from food safety issues, lawsuits, and revenue loss.
Get a Free Quote today!
It's time that you get the equipment that you deserve, visit our website and send us a message at our in-site chat window and our team will be in touch soon or give us a call at 800-834-8125.