---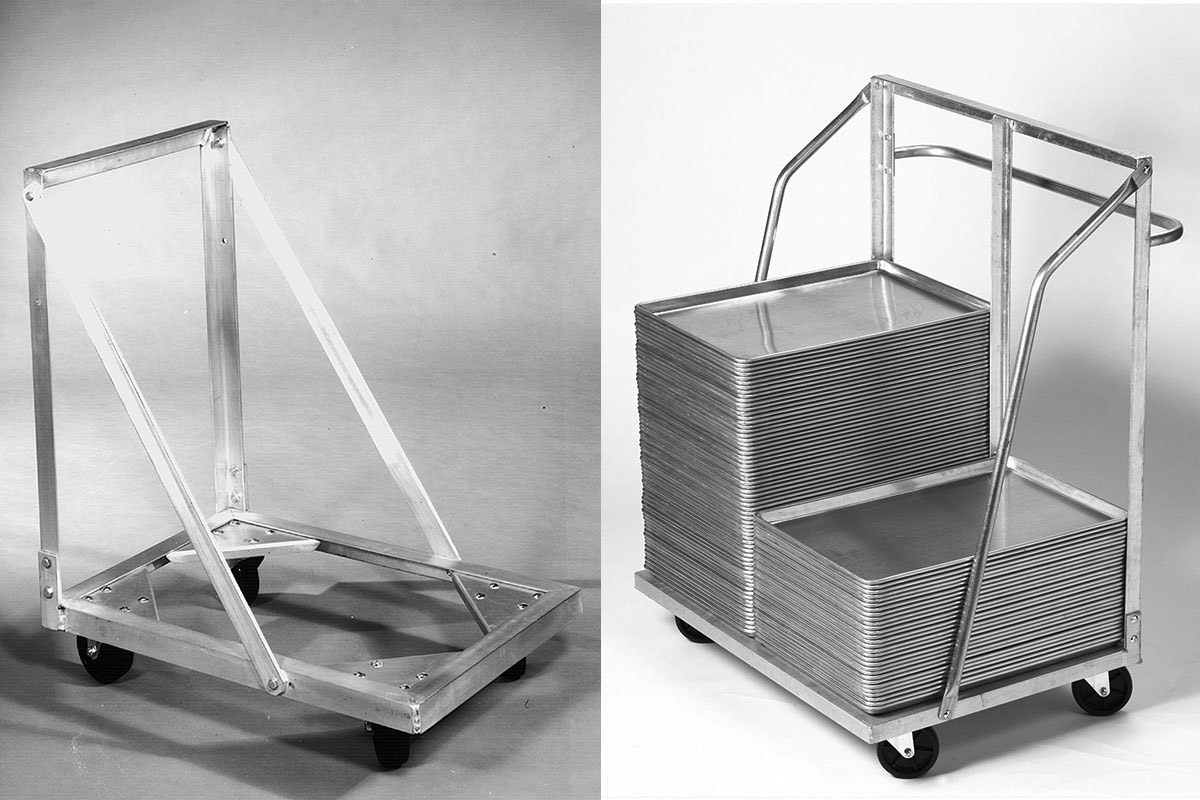 Here at Schaumburg Specialties, we love dollies – and we aren't talking about the Barbie or G.I. Joe! An essential for any commercial bakery or commissary-style kitchen, these low-to-the-ground trolleys are used to keep sheet pans stacked neatly and efficiently. But why does your business need one, and how much should you expect to pay? Keep reading to find out!
If decades of experience in the food production and commercial baking industries have taught us anything, it's that virtually any kitchen-based business can benefit from a bakery sheet pan dolly. Also known as a 'pan' truck, these mobile carts are a top choice for any food production environment where space is limited and production speed is in high demand.
Bakery Sheet Pan Dollies: Why Your Business Needs Them
Once businesses start using sheet pan dollies, they never look back. Here's just a few of the reasons why these products aren't a luxury, but a necessity:
Optimise your space: Bakery sheet pan dollies offer a truly impressive capacity, holding up to 200 pans at once; holding single or double stacks at a time. Put the pans where they're needed to hold your buns!
Durable and mobile: Regardless of the size or scale of your commercial bakery or commissary-style kitchen, you'll need equipment that's both durable and mobile. Whilst their heavy-duty casters ensure smooth transport, their metallic construction is well designed using stainless steel welded components.
Increase your productivity: With a smooth-moving sheet pan dolly, you can wheel your stacks of sheet pans to wherever they need to go with ease. Meanwhile, their simple-loading and easy-to-clean design means you can direct more resources towards baking, food prep and other important production tasks.
When it comes to optimizing floor space and generally improving productivity and efficiency, sheet pan dollies are awesome products for any business serious about improving its bottom line. But how much do these pieces of equipment generally cost?
How Much Should I Expect to Pay for a Pan Dolly?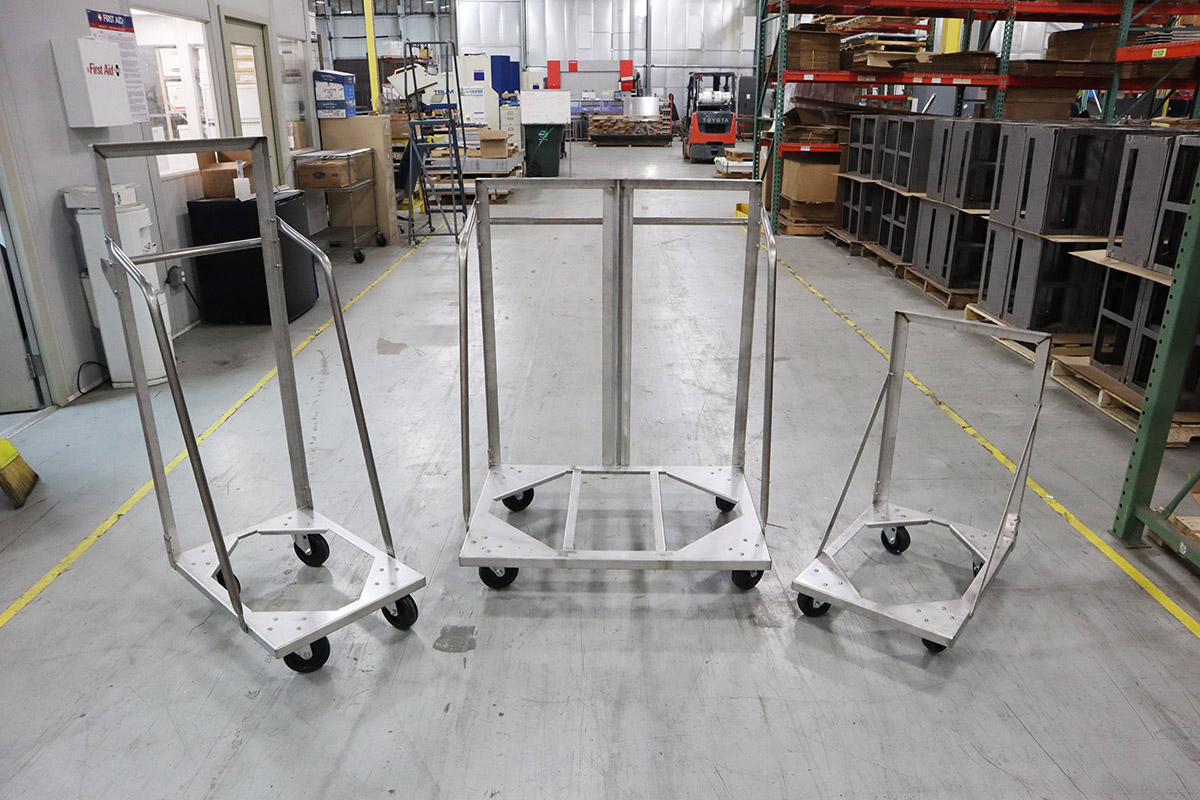 So: you know the benefits of pan dollies. But how much should a floor manager or production manager expect to pay to outfit their kitchen with these products?
The truth is that the cost of your bakery sheet pan dolly will largely depend on your choice of manufacturer. In the United States, mass-produced tray and pan dollies typically retail for prices between $70 and $700, and that cost will vary depending on a few major factors:
The size of the dolley, including the capacity it can hold;
It's method of construction;
The casters used to build the product; and
The material used to manufacture it.
Whilst durable materials like stainless steel will understandably demand a higher price, lightweight materials like aluminum will be cheaper. Heavy duty casters will also command a higher price – as will a 100% welded construction, which maintains your products integrity for years to come (even decades).
Our Pan Dollies, From Highest Cost to Lowest
Here at Schaumburg Specialties, we're passionate about using our decades of metal fabrication experience to provide our customers with the perfect product to suit their spatial, budgetary and operational requirements. That's why we provide a range of options around pan dollies, which are each available to order according to your own specifications. Here's our list of pan dolly prices, ranked from highest to lowest.
Heavy Duty Pan Cart
Cost: Approx $2,450.00
Features: Heavy duty construction, all welded, phenolic wheels with swivel and rigid casters
More information: Click here
Typical uses: Heavy form pans, automatic systems.
Donut Basket/Screen Dolly
Cost: Approx $905.00
Features: Holds three stacks of 10" x 26" half baskets, and two stacks of donut screens, fabricated with 1½" x 1½" x ⅛" steel angle
More information: Click here
Double Sheet Pan Dolly
Cost: Approx $546.00
Features: Made with 12 gauge heavy-duty steel with a pan capacity of 200 pans and a weight capacity of 1000 lbs
More information: Click here
Single Stack Sheet Pan Dolly
Cost: Approx $300.30
Features: Includes stainless steel tubular side rails and push handle, with capacity to hold 100 pans.
More information: Click here
Low Profile Sheet Pan Dolly
Cost: Approx $250.00
Features: The dolly has a pan capacity of 50 pans and a weight capacity of 1000 lbs. This product can fit under your work table.
More information: Click here
Economy Sheet Pan Dolly
Cost: Approx $153.30
Features: Zinc-plated steel swivel plate casters with 3″ x 1¼" polyolefin wheels ensure smooth omnidirectional movement across surfaces.
More information: Click here
Large Plastic Bakery Tray Dolly
Cost: Approx $77.16
Features: 29.5″ x 26.4" Footprint, 3″ non-marking casters and a weight capacity of 750lb
More information: Click here
Small Plastic Bakery Tray Dolly
Cost: Approx $70.38
Features: Constructed using lightweight plastic with non-scuff casters that won't damage commercial bakery or retail floors.
More information: Click here
Order Your Perfect Sheet Pan Dolly Today

Getting your hands on your perfect sheet pan dolly or pan truck has never been easier. To get started, view our full SHOPCraft product selection. Alternatively, reach out to us to discuss your requirements or submit your drawing for a quote.