The team at Schaumburg Specialties was approached by world leading aircraft and aerostructure manufacturer, Spirit AeroSystems, to custom design and build specialist carts to house the bladders (inflatable structures) that they use to manufacture composite aircraft parts such as wings and fuselages.
| | |
| --- | --- |
| Client: | Spirit AeroSystems |
The Client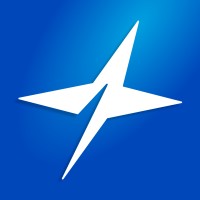 Founded in 2005 (although the company's history dates back to 1927 in the US and the 1910s in Europe), Spirit AeroSystems is one of the world's largest manufacturers of aerostructures for commercial airplanes, defense platforms, and business/regional jets. Headquartered in Wichita, Kansas, Spirit has multiple facilities in the US as well as in the UK, France, Malaysia and Morocco.
In the past, Schaumburg Specialties had worked with Spirit AeroSystems' plant team based in Kinston, North Carolina, to custom build pan racks and special sized trays to store carbon fiber used to manufacture aircraft wings and fuselage. We'd also worked with them to custom build spar carts designed to hold aircraft components while they were painted.
Of course, when such a prestigious company asked us to work with them again on such an interesting project, we were only too happy to take up the challenge.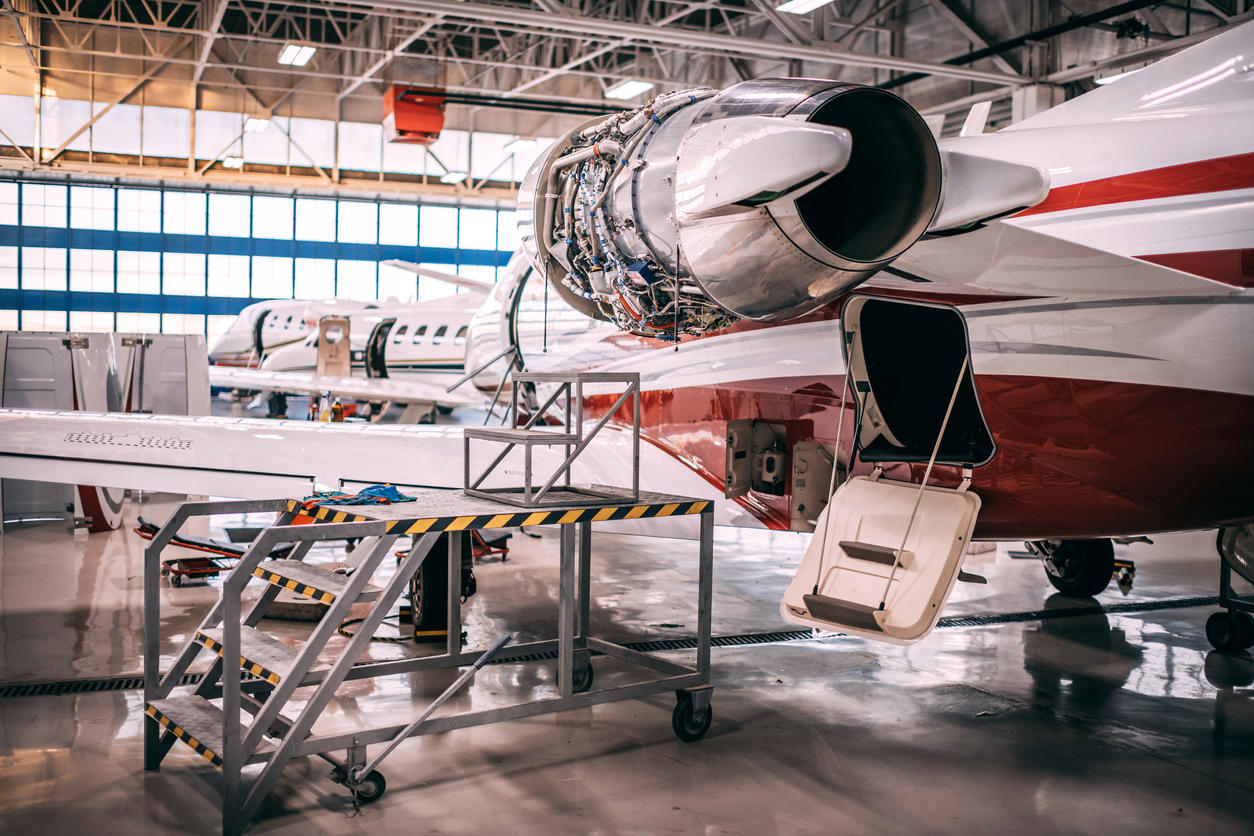 The Challenge
The Spirit AeroSystems' team in North Carolina came to us for help designing and manufacturing specialised carts to hold the inflatable bladders that they use in the manufacture of fuselages for their aircraft.
Bladders are used as part of a manufacturing technique called resin transfer molding and help to ensure complex composite parts are produced with uniform resin distribution and consistent structural integrity, ensuring a high quality and lightweight end product.
The carts were needed to house the bladder throughout the aircraft component manufacturing process. Part of this process involves the whole component being cured in a pressurized oven called an autoclave – so it was paramount that the material used to make the bladder carts was sturdy, durable and able to perform at the top level in extremely high temperatures. It was also vitally important that the carts were the right dimensions to fit inside the tool (what the carbon fiber material is shaped to) at Spirit's Kinston plant.
We were given a few simple PowerPoint drawings to work from and the design experts at Schaumburg Specialties took it from there.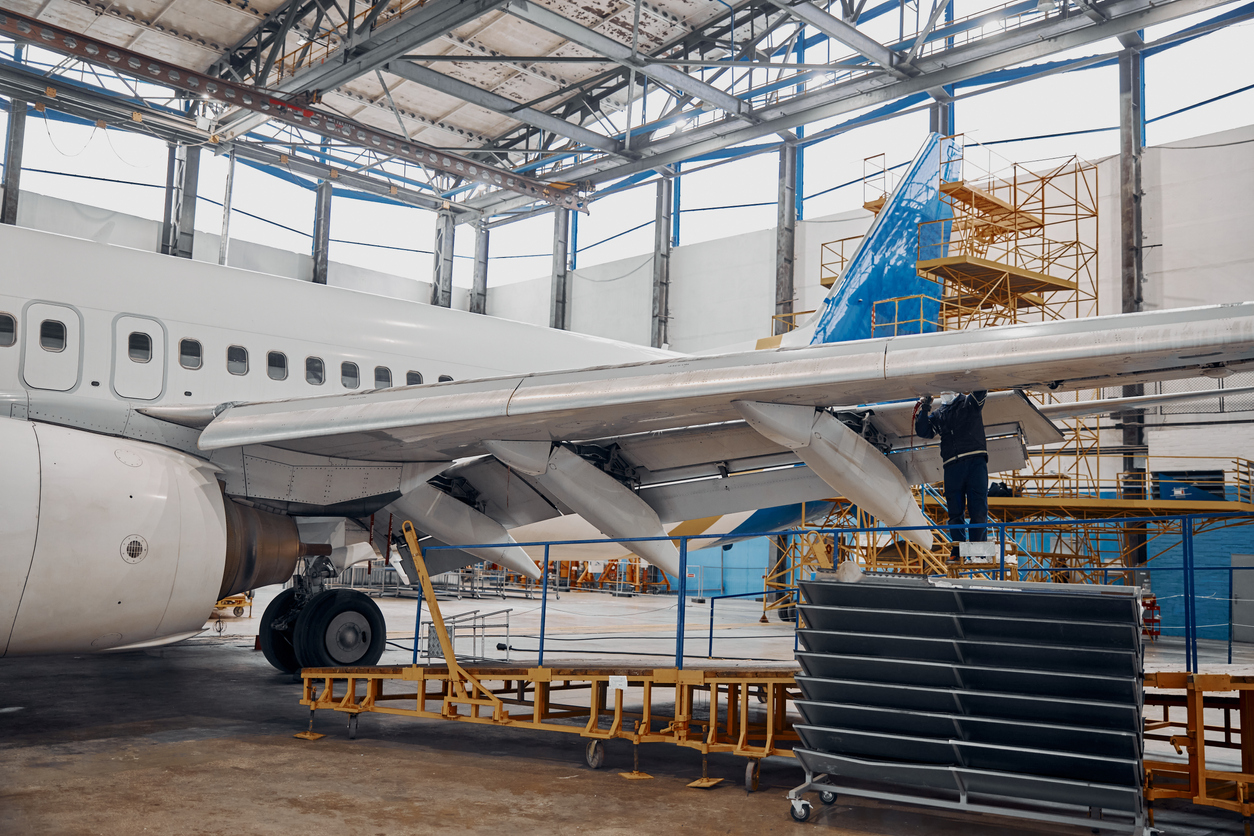 Our Solution
Schaumburg Specialties' expert designers put their heads together and came up with an excellent, tailor-made solution for our client.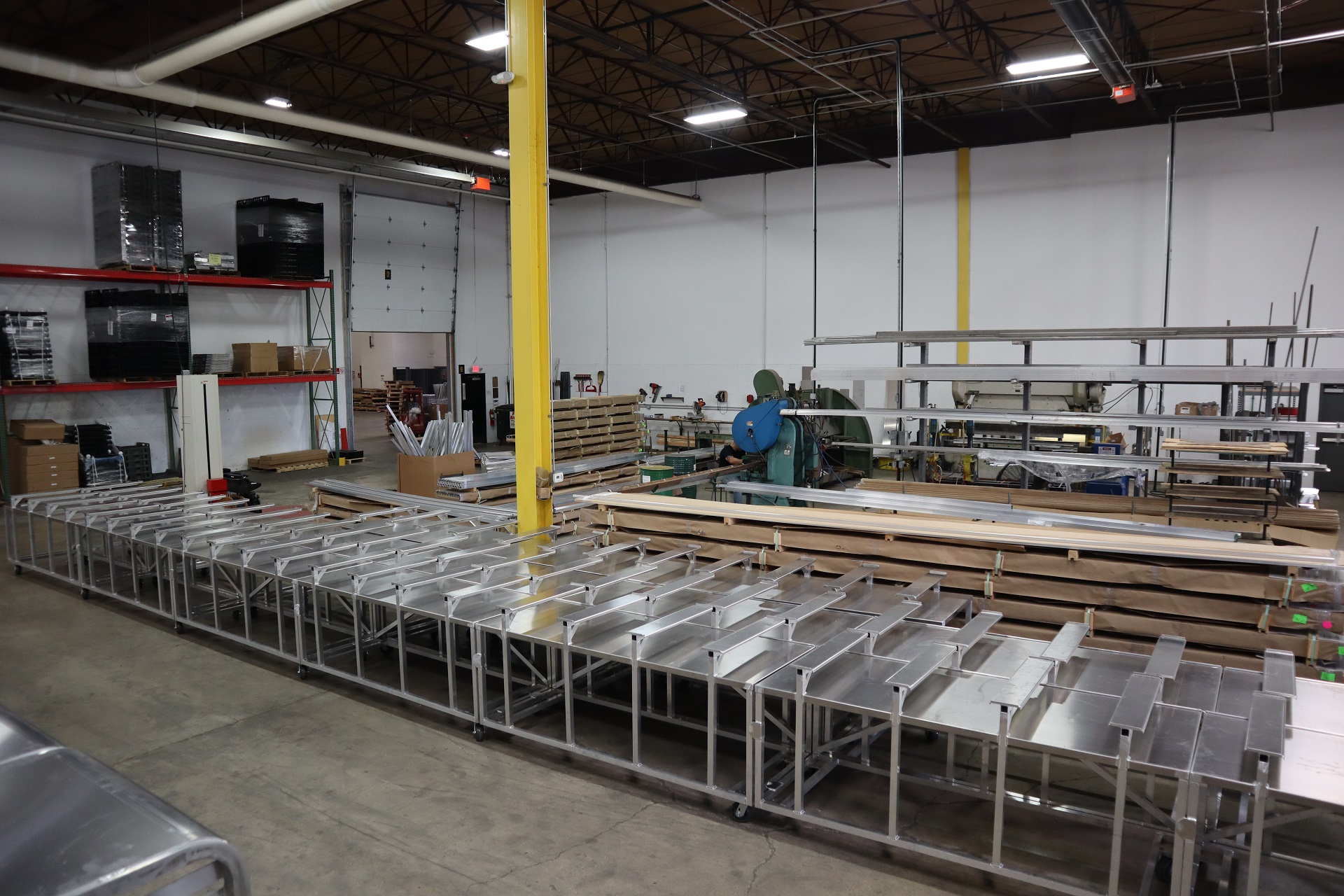 The brief to our expert manufacturing team was to make five bladder carts, all between 50 and 60 feet long. Four were to be of the same length and one longer.
Our team of design and metal fabrication experts worked to manufacture the bladder carts
Each cart had two levels and was made up of several modular carts, each with wheels at one end but not at the other, so the carts could easily be bolted together to form one entity. We also manufactured modular carts for ease of shipping, as it wouldn't have been practical to ship the bladder carts as a whole piece.
Each bladder cart was made up of several modular carts, each with wheels at one end, bolted together to form the whole
Once we had finished making the bladder carts, they were transported in their modular form to Spirit AeroSystems' plant in Kinston, North Carolina where they were assembled and put to work in the aircraft manufacturing process!
Our perfect custom build solution for Spirit AeroSystems meant that both the plant workers and management team could be safe in the knowledge that they were using bladder carts that had been tailor made to fit their exact facility requirements.
Part of this project for Spirit AeroSystems was to build stringer carts to handle and transport the stringers (long, thin structural members) that run lengthwise along an aircraft to provide rigidity and support.
We also transported these in modular form to the client's North Carolina plant, where they were assembled, ready to begin their manufacturing work!
The stringer carts in situ at Spirit AeroSystems' North Carolina plant, ready to begin work!
Upon taking delivery of both the bladder and stringer carts, our client knew that their new equipment had been manufactured using the highest quality metal by the industry's leading metal fabricators and could be relied on to perform at the very top level, day after day, even in high temperatures and with heavy use.
Another happy customer and another win for Schaumburg Specialties!
Get Started with Your Own Custom Project
We delivered awesome results for this customer, and now we want to do the same for you. To get started with your own project with Schaumburg Specialties, contact us so that we can get a clear understanding of your requirements. We'll take it from there!