The Schaumburg Specialties team was tasked by one of America's leading manufacturers of pizza crusts and flatbreads to design and build wire shelf pizza racks for use in its New York premises.
| | |
| --- | --- |
| Client: | Rich Products |
| Industry: | Food Manufacturing |
| Location: | New York |
The Client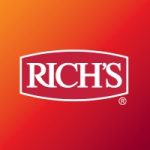 Since 1945 – and the invention of the world's first non-dairy whipped topping by its founder Robert E Rich Sr – Rich Products has been one of the country's most successful pioneers of products including pizzas, desserts, baked goods, beverages, cake icings and sweet starters. With the acquisition of pizza dough Rizzuto Foods in 2020, its pizza crusts and flatbreads offering was hugely amplified.
Of course, when we were asked by such a prestigious company to help with the custom manufacture of their pizza racks, we were delighted to take up the challenge!
The Challenge
Our client had requested wire shelf racks to support their pizza products as they went through the freezing process.
Here, the big challenge lay in working out how to attach the wire shelves we made to the rack so that they were adequately supported, and the pizzas – and the shelves themselves! – didn't fall down!
With a three-shelf rack, for example, it's easy to fasten the supports to the bottom shelf, but when you're making one that's five shelves or more (in this case 15 shelves!), it gets more and more challenging to work out how to secure the supports towards either end of the rack.
Usually, we would manufacture bakery racks using an all-welded construction – but the wire shelves requested by the client were almost impossible to weld to a flat surface and besides, a welded construction is too rigid and wouldn't give the racking flexibility that was required.
We needed to come up with a solution for securing the wire shelves to the rack that would ensure flexibility as well as making sure the product was safe and secure in its setting.
Our Solution
The wire shelf rack we designed and built for our client
Schaumburg Specialties' expert team came up with a unique, tailor-made solution for our client that provided flexibility, kept their product safe and secure and slotted perfectly into their production line.
To attach the wire shelves to the rack, we used our fabrication expertise (and our cutting edge machinery!) to make short, thick wires that hooked over the sides of the rack at six separate points. This ensured that each wire shelf was properly supported and secure, with enough wriggle room to create the desired flexibility.
Wires hooked over the sides of the rack to support each shelf
Our ingenious design also made the shelves to tip down at the front (for easy product loading), and to tip up at the back, to prevent the product from falling off!
The shelves tipped down at the front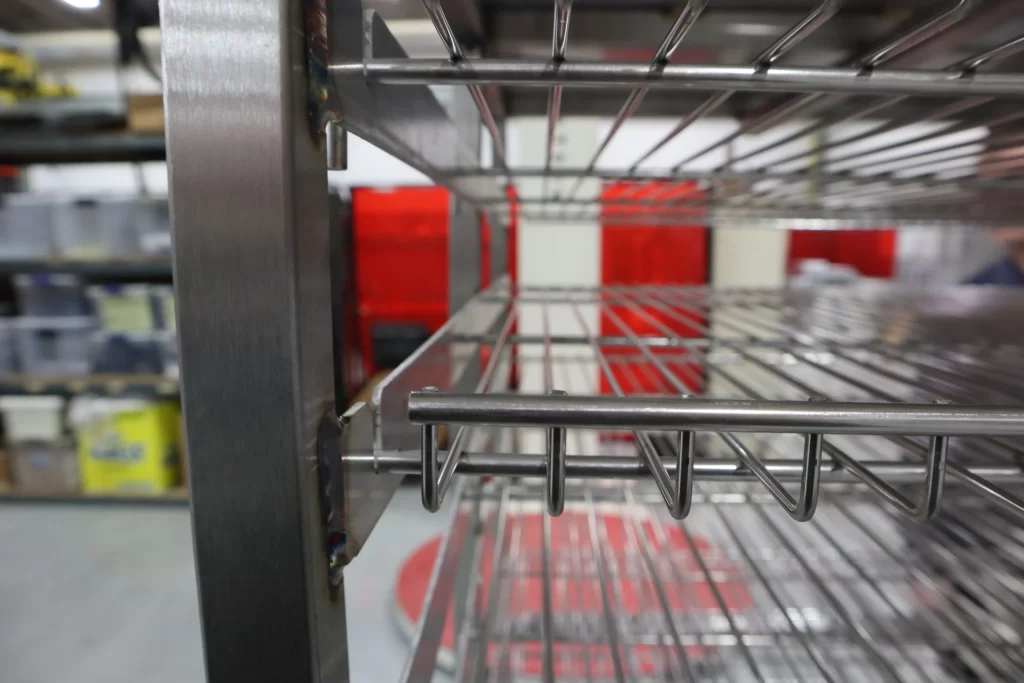 …and up at the back
The racks were also designed to fit perfectly into the company's monorail system production line. Each rack had a support built in for easy attachment to the monorail and was designed without wheels, to enable it to slot in perfectly.
Each rack had a built in support so it could easily attach to the monorail.
The racks didn't require wheels.
As a result, our client was provided with strong, durable yet flexible wire shelf racks that kept their product secure on its shelves and their shelves secure in their racks! This helped to boost efficiency and productivity no end and ensured the company could continue their pioneering pizza dough work unhindered.
Happy client, happy team at Schaumburg Specialties!
Get Started with Your Own Custom Project
We delivered awesome results for this customer, and now we want to do the same for you. To get started with your own project with Schaumburg Specialties, contact us so that we can get a clear understanding of your requirements. We'll take it from there!