The team at Schaumburg Specialties was approached by the Turano Baking Company, to custom design and build specialized heavy duty empty pan carts for use in their highly automated bread making facility.
| | |
| --- | --- |
| Client: | Turano Baking Company |
The Client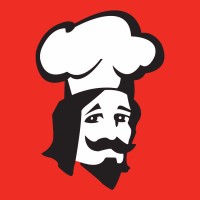 The brainchild of Mariano Turano, in partnership with his brothers Carmen and Eugenio, Turano Baking Company was founded in 1962 and built on historic Italian recipes for artisan-crafted breads and rolls.
Since then, the company has been delivering over 400 varieties of par-baked and fully-baked speciality breads and rolls daily to thousands of foodservice customers. Produce is delivered fresh throughout the Chicagoland area and can be found across the United States as a frozen product through food distributors and national restaurant chains.
Schaumburg Specialties has enjoyed a fruitful working relationship with Turano Baking Company for many years, custom building specialist racks and other food production equipment tailored to the company's specific requirements (read more about other projects).
Of course, when such a prestigious bakery asked us to work with them again on such an interesting project, we were only too happy to take up the challenge.
The Challenge
Turano operates five state-of-the-art baking facilities, all producing thousands of pieces of specialty breads and rolls per day on a highly automated production line.
The problems the company was experiencing was due to their pans being stacked on wooden pallets, which were prone to breakage and degeneration under the weight of the heavy pans. It was also proving difficult for Turano's workers to get the pans where they needed to be on the production line at the right time.
They needed empty pan carts for their heavy and very precisely shaped burger bun pans that fit perfectly into their automated production line and made transporting empty pans around the bakery an easy task.
Ideally, the carts would be able to house and carry as many pans as possible at one time, saving time for Turano's workers and increasing the efficiency and productivity of their production line.
We knew the pan carts that we were building would have to be incredibly strong and durable to live up to the heavy use they would be placed under at Turano Baking Co!

Our Solution
Schaumburg Specialties' expert designers put their heads together and came up with an excellent, tailor-made solution for our client.
We custom designed and built several extremely strong and sturdy stainless steel empty pan carts that were able to carry three high stacks of pans at once.
The strong, sturdy carts carry three stacks of pans at once
The carts were also designed to be open ended, so they could be wheeled up to the automated pan stacker, where they could be easily stacked or placed wherever they needed to be on Turano's production line.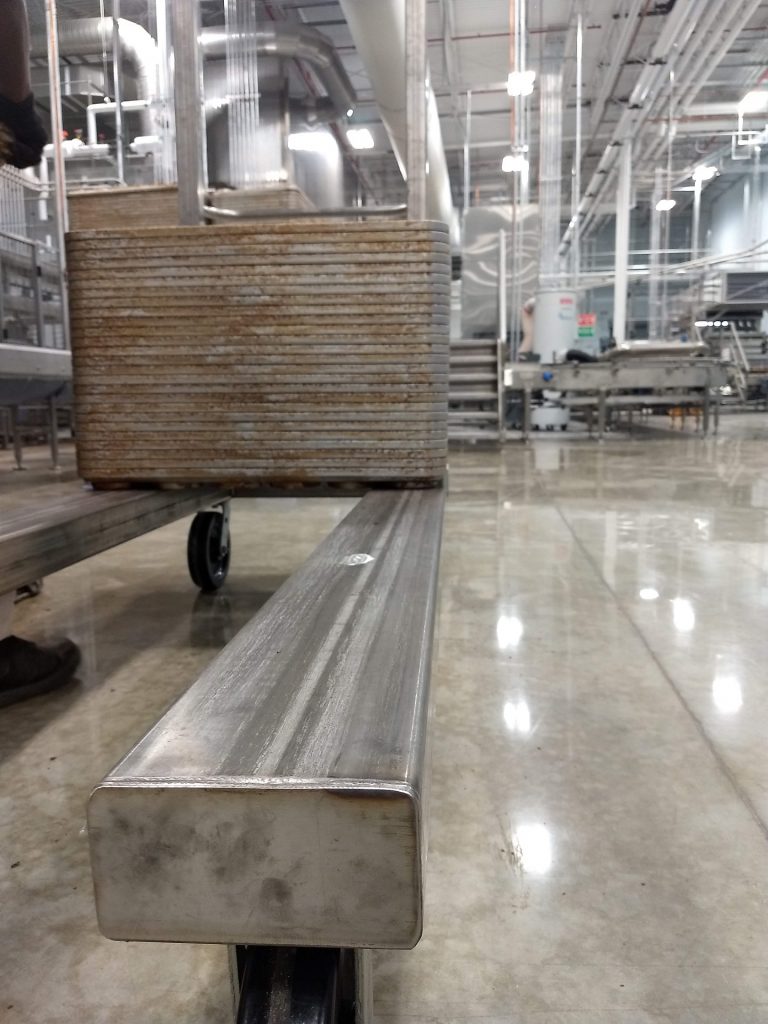 In addition, the carts were fitted with premium quality casters and wheels that would allow them to be easily wheeled around the bakery or wherever they were required in Turano's baking facility.
The carts were fitted with heavy duty casters and wheels, allowing for smooth and easy transportation.
Our perfect custom build solution for Turano Baking Co. meant that the company no longer had to use wooden pallets to house their stacked pans, which could easily break and degenerate.
Using our super strong, sturdy and durable empty pan carts, which can carry three highly stacked rows of pans, allowed our client to boost their efficiency and productivity as well as enable their workers to easily transport empty pans around their workspace to wherever they're needed on the production line.
Another happy customer and another win for Schaumburg Specialties!

Get Started with Your Own Custom Project
We delivered awesome results for this customer, and now we want to do the same for you. To get started with your own project with Schaumburg Specialties, contact us so that we can get a clear understanding of your requirements. We'll take it from there!