The team at Schaumburg Specialties was approached by a major purveyor of Italian ices, sorbets, and ice cream, with a task to custom design and build a conveyor system for use in their Chicago factory.
| | |
| --- | --- |
| Industry: | Food Manufacturing |
| Location: | Chicago |
The Client
The conveyor needed to be able to optimize the company's production capacity as well as reduce the amount of manual labor required of its employees to make their workload more manageable.
Of course, we were only too happy to help – after all, providing tailor-made solutions to unique production challenges is what we do best!
The Challenge
Our client's current production line was inherently impractical. A six-station depositor would fill six cups at a time with flavored ice or ice cream and then eject the cup onto a motorised turntable.
A factory employee would then have to pick up six filled cups every 10 seconds on average and transfer them to an accumulator location, where they would wait to be boxed. This way of working was proving too much for the workers and was affecting the efficiency of the factory production line.
The company also needed a way of conveying its product from the accumulator location (where it had been boxed) to pallets where it would wait to be put in trucks for delivery.
We needed to find a way to optimize production line efficiency and capacity while making sure the manual workload of the employees was manageable.
Our Solution (Part I)
We designed and built a tabletop chain conveyor system*
Schaumburg Specialties' experts put their heads together and came up with an excellent, tailor-made solution for our client.
We built a brilliant tabletop chain conveyor system that picked up the six lanes of product from the depositor and split it into two legs, each leg conveying three cups. The first part of the conveyor system, running from the depositor end was around 3-4ft long and each leg ran for around 8ft until it reached the accumulator.
Each leg took three cups to the accumulator, where they would journey round in a circle until the factory employee took them and packaged them in a cardboard box, ready for delivery. Each employee was now only dealing with three cups every 10 seconds on average instead of six, effectively halving their workload and making it much easier for them to work efficiently.
A tabletop chain conveyor is essentially made up of several cogs or segments that snap together to make a belt. In our design, we optimized the performance of the conveyor belt (made of plastic) by making the most of its great flexibility. In this case, as the belt went into a turn on the conveyor system, it came apart at one side, allowing for smooth and efficient conveyance.
Our Solution (Part 2)
We also built a powered roller conveyor as part of the same system*
We also built another conveyor as part of the same system for our client. This conveyor was a powered roller conveyor that took the filled and sealed boxes of iced product from the accumulator to pallets where they would be stored before being put out for delivery.
The design of this conveyor was quite intricate as each roller was powered by and being rotated by a centralised motor. We also decided to add two powered curves into the conveyor system, each curve with their own motor and drive unit.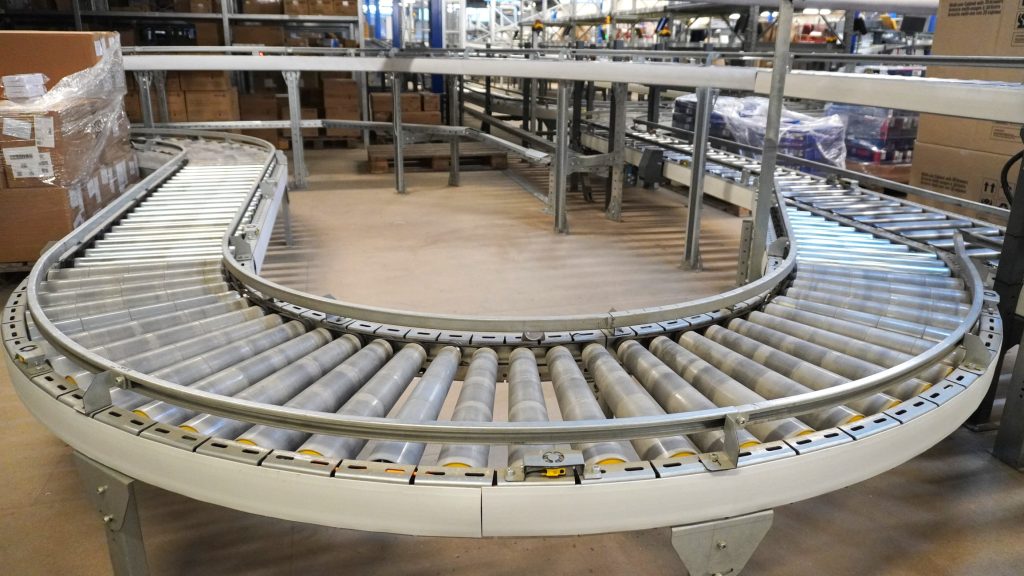 We designed two powered curves as part of the roller conveyor*
The width of the powered curves needed to be the size of the box from corner to corner diagonally so the boxes wouldn't become jammed on the conveyor when turning on the curve. Unfortunately, the powered curves that we ordered to accompany our conveyor system weren't side enough, so we brought them back to our manufacturing plant at Schaumburg HQ. Drawing on all our design and fabrication expertise, we added a three-inch chunk to the curves to make them wide enough to fit perfectly into our conveyor system.
The Result
Needless to say, having put all our design and manufacturing expertise into this conveyor project, the client was delighted with the results.
They now had a custom built conveyor system tailor-made for their specific production requirements that not only optimized the efficiency and productivity of their factory but made the manual workload of their employees much more manageable.
All in a day's work for Schaumburg Specialties!
*Please note: All images shown here are a representation only
Get Started with Your Own Custom Project
We delivered awesome results for this customer, and now we want to do the same for you. To get started with your own custom conveyor project with Schaumburg Specialties, contact us so that we can get a clear understanding of your requirements. We'll take it from there!