The Schaumburg Specialties team was asked by America's leading manufacturer of beefhide pet products to design and build a specialized basting table that could work to reduce waste at their manufacturing facility in Mundelein, IL.
| | |
| --- | --- |
| Client: | Pet Factory |
| Industry: | Pet Food Manufacturing |
| Location: | Illinois |
The Client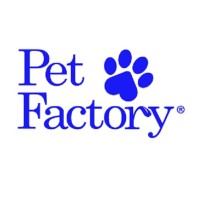 Since 1989, Pet Factory has been the leading manufacturer of 100% USA made and sourced quality beefhide dog chews, supplying quality retailers across America. It manufactures its premium quality chews in a state- of-the-art facility just outside Chicago, IL. Since its early days, the company has grown apace and is now also the premier provider of globally sourced beefhide products and pet supplies, including toys and accessories, and employs over 200 people from within the local community.
Schaumburg Specialties has long enjoyed a very productive working relationship with Pet Factory, so when we were asked to design and build a piece of equipment to meet a specific challenge our client was facing, we were only too happy to help!
The Challenge
To make their beefhide dog chews, Pet Factory's workers would take a big sheet of rawhide, cut it up and then tie the ends of each piece together to look like a bone. The chew would then be basted to achieve an assortment of flavors, before being dried and packaged.
Pet Factory's workers tie pieces of rawhide together into a bone shape.
Problems were arising, however, during the basting process. Workers were using 5L pails to baste the chews in, which was creating an incredible amount of spillages and waste, not to mention mess!
The company's basting method using pails was very wasteful and messy.

Pet Factory's team asked us to come up with a solution that wouldn't require using pails and would drastically reduce product waste and mess, making the basting process much easier – and cleaner! – for everyone concerned.
Our Solution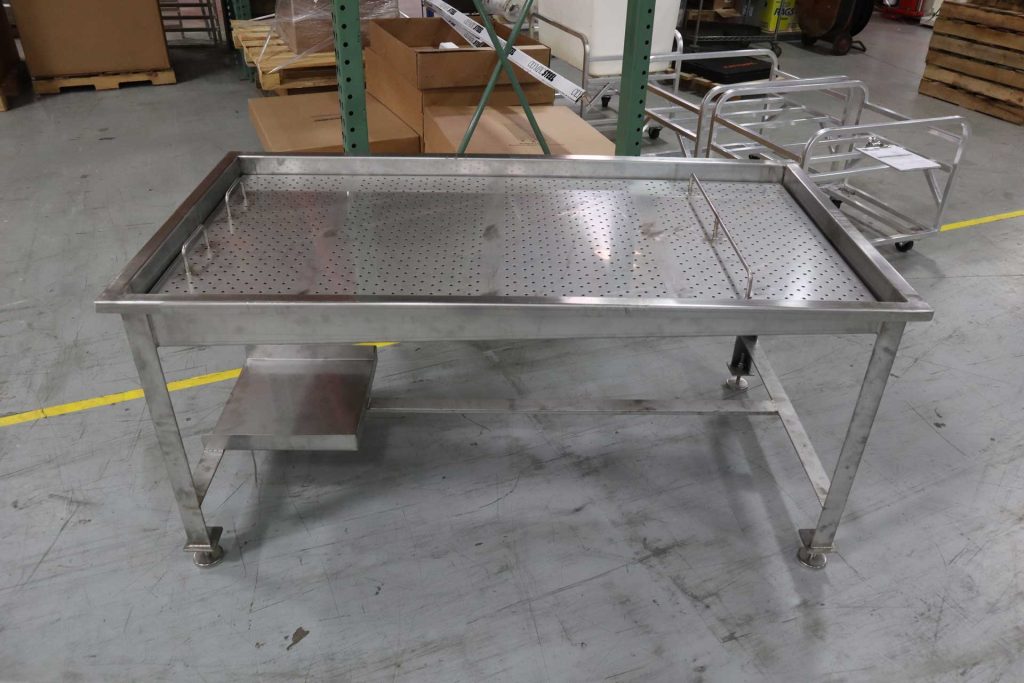 Schaumburg Specialties' expert designers put their heads together and came up with an excellent, tailor-made solution for our client. We custom designed and built a brilliant basting table that made the process so much easier for Pet Factory employees. The table was full of holes so that excess liquid that dripped off the rawhide chews during basting could drip through and collect in the table below.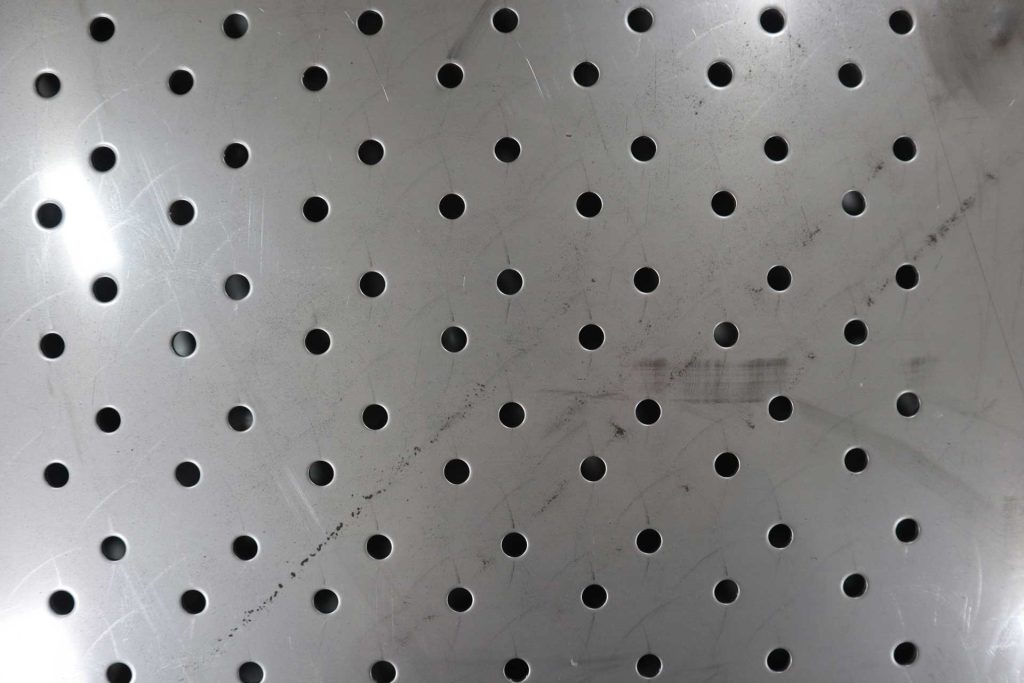 The table was full of holes

Then, we gave the table a tapered bottom so that the liquid would run to one end of the table. There, a tap could be turned on to release the liquid into a pail placed in the tray underneath so it could be reused. A genius way to stop valuable product going to waste!

The table had a tapered bottom and a tap!

The table also featured handles at either end that made it easy to remove the top of the table for cleaning and sanitizing purposes.
The table featured handles at either end

Our ingeniously designed and custom built table reduced spillages, waste and mess at the Pet Factory facility, meaning workers needed far less downtime to clean their equipment – and themselves! – and lots of product was saved from going in the garbage. As a result, our client's working operations became far more efficient and productive and far less wasteful – which of course they were delighted about!
Another day and another happy client for Schaumburg Specialties!

Get Started with Your Own Custom Project
We delivered awesome results for this customer, and now we want to do the same for you. To get started with your own project with Schaumburg Specialties, contact us so that we can get a clear understanding of your requirements. We'll take it from there!